Dr. Inge P. Stafford Greenhouse for Teaching and Research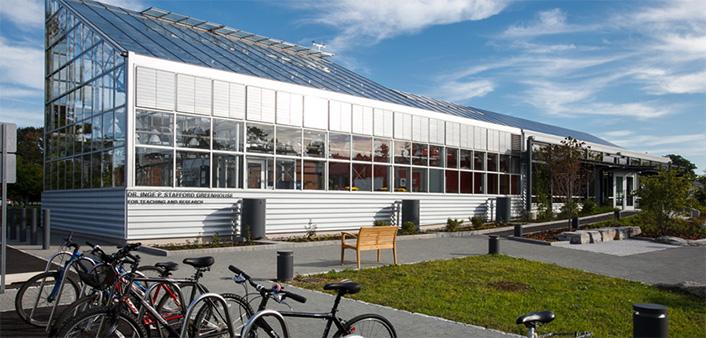 Description
The Stafford greenhouse was completed in January 2013, and dedicated on September 21, 2013. The greenhouse is a state-of-the-art research and teaching facility where students and professors can bring their field projects/experiments inside to a protected, controlled space for follow-on study. From the humidity of the rainforest, to the dry, hot air of the desert, each of the three modules and main classroom can be individually controlled to duplicate outdoor conditions. Disciplines across the college spectrum have used the greenhouse for a variety of experiments and projects. These include the study of toxins in medicinal plants, and raising wildlife in vernal ponds by biology students; to participants creating individual bonsai in a workshop hosted by the Asian Studies department. Over the past year, Dickinson College has also teamed up with the PA Department of Military and Veterans Affairs to help save the endangered Regal Fritillary Butterfly by offering space to grow the plants these butterflies need to survive. As each semester arrives, more new and exciting projects are scheduled.
Facility Location
West side of Kaufman Hall at the corner of Cherry and Louther Streets.
Department/Organization that oversees facility
Facilities Management and Department of Biology
Faculty/Staff/Student coordinator(s) of facility
Professor Tom Arnold
Contact email
What is the process students/staff must go through to use this space?
Greenhouse access is by key card (Dickinson College ID), and only available through the Department of Public Safety (DPS) where access is monitored 24 hours a day. Students need to be sponsored by a professor, or in individual cases the greenhouse manager, if they wish to conduct a project in the greenhouse. All scheduling of space is done through the greenhouse manager and is open to students, faculty and staff.
What equipment is available in this space?
The greenhouse is equipped with potting supplies – soil, pots, water, watering cans, grow lights, fertilizer, etc. – for the complete growth and management of plants. Also available, and under supervision of sponsoring professor, are microscopes, computer access, and various analyzing equipment needed to conduct experiments. The greenhouse also works in conjunction with other labs in Kaufman Hall for added supplies.
What items aren't available that might be needed?
Plants, seeds, and any chemicals for analysis must be supplied by user. Since experiments and projects are so varied, contact the Greenhouse Manager to see if needed supplies are already available.
Student Organizations associated with space
There are no specific student organizations associated with this space; however, a number of students have used the greenhouse for projects, including students from the Dickinson College farm, the Alliance for Aquatic Resources Monitoring (ALLARM), and the Center for Sustainability Education (CSE).
What types of majors have dedicated use of this space?
The sciences, specifically biology and environmental science, have been the major users so far. Asian Studies has also conducted two workshops on Bonsai in the greenhouse classroom. As this past year was our first full year in use, other departments are just now developing classes and programs to take advantage of this resource.
Are there specific courses students can take to get additional training/exposure to this area?
No