Idea Fund Office Space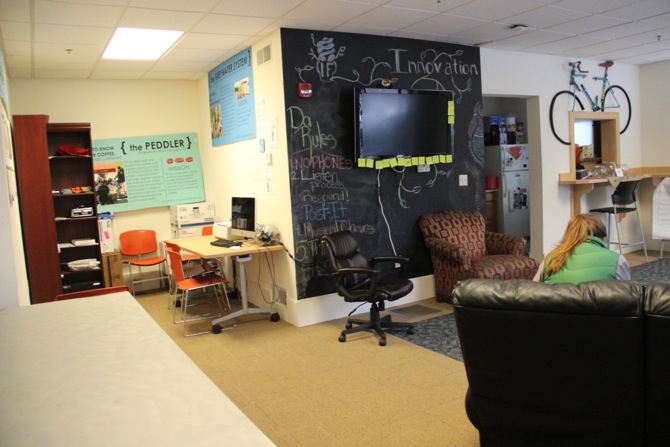 Description
Social entrepreneurship empowers citizens to leverage their diverse skill sets, solving problems through innovation and creativity. Dickinson College provides students with a liberal arts education that encourages interdisciplinary collaboration, critical thinking, and problem-solving. The Idea Fund creates a forum through which students may exercise those skills in the Dickinson community. We envision a community that uses top quality academia to innovate and enact positive change.
Our mission is to empower students to identify and solve problems in the community by equipping and connecting them with the skills, networks, and resources to effectively design and implement viable projects. We achieve these goals through our three main services: Project Consulting, Innovation Grants, and Revolving Loans. All students are welcome to receive Project Consulting, designed to aid students in writing business proposals, applying for funds, building teams, and networking in the Dickinson community.
Projects that request funding from the Idea Fund must (1) Propose solutions that improve the Dickinson College community, (2) Be proposed by an enrolled Dickinson College student, and (3) Complete Parts A through C of the Business Plan Template (concept, model, and plan of action). More information on how to apply for funding can be found here.
The Idea Fund Office Space is a meeting space for the executive board, teams, and projects of the Idea Fund.
Facility Location
169 West High Street
Department/Organization that oversees facility
The Idea Fund
http://blogs.dickinson.edu/ideafund/
Coordinator(s) of facility
Ken Shultes - Facilities Management
Contact email
Ideafund@dickinson.edu
Training/Process needed to use space
To use this space, students must be working on something Idea Fund related or hosting an event in conjunction with the Idea Fund.
What equipment is available in this space?
Computer with Adobe Creative Suite.
What items aren't available that might be needed?
Any craft or paint supplies would need to be provided by the student interested in creating something.
Student Organizations associated with space
What types of majors have dedicated use of this space?
Students of all majors are welcome to use the space
Specific courses students can take to get additional training/exposure to this area