Dr. Inge P. Stafford Greenhouse for Teaching and Research
Completed: Fall 2012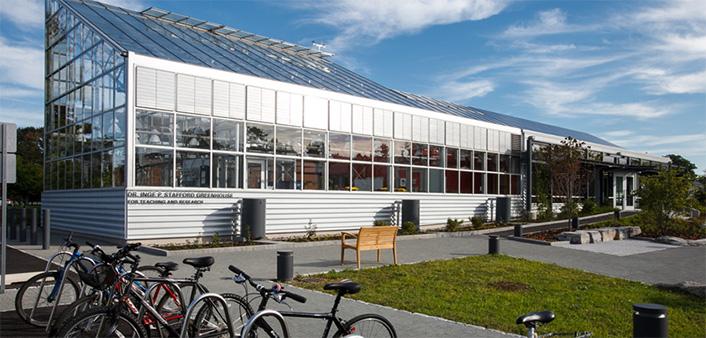 Funded by a $1 million gift from alumni John '59 and Inge Paul Stafford '58, the Dr. Inge P. Stafford Greenhouse for Teaching and Research enhances sustainability education, interdisciplinary learning and the college's science curriculum.
Features
The new state-of-the-art facility includes:
three independent research zones
a general-use greenhouse area
solar panels, which will help to offset the electrical consumption
an adjacent classroom-lab that will allow students to move conveniently from the greenhouse into the classroom
and a preparation potting area and climate-controlled laboratory, which are critical to experiments and research on marine ecosystems, seasonally dependent plants and air quality.
The greenhouse is enhancing research and teaching in areas such as physics, which incorporates solar-energy projects; earth sciences, which revolve around climatology, paleontology and mineralogy; and biology—one of the largest majors at Dickinson—by expanding student-faculty research so that undergraduates regularly assist in labs and collaborate on publications and conference presentations.
The greenhouse frames the science campus from the north and spotlights the location of the Center for Sustainability Education, a significant interdisciplinary undertaking that is bringing national attention to Dickinson for its leadership role in sustainability education and stewardship.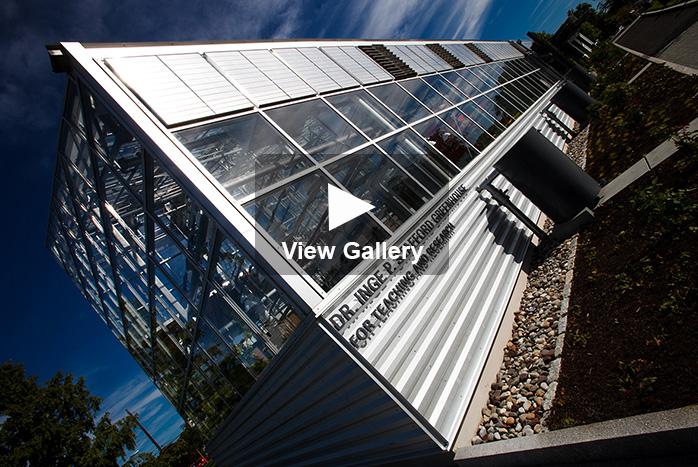 "The beauty of this design is that you will see students and faculty representing all science disciplines—from biology and chemistry to earth and environmental sciences—under one roof, utilizing the resources of a modern, sophisticated research center. The greenhouse will be an incubator for interdisciplinary study in the sciences."
—Tom Arnold, associate professor of biology
Design Team
Architect: SGS Architects - Engineers, Inc.
Landscape Architect: Andropogon Associates
Structural Engineer: Centerpoint Engineering
Civil Engineer: Centerpoint Engineering
Mechanical Engineer: Centerpoint Engineering
Project Design/Planning: Rhoads Siegel Architects
Lab Planning: RFD