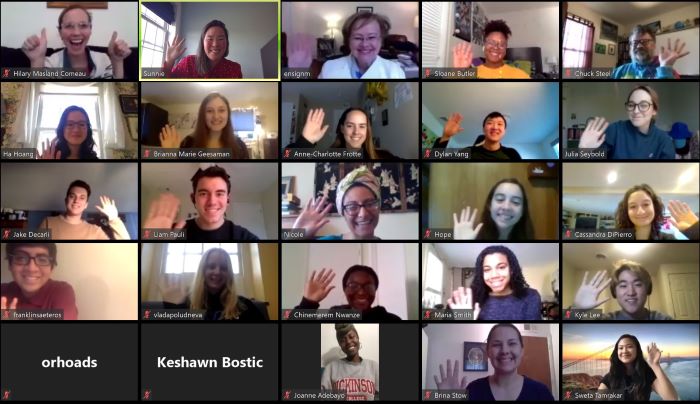 The 2020 Presidential Fellows meet on Zoom with President Ensign to officially begin the program.
In the summer of 2019, Dickinson launched the Presidential Discovery Initiative, an alumni interview program designed to help the college gather graduates' hopes for Dickinson's future and better understand how the Dickinson experience has shaped graduates' lives.
As part of this initiative, the college hired a select group of students to serve as Presidential Fellows and conduct the interviews. This paid fellowship presents exceptional students with an opportunity to conduct original research that will better inform Dickinson's strategic planning while gaining marketable skills in the social sciences, communications and nonprofit development. Twenty-nine students, representing a variety of majors, were awarded the fellowship at the close of the spring 2020 semester.
"This is an excellent way to gather input and feelings about the Dickinson experience from alums." —Alumnus surveyed for the initiative
Prior to the structural change to our semester due to COVID-19, we were well into the planning for the 2020 Presidential Discovery Initiative. With the program's successful inaugural summer in 2019, the staff and students involved for this year were extremely excited to continue this important work—learning the stories, experiences and opinions of our alumni from all across the country to help shape Dickinson's future. After much thought and consideration, we have decided to continue the program virtually and are hopeful you will take part in an interview this summer!
"I've gotten to see how alumni relationships change over time, which has made me think about how I want to stay involved once I graduate." —2020 Presidential Fellow, on the interview experience
FAQ
Below are questions or comments that emerged from the initiative and links to help you get involved or find more information:
"How do I get involved or share my thoughts?"
Please contact us if you are interested in being interviewed or have feedback you'd like to leave.
"How do I find out about the results of the survey?"
To find out about the results of the initiative, please see highlights from our most recent survey.
"I wish I could get the alumni magazine online."
You can! Current and past issues are available for your online perusal.
"I'd love to host an intern."
Please explore our Career Mentoring, Volunteering & Networking page for information on getting involved.
"I really wish Dickinson had a social media presence."
We do, and it spans every online platform you can think of, from Twitter and Instagram to Facebook and LinkedIn and beyond!
"I'd love to connect with students about careers."
Check out AlumniFire or our Career Mentoring, Volunteering & Networking page for ways you can connect.
"I'd like to better understand the impact of giving to Dickinson."
For all your giving needs and concerns, please explore the Midyear Giving Impact Report page.