Educational Programs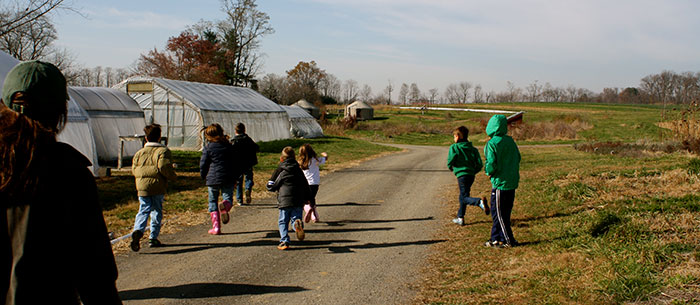 The Dickinson College Farm is a production farm that supports the academic and educational interests of students at Dickinson College. We are also passionate about offering food and sustainable farming educational opportunities to area youth. We have worked with area partners to create 2 formal youth education programs: Sustainable Earth Education or "SEED" and Farm, Cook, Eat. We also work with area high schools to offer internships to self-motivated high school applicants who are interested in sustainable agriculture.
Sustainable Earth Education (SEED)
Sustainable Earth Education (SEED) provides a space for organized youth groups to learn about sustainable agriculture, from science to lifestyle. The Dickinson College Farm invites groups working with students from ages 5-18 to come to the College Farm for a hands-on, experiential lesson on our 80-acre production and education farm. SEED lessons are fully customizable and driven by collaboration between our experienced student educators and the group leader.
Past Classes Include:
Art and the Farm
Creating Healthy Snacks
The Five Senses of Farming
Biogas and Byproducts: Fuel for Thought
We hope to welcome groups to the farm in person in the fall. If you are interested in scheduling a class, please contact farmcoordinator@dickinson.edu. Please note that SEED classes are led by a Dickinson College student and available only when Dickinson College is in session. Find more information on our website.
Farm, Cook, Eat
Farm Cook Eat is an after school program that offers local elementary school students the chance to learn age-appropriate skills for preparing delicious and simple dishes using farm-fresh produce. We are not holding Farm Cook Eat during the 2022-2023 school year. If you are interested in bringing Farm, Cook, Eat to your elementary school, please contact farmcoordinator@dickinson.edu
Guided Tours
Throughout the year, we are able to offer a limited number of guided tours to area elementary, middle or high school classes and educational programs. If you are interested in a tour with an educational component, please contact farmcoordinator@dickinson.edu to schedule a SEED class.
Please observe the following guidelines for guided tours:
We ask for the discretion of organizers when determining whether a group is old enough to participate in a farm tour. In general we recommend a minimum age of 3rd grade.
Our limit is 25 attendees (combined students and chaperones) per tour. Depending on the availability of farm staff, it is possible to split groups into separate tours but such accommodations are not guaranteed.
We are unable to offer hands-on components such as planting or harvesting.
All tours are limited to 1 hour. If groups are interested in pairing a tour with an educational component, they should contact farmcoordinator@dickinson.edu.
The farm tour program is donation-based. The suggested donation is $5 per guest.
School groups may only visit the farm on days/times when we can schedule a guided tour. Self-guided tours are intended only for prospective Dickinson College students, families of Dickinson College students or Dickinson College alumni.
Please email farm@dickinson.edu to inquire about a guided tour for your school or educational program. Tour requests will be accepted or declined based on farm staff and student availability. Please contact us at least 3 weeks ahead of time.