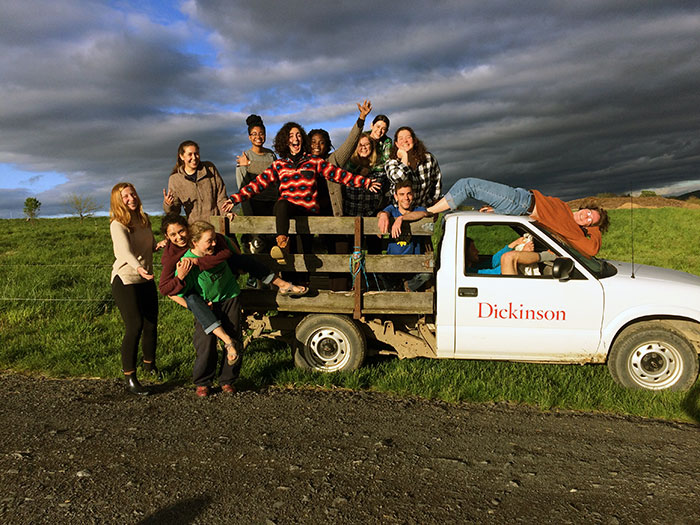 Students and Recent Graduates
In the fields, the Dickinson College Farm is staffed by 15-18 Dickinson College students working part-time during the school year and 5 Dickinson College Students working full-time over the summer months.
From May-October, five recent college graduates help lead farm students through the Apprenticeship program. Apprentices live in solar-powered yurts on the farm and immerse themselves in learning about sustainable agriculture, leadership, and management skills.
The Education and Outreach Coordinator oversees campus programming and youth education programs for the College Farm in a one-year post-graduate position.
Staff
The College Farm employs four full-time staff members who guide the mission of the farm as well as everyday operations. For full biographies and more information on the Farm team, visit our blog.
Jenn Halpin, Director
Jenn is the Director of the Dickinson College Farm. After graduating from Providence College, she joined the Peace Corps where she developed her interest in sustainable agriculture while living in West Africa and working with farmers. Jenn provides students with hands-on training in sustainable food production and supports faculty and students with on-going research, class-based collaborations and internships.
Jenn served as the President of the Board of Directors for Pennsylvania Association for Sustainable Agriculture (PASA). She is an active member in our regional local food movement and founding member of Farmers on the Square, a vibrant producer-only farmers' market in Carlisle.
Matt Steiman, Livestock Operations Manager
Matt has been farming organic vegetables since 1993, working on farms in Colorado, California and Minnesota before settling in the Cumberland Valley. For five seasons, Matt managed Fulton Farm at Wilson College where he learned the ropes of running an educational CSA program, and also developed initial experience with renewable energy systems. Matt and Jenn then ran their own farm on rented ground for two seasons before signing on as the full-time farmers at Dickinson College in 2007. In addition to regular farm duties at the Dickinson Farm, Matt supervises equipment maintenance, irrigation, sheep and cattle, and also works extensively with solar energy projects and biodiesel fuel applications for the college.
Alex Smith, Vegetable Production Manager
Alex is a graduate of Dickinson College as well as the College Farm Apprenticeship Program. After yurt living, Alex went on to further cultivate his passion for agriculture that produces high quality food, builds the community, improves the farm ecosystem, and is economically competitive. He continued his farm education at a number of well respected production farms in south central PA before starting his own farm enterprise serving his hometown of Baltimore with fresh produce. In his spare time, Alex can usually be found outside with his wife, Courtney, and his two year old boy, George. Alex and Courtney are expecting the arrival of a new farm kid this spring.
Cheri Getty, Packing House Coordinator
We are thrilled to have Cheri Getty join us as our new Packing House Coordinator!! With only two weeks under her belt, Cheri is whipping the lower barn into shape and adding her great energy to the farm team. Having taught fitness classes at Dickinson for over a decade, some of you might already know Cheri – or have had a class with her! Before coming to Carlisle in 2008, Cheri and her family lived in D.C. though she is originally from the Finger Lakes region in New York. Cheri has two daughters, Maddy -17 and Sofia -19 plus two pups that keep her on the move. When she is not washing, packing, or preserving vegetables at the College Farm, Cheri likes to stay active working out at the gym and trying new fitness regimes like pole fitness.
Mary Silva, Administrative Assistant
Mary joined the Farm Staff in July 2019 after 10 years with Dickinson College in the Student Life Department as the Senate Bookkeeper. In administering support to CSA, GATHER events, Gift Box sales, meeting set ups, farm finances and general office details, she is amazed by the multitude of activities and is thrilled to be part of this vibrant farm team. Mary is a native of Carlisle who loves the outdoors, traveling, league tennis and spending time with her family. Being "Mom" to her four grown children is her favorite past time.