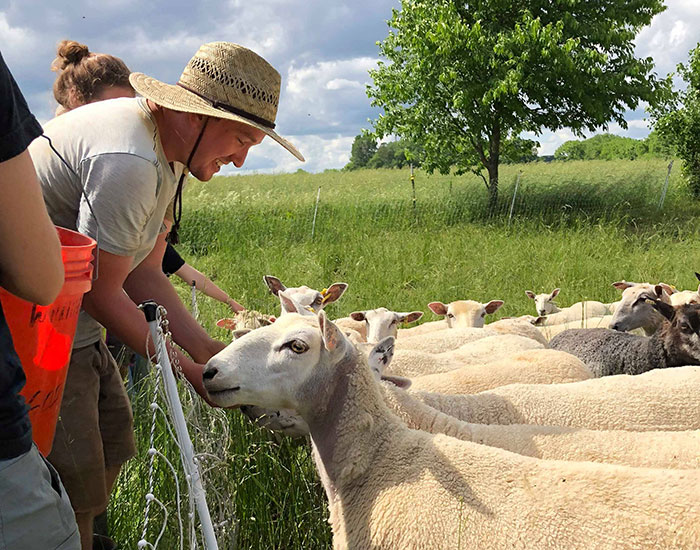 The College Farm welcomes visitors to our Farm on guided tours and offers self-guided tours for prospective students and Dickinson alumni. Please understand that the Dickinson College Farm is a working farm and can present walking hazards like uneven terrain, farm machinery, and mud.
Guided Tours
Guided tours are led by a farm staff member or a student farmer and include stops at our greenhouses, compost rows, production fields, livestock pastures, yurts, and solar energy installations. Most tours take about one hour. As the Dickinson College Farm is a working vegetable operation, not all requests for guided tours can be met. Please contact farm@dickinson.edu to request a guided tour before your visit.
All tours start at the kiosk by the gravel parking lot. Please avoid parking on grass or along Park Drive, which limits visibility for other folks leaving the farm!
The Dickinson College Farm is a working farm. Parental supervision of children under the age of 13 is required at all times. Children may not move about the farm without appropriate supervision.
Guided Tours Open to the Public
Annually, the Dickinson College Farm opens its [barn] doors to the public. Follow our Facebook to find out about the next public tour date.
Self-Guided Tours for Prospective Students & Alumni
Are you a prospective student or alumnus of Dickinson College who can't make one of our guided tours? No problem!
You may also consider taking a free self-guided tour during farm working hours, 8am-6pm Monday-Friday. Please email farm@dickinson.edu to arrange a self-guided tour. Self-guided tour brochures are located in the kiosk by our parking lot.
Except for guided tours and special events, we are closed on Saturday and Sunday. Don't forget to let us know you will be coming!
Self-Guided Audio Walking Tour
How about downloading our self-guided Audio Walking Tour and Walking Tour Brochure (hard copies available in the welcome kiosk by the gravel parking area at the farm) to your smartphone or other mobile device? This tour, which was created by Dickinson student farmers and takes about one hour to complete, will guide you to key areas of the farm and provide helpful information about what you see.
Event Venue for Dickinson College
The Dickinson College Farm can offer a rustic event venue for Dickinson College academic departments, clubs, and student groups. The College Farm staff can help you build your event from the ground up, or simply act as a venue for your planned event.
If you are interested in holding an event on the Dickinson College Farm, please visit our blog for further information and to access our event request form. Please make your request at least two weeks in advance. We accept reservations months in advance.
*Please note that Dickinson College Farm is not an eligible venue for private parties, private graduation parties, weddings or other similar events. If you are interested in holding a wedding or private party in a building on Dickinson College's campus in Carlisle, please contact the Conferences and Special Events office at case@dickinson.edu.