Living Laboratory
The College Farm supports students from all disciplines in their pursuit to incorporate its resources into their academic interests. From art majors to biology majors, the farm has worked with students and faculty to develop relevant research topics, from food production to public art.
The farm continues to collaborate with and support faculty from all departments in their courses, labs and research. While course offerings may change from semester to semester, a growing number of Dickinson College faculty have developed ways to integrate issues relating to food sustainability and the farm into their courses.
Recent collaborative projects on the Farm include:
- American Toad migration as a method of integrated pest management (Dickinson Biology Department)
- Effects of vermicompost extracts on plant health and stream health
- Production of The Grapes of Wrath (Dickinson Department of Theatre & Dance)
- Sculpture installation (Dickinson Art & Art History Department)
- Optimizing Management Systems for Production of Organic Potato to Improve Nutrient Quality and Pest Control (Rodale Institute)
- Nitrogen Leaching in Cover Crop and Reduced Tillage Fields (Penn State Extension)
- And many more!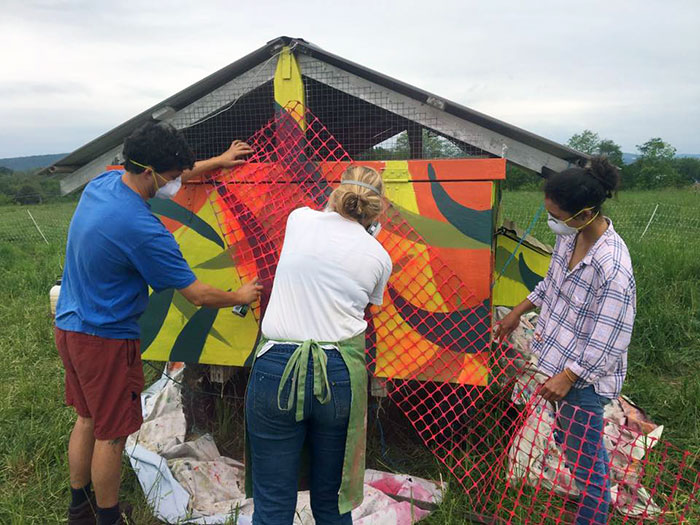 Food Studies Certificate
In 2016, Dickinson established a Food Studies Certificate, which incorporates classes across multiple departments and an experiential componenet to equip students to address major questions in the studies of food, foodways, and food culture. The College Farm leadership team played a major role in developing the Food Studies Certificate, and Farm Director Jennifer Halpin now teaches the Senior Capstone course of the Food Studies program.
The College Farm provides a hands-on outlet for students in the Food Studies program to get involved with producing food from seedling to plate.