Growing Good Food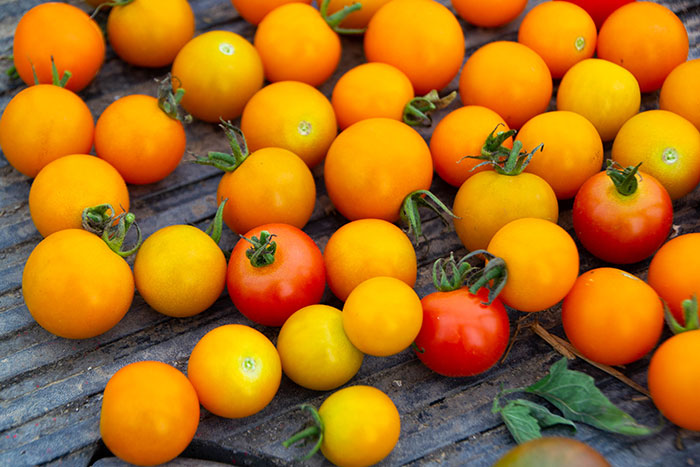 The College Farm produces over 50 types of fruits and vegetables, ranging from lettuce to potatoes, melons, and herbs. One of our main crops is tomatoes, for which there is the highest demand from Dickinson's Dining Services. The farm cultivates as many as ten varieties of tomatoes in a season, numbering around 2,000 plants and delivering over 1,000 pounds to the dining hall each week. Throughout the season, you can also find a myriad of squash, beets, carrots, turnips, radishes, eggplant, kohlrabi, peas: the list goes on! The farm has also incorporated small fruits into its crop rotation, including strawberries, raspberries and gooseberries.

The farm tries its best to meet the culinary appetites of Dickinson College students, the 100+ members of our Campus Supported Agriculture subscription program, our customers at the weekly farmers' market in downtown Carlisle, and those in need.
USDA-Certified Organic
As a USDA Certified Organic agricultural program, the farm does not use synthetic pesticides or herbicides. Instead, insects are controlled biologically and manually. To prevent the spread of plant diseases, the College Farm maintains a vigorous crop rotation and takes preventative measures to keep unwanted diseases at bay. The College Farm places a strong emphasis on plant diversity. By creating a diverse agricultural landscape, we help minimize the presence of unwanted diseases and work with the resources on hand to sustain a balanced ecosystem.
Animal Welfare Association Certified Humane
The Dickinson College Farm is proud to provide grass-fed, humanely-raised meat for the campus community. We hope that our efforts to care for, respect and love these animals is reflected in the quality of our animal products. In recognition of our efforts to provide exemplary care for our livestock, all of our meat is certified Animal Welfare Approved.

If you are interested in purchasing beef or lamb from the College Farm, please visit our blog.