Eat Good Food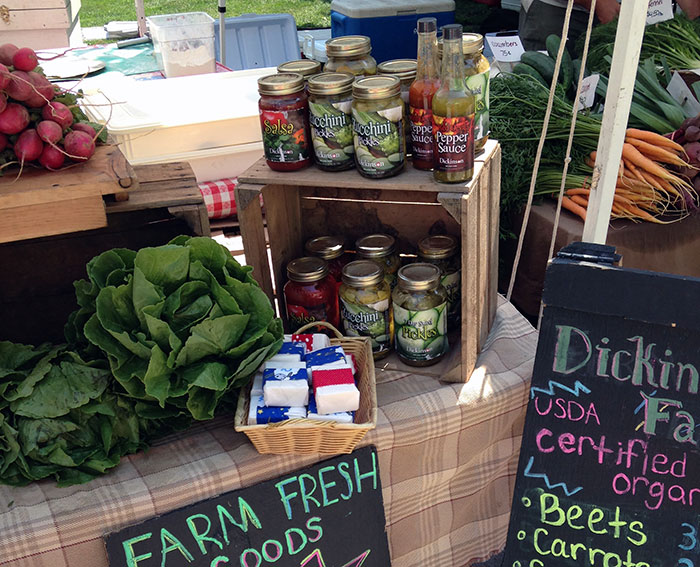 Throughout the growing season, student farmers, volunteers and farm staff work diligently to grow quality produce for consumption by the Dickinson and Greater Carlisle communities. The College Farm provides both direct vegetable and meat sales and prepared food sales with our wood-fired pizza oven and mobile grill.
On Campus
The College Farm aims to be one of the main suppliers of specific vegetables to Dickinson's Dining Services during the Pennsylvania growing season (March – December). Examples of these featured crops include slicing tomatoes, cherry tomatoes, mesclun mix, baby spinach, leaf lettuce, zucchini, summer squash, bell peppers, broccoli, cucumbers, and herbs.
Campus Supported Agriculture (CSA)
A significant portion of the harvest is earmarked for the farm's Campus Supported Agriculture (CSA) Program, which feeds over 155 members and their households.
If you are interested in becoming a part of our CSA program, please visit our blog.
At Market
The Farm maintains a thriving stand at Carlisle's weekly Farmer's Market: Farmers on the Square. You can find the Farm vending veggies and baking pizzas every Wednesday (May-December) from 3-7pm on the corner of W. High and N. Hanover streets.
The Farm also brings food to campus with the Farm Fresh Fridays Weekly HUB stand. Every Friday from 11am-2pm, the Farm stand can be found with a selection of canned goods, fresh produce, and value-added items on Britton Plaza or the lower level of the Holland Union Building.
Meat Sales
The College Farm sells Certified Humanely-Raised beef and lamb throughout the year. Popular products include beef jerky, burgers, lamb sausage, and steaks.
If you are interested in purchasing College Farm meat, please visit our online meat store.
Events
The College Farm holds a number of events throughout the semester that are open to Dickinson students and the wider community.
Pizza on the Plaza occurs once monthly and brings the College Farm's wood-fired pizza oven to campus, paired with a variety of fun programming and campus collaborations.
GATHER Restaurant is the College Farm's pop-up restaurant, offered once monthly on Dickinson's campus. GATHER features a guest chef and a fine dining experience centered on local ingredients.