Kelsey Horowitz, Environmental Studies Major and Economics Minor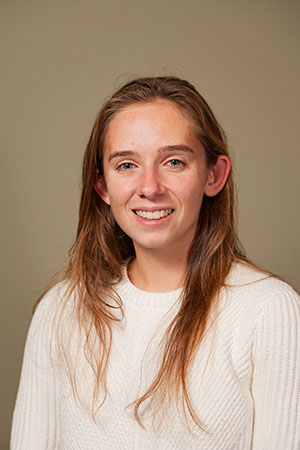 Kelsey Horowitz '18
Kelsey Horowitz is an Environmental Studies major and Economics minor from Stow, Massachusetts. She has always been an environmentally conscious person, but has realized her passion for, and the importance of, sustainability after realizing that her peers did not know how to recycle. Last year, Kelsey introduced a lint collection program to the Goodyear laundry room, which serves as a laundry room for all Goodyear residents, as well as Reed Street, Cherry Street and West Louther Street houses. The lint collection program reduced (and continues to reduce) the amount of waste produced in the laundry room. Now all of the people that use the laundry room know that lint can be composted and is used as nutrient-rich soil on the farm.
Last spring, Kelsey was a part of Professor Beevers' Environmental Leadership and Organizing for Sustainable Social Change course, where she created a campaign focused on improving campus sustainability through the reduction of student driving. After measuring and timing distances to and from various locations across campus, she made and hung up informational posters around campus with concrete numbers as a way to inform people that they could save time, decrease air pollution emissions, get exercise and talk with friends if they chose to walk rather than drive.
Kelsey studied abroad in Tanzania where she learned about the importance of wildlife conservation, household adaptations in response to climate change impacts and ways to have a more sustainable lifestyle. She spends the majority of her time outside of class running, as she is a contributing member and leader on the cross-country and track and field teams. Kelsey is excited to be part of the Baird Colloquium and is looking forward to learning about other perspectives on sustainability, making an impact on campus, and furthering her leadership skills.