Drayer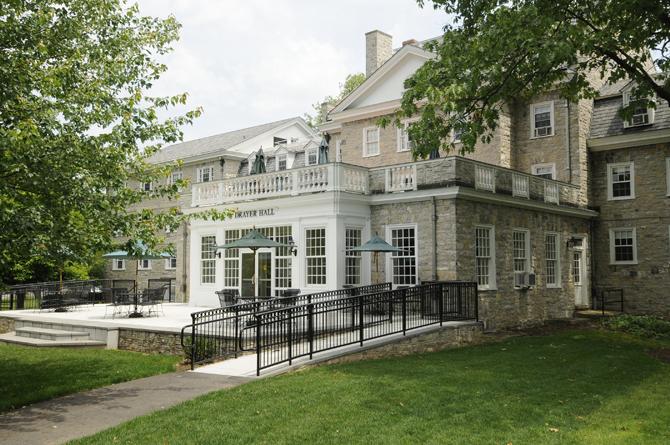 Drayer Hall was the first residence hall in Dickinson's history built by the College solely for women. It was also the first new building constructed on the Benjamin Rush campus, a twelve-acre tract which had been acquired from the Moore Estate in 1932. Drayer was appropriately dedicated on what the College had designated as Women's Day, May 1, 1952. Drayer Hall was designed by Sydney E. Martin and was named in honor of Sumner M. Drayer (Class of 1902) and his wife, Agnes. In addition, Mary Sharp Foucht contributed funds to establish the Sharp Memorial Lounge in memory of her father, Alexander Sharp, Class of 1883.
Drayer Hall is home to about 180 students in a setting of mostly traditional double rooms. The building houses primarily first-year students. The building features a large lounge on the first floor, as well as kitchen and laundry facilities in the basement. The building is located on the Rush campus, across High Street from the Library.
Interior & Furnishings
Walls: Cinderblock or drywall
Floors: Carpeted hallways; carpeted/laminate in bedrooms
Furniture: Each student will have a bunkable bed that can be adjusted (or flipped) for height, a dresser, a desk and desk chair, and a bookcase. Closets are built in and not moveable. Soft seating is available in building lounges.
A/C: Window units
Kitchen Facilities: Common kitchen, including sink, refrigerator/freezer, & stove/oven.
Cleaning: Bathrooms cleaned daily; Showers cleaned weekly.