The Underground Hours & Menu
Located in the lower level of the HUB, The Underground features organically grown fair-trade coffees, teas, fresh fruit and natural fresh squeezed fruit or vegetable juice. Stop by our Red Devil sushi bar and enjoy some sushi prepared by SAIKOU Inc. The Underground is a great alternative to other dining areas for a quick snack or when you prefer a more relaxed setting.
Hours of Operation
Monday - Friday: 8 a.m. - 4 p.m.
Saturday - Sunday: Closed
These are the normal hours of operation. Hours are subject to change with the academic schedule.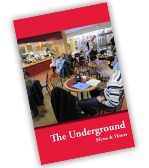 Menu