Union Station Hours & Menu
Great snacks, hot and cold sandwiches, daily specials and quick service are available at Dickinson's snack bar. Union Station is open throughout the day and evening to accommodate busy students, faculty and staff.

Dining Services will always use our own organically grown vegetables and greens from the College Farm, when available.

Joy Lentz: Manager
Ext. 1318


Regular Hours
Sunday: 1 p.m. - 9 p.m.
Monday-Thursday: 9 a.m.-9 p.m.
Friday: 9 a.m.- 8 p.m.
Saturday: 1 p.m.-8 p.m.

These are the normal hours of operation. Hours are subject to change with the academic schedule.


Menu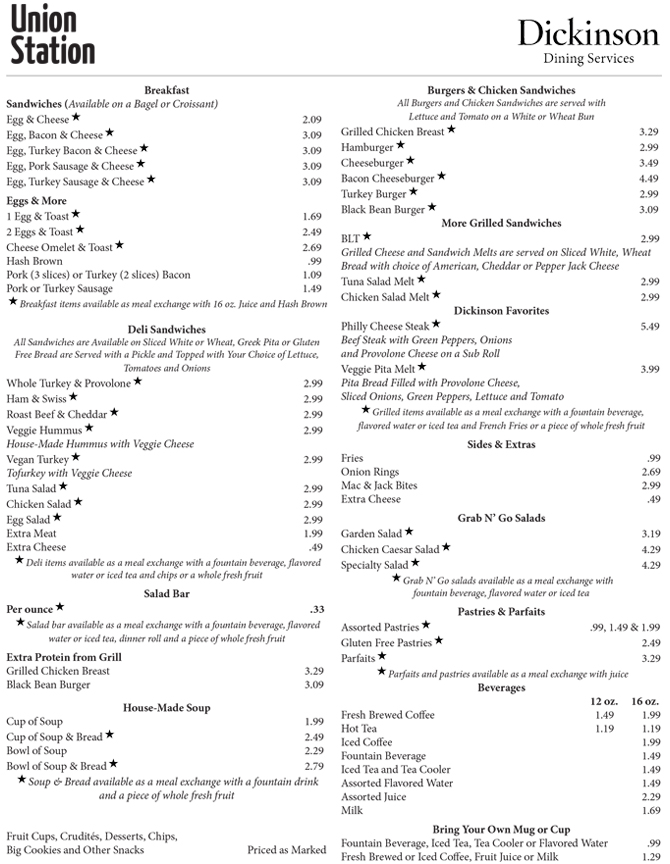 View the Union Station menu as a .pdf

Additional information may be obtained by calling Dining Services at 717-245-1318.