Hazardous Weather
Winter Weather
Each year, a number of Dickinson students, faculty, and staff experience injuries while walking on snow and ice on campus. Adhering to the parking policy aids in the effective removal of snow and ice from campus. Additionally, keeping the following items in mind can help keep you safer over the winter months:

Wear proper footwear with plenty of tread that will help you navigate snow and ice
Follow the emergency close-down or delay policy so that Facilities Management can remove snow and ice from the parking lots and sidewalks
Report snowy or icy conditions to Facilities Management at 717-245-1212
Consider that shaded areas, particularly the north side of buildings and alleyways, may be icy, snowy, or covered in black ice.
Walk on surfaces that have been plowed and treated or are heavily populated routes when walking on campus during inclement weather
Walk like a penguin to help increase your center of gravity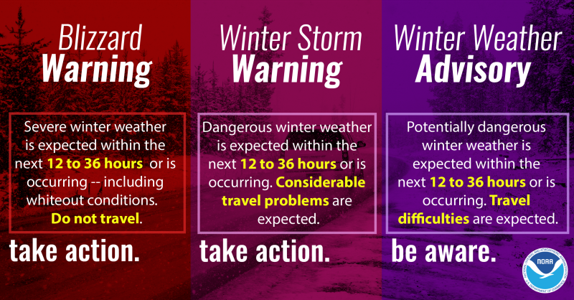 Flooding
Remember: "Turn Around, Don't Drown!"®
Avoid walking or driving through flood waters. Just 6 inches of moving water can knock you down, and 2 feet of water can sweep your vehicle away.
If there is a chance of flash flooding, move immediately to higher ground. Flash floods are the #1 cause of weather-related deaths in the US.
If floodwaters rise around your car but the water is not moving, abandon the car and move to higher ground. Do not leave the car and enter moving water.
Avoid camping or parking along streams, rivers, and creeks during heavy rainfall. These areas can flood quickly and with little warning.
Flood Watch = "Be Aware." Conditions are right for flooding to occur in your area.
Flood Warning = "Take Action!" Flooding is either happening or will happen shortly.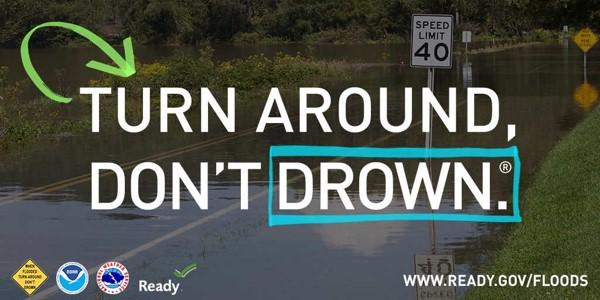 Thunderstorms & Lightning
All thunderstorms are dangerous, and every thunderstorm produces lightning. While lightning fatalities have decreased over the past 30 years, lightning continues to be one of the top three storm-related killers in the United States. On average in the U.S., lightning kills 51 people and injures hundreds more. Although most lightning victims survive, people struck by lightning often report a variety of long-term, debilitating symptoms.
If a thunderstorm and/or lightning is occurring in your area, you should:
Take shelter in a sturdy building. Avoid isolated sheds or other small structures in open areas.
Stay away from windows and doors, and stay off porches.
Avoid natural lightning rods such as a tall, isolated tree in an open area.
Severe Thunderstorm Watch - Tells you when and where severe thunderstorms are likely to occur. Watch the sky and stay tuned to NOAA Weather Radio, commercial radio or television for information.
Severe Thunderstorm Warning - Issued when severe weather has been reported by spotters or indicated by radar. Warnings indicate imminent danger to life and property to those in the path of the storm.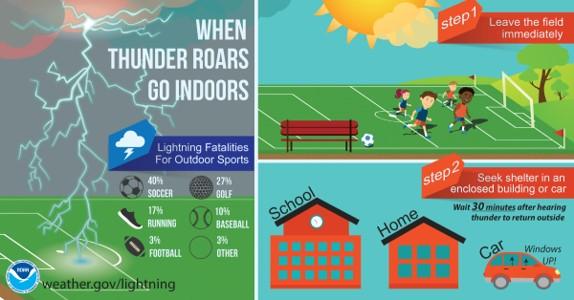 Tornadoes
Tornadoes are nature's most violent storms. Spawned from powerful thunderstorms, tornadoes can cause fatalities and devastate a neighborhood in seconds. A tornado appears as a rotating, funnel-shaped cloud that extends from a thunderstorm to the ground with whirling winds that can reach 300 miles per hour. Here in Pennsylvania, often tornadoes are short-lived, small, and obscured by rain making them difficult to see and/or detect.
If a tornado is occuring or imminent, you should:
Move indoors, inside a sturdy structure
Move to your pre-designated Shelter in Place location (see Emergency Quick-Reference Guide)

Your Shelter in Place location should be an interior room, on the lowest level of your building, away from any windows

Crouch down and cover your head to protect yourself from flying debris
Wait until the storm passes or an "All Clear" is given via Red Alert to leave your shelter
Tornado Watch - Tornadoes are possible. Remain alert for approaching storms. Watch the sky and stay tuned to NOAA Weather Radio, commercial radio or television for information.
Tornado Warning - A tornado has been sighted or indicated by weather radar. Take shelter immediately.
Ready.gov, 2016