AEDs & Epinephrine Auto-Injectors
AEDs
An Automatic External Defibrillator, or AED, is a lifesaving tool that can be used in the event of a cardiac arrest or similar loss of consciousness by an individual. Dickinson College has over 20 AEDs across campus in various Academic, Administrative, Athletic, and Auxiliary buildings as well as supplementary units carried by Athletic Training Staff during athletic events and also by the Department of Public Safety in patrol vehicles. These AEDs are strategically placed in high-occupancy/assembly areas or buildings with increased risk due to individuals who may be using the facility.
Nearly all units on campus are Defibtech Lifeline AEDs which are simple to use, highly visible in their bright yellow color, and feature clear voice prompts to assist an individual in the event the AED is needed for an emergency. Anyone can use an AED to help save a life. Many people around the world are trained, including police and security officers, firefighters, athletic trainers, flight attendants and lifeguards. Here at Dickinson, we highly recommend individuals take an AED training course, typically sponsored through the Red Cross, for directions on proper use and application of an AED, as well as other life-saving techniques such as First Aid and CPR prior to using an AED.
All buildings containing an AED will have it mounted inside a white cabinet affixed to the wall with the words "Emergency Defibrillator" printed on the front. All buildings with an AED will also have a small red/white "AED Equipped Building" sticker at each exterior entrance door (see example below). Inside, a white/red AED sign is installed above each AED cabinet for additional wayfinding. Additionally, the Emergency Quick Reference Guides in every building identify your closest AED.
Epinephrine
In addition to the AEDs strategically located across campus, epinephrine auto-injectors (aka, EpiPens®) have also been provided in select locations (see below) for the treatment of severe food allergies or anaphylaxis.
EpiPens are available in three main locations and have been co-located inside the AED cabinets in the following locations. These cabinets are distinguishable by a red AED/Epinephrine signs above the AED cabinet instead of the white sign found elsewhere across campus. EpiPens® can be found in the following areas and are also identifiable via the AED map below:
Kline Athletic Center
HUB, Information Desk
Waidner-Spahr Library, Circulation Desk
For more information about epinephrine, anaphylaxis, EpiPens and more, click here to learn more.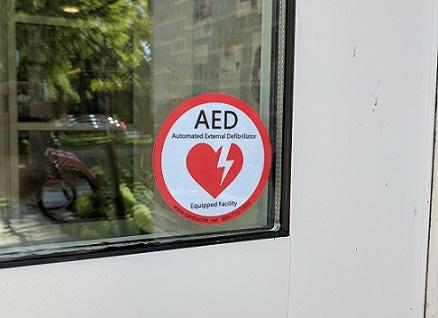 "AED Equipped Facility" sticker on exterior door.
Click here for a map of all campus AED locations.
| Building | Sub-Location |
| --- | --- |
| 50 Mooreland | Main Entrance lobby |
| Allison Hall | Lower Level, by Community Room Restrooms |
| ATS Auditorium | Main Entrance, behind wheelchair lift |
| Children's Center (DCCC) | Administrative Assistant's Office |
| Denny Hall | First floor, north entrance lobby |
| Durden Athletic Training Center | First floor, hallway intersection |
| Facilities Management | In warehouse by restrooms |
| Holland Union Building (HUB) | Upper level Information Desk |
| Kaufman Hall | DPS lobby |
| Kline - Athletic Center | Athletic Center upper level west entrance |
| Kline - Fitness Center | Attendant's desk inside Fitness Center |
| Old West | Ground level hallway by north exit door |
| Organic Farm | Student Kitchen |
| Rector Science Complex | Lower level hallway by restrooms |
| South College | Ground floor, central entrance |
| Waidner Admissions | First floor gallery by Staff Entrance |
| Waidner-Spahr Library | Main level by Circulation Desk |
| Weiss Arts Center | Main entrance behind pillar |
| Wentzel Building (Dickinson Park) | Athletics hallway main intersection by batting cages |
Boldface = Locations with epinephrine auto-injectors located within AED cabinet.