October 28: A Day of Celebration & Opportunity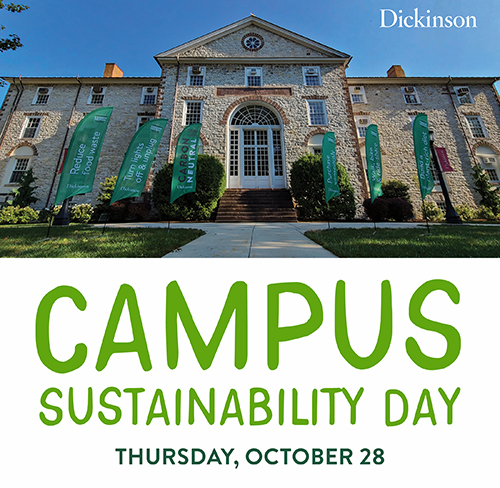 Dickinson will host Campus Sustainability Day on October 28, 2021. This is an all-day occasion in which we hope to bring together as many campus partners as possible to share how your work connects to sustainability through people, planet or prosperity. Our goal is for this to be a celebration of Dickinson's Carbon Neutrality achievement, an acknowledgment of the holistic and diverse approach to sustainability at Dickinson and in Carlisle, and an educational opportunity for campus-wide engagement in sustainability.
Come together to learn about opportunities and resources that support people, our planet, and the prosperity of our communities around the world in equitable ways. The day will host educational tabling, interactive activities, pop-up speakers, tours, open houses, games, arts & crafts, and giveaways. We invited your contributions, and have gathers over 30 campus and community partners together for the day!
Developing Schedule of Events for October 28:
TITLE

TIME

LOCATION

DESCRIPTION

Bike Ride to the Solar Field
10:00 am

Meet with bikes at Kaufman Hall Entry Plaza (Greenhouse)

Join Ken Shultes, AVP for Sustainability and Facilities Planning, on a fun, healthy and educational bike ride out to Dickinson's Solar Field at Dickinson Park! Bike ride is short, simple and guided. Helmets encouraged.
OutHouse Open House
10:30-11:30 am
OutHouse
60 Moreland Ave.
Come hang out on the OutHouse lawn for games and a house tour! Meet the house manager and some residents and check out the space.
Interactive Campus Celebration
11:30 am- 1:00 pm
Britton Plaza
(Rain: Social Hall)

Come together with other Dickinsonians to learn about opportunities and resources to engage in projects and programs that support people, our planet, and the prosperity of our communities around the world in just and equitable ways. Visit with over 20 campus and community partners for giveaways, activties, crafts & more! See list below for details.

Faculty Lunch Seminar: Teaching the Climate Crisis
12:00-1:00 pm
Outdoors at Clarke Forum
255 W Louther
(Rain location: Kaufman 178)

Dickinson faculty are invited to join us for a conversation about teaching all aspects of the climate crisis. What are we teaching? What should we be teaching? How should we be teaching? How can we support each other in teaching about climate change? How can Dickinson support us? The conversation will be facilitated by Michael Beevers and Neil Leary. This event is sponsored by the Clarke Forum. We will meet in person or virtually, depending on preferences of the group. If in-person and weather is good, we will meet outdoors. If in-person, lunch from the Grazery will be provided.

Engaging with Home Gardeners in Carlisle
12:00-1:00 pm
Montgomery Garden (Outside HUB @ SNAR)
Can home gardening alleviate food insecurity in Carlisle? Come try Shiso juice made fresh from products of your campus garden and learn more about how we're developing gardens and tracking dietary diversity and biodiversity.
Power of the Pen: Using Letters and Postcards to Reach Your Reps
12:00-1:15 pm
Althouse 201
Letter- and postcard-writing are accessible, frugal, and impactful methods for influencing legislators on a range of issues, including sustainability policy. In this interactive workshop, we will explore the process of letter-writing from design to delivery, focusing closely on researching legislation, pinpointing policymakers, and crafting a persuasive message. Join this Civic Skills Academy Workshop hosted by the Center for Civic Learning and Action.
Tree House Myth Busters Tour
2:00-4:00 pm

Treehouse
532 W Louther St

Come stop by Treehouse to meet residents, see the space and learn about Dickinson's Center for Sustainable Living! There's lots of myths about this place. Come see for yourself what we are all about. All are welcomed to this come and go open house.
Free xChange Open House
3:00-5:00 pm

Allison Hall
Room 2

Join us at the Free xChange, Dickinson's free thrift closet, to get to know our space and the great things we're doing on campus to help reduce waste, promote equity and provide access to resources! Donations accepted! Thin your collections and drop off clothing and accessories you no longer use and help other Dickinsonians, sustainably! Come and go.
The Handlebar Open Hours & Tour
4:00-6:30 pm
The Handlebar, @DW on Dickinson Walk
Stop by the Handlebar Open hours to check out the space, get to know our volunteers, fix up your bike or board or learn about volunteer opportunities. Come and go open house.
Beer to Biogas Research Project
4:00-5:30 pm
Kaufman Greenhouse
Renewable energy from beer brewing waste? What could be better? Students and College Farm staff are studying the energy production value of spent grain from Molly Pitcher Brewing Co in lab scale anaerobic digesters. The data from this study will be used to design a large-scale waste to energy system at the farm. Come check out the greenhouse and learn all about anaerobic digestion and sustainable waste management - we might even make some fire! Come and go open house.
Sustainability Career Panel
4:45-6:00 pm
Virtual Event
Zoom

Whatever your fields of study and wherever your career path leads you, sustainability can be part of your future work. Join us for a conversation with Dickinson alumni about their career paths and choices and the ways in which their work connects with and advances sustainability goals. RSVP in advance on EngageD to be sent the Zoom Link for the panel. The panelists are:

Kendra Beaver '20, Climate Justice Coordinator, Fairmont Indigo CDC Collaborative
Ginnah Etah '19, NYC Urban Fellow
Andrew Ford '11, Director, Global Sustainable Finance, Morgan Stanley
Becca Raley '94, Executive Director, Partnership for Better Health

Crafts & Conversation at SoJo
5:00-6:30 pm
Social Justice House
Come sip on tea, make a fun fall craft, and engage in a discussion about the intersections of sustainability and social justice with SoJo house residents! We'll be on the front porch, and everyone is welcome to stop by! Bring your own cups. We'll provide the supplies.
Raffle Drawing
6:00 pm
Instagram Live on Dickinson College
Tune in to see who wins $30 to Grazery, $30 to FOTS, Hydroflask, solar charger and hammock. Engage all day to increase your chances to win. Raffle collection boxes will be on Britton Plaza until 5:45 pm.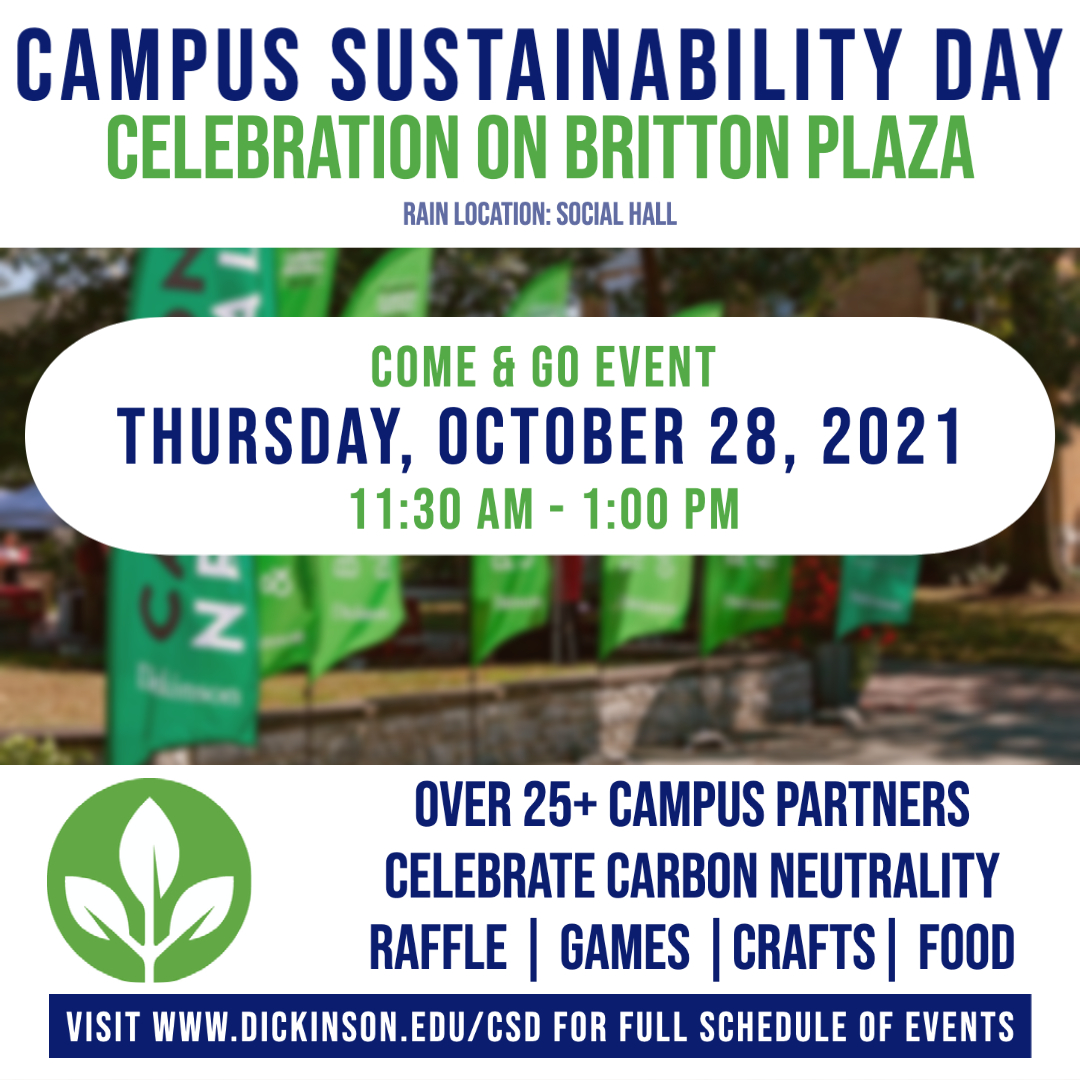 Come together with other Dickinsonians to learn about opportunities and resources to engage in projects and programs that support people, our planet, and the prosperity of our communities around the world in just and equitable ways. Visit with over 25 campus and community partners for giveaways, activities, crafts & more! We will have food art, stress balls, smoothies, and a plant-based taste test!
Come to check out our growing list of partners for the event:
Africana Studies Department
Alliance for Aquatic Resource Monitoring (ALLARM)
Black Student Union
Carlisle Sunrise
Center for Global Study and Engagement
C-Luv Thrift
College Farm
CSE: Green Devil Certification
CSE: Bike Blender Smoothie
Dickinson Votes
Eco-Reps
Environmental Studies Department
Ethical Eating Club
Free xChange
The Handlebar
The Hive
Human Resources
MOB
Office of LGBTQ Services
The Peddler
Residence Life and Housing
SLCE
Sustainable Operations
WDCV
Women's & Gender Resource Center
Dickinson Achieves Carbon Neutrality in 2020
Dickinson became carbon neutral in April 2020. We are one of the first colleges/institutions in the nation to reach this acheivement
Dickinson is meeting and exceeding its civic obligation to engage its students, faculty, staff, and alumni in taking responsible, scientifically supported actions to help slow, and ultimately prevent, dangerous climate change.
Dickinson students are learning essential skills for solving complex problems of the 21

st

century by participating in climate change solutions on campus and beyond the campus. Let's share what we have learned with others!
The Center for Sustainability Education (CSE) coordinated People | Planet | Prosperity: Skills for Change to virtually connect Dickinsonians through behavior changes that impact climate change during 2020. This initiative aimed to highlight people, businesses, ideas, or skills that create positive change for our planet and for all people. We invited any Dickinsonian to submit to this campaign in the form of stories, articles, videos, tours, tutorials, social media posts, interviews, graphics, demonstrations, lists, etc. We asked them to JOIN WITH OTHERS, put people first, and share ways that we can better adopt the behaviors of:
Walking, Biking & Ridesharing
Reducing Food Waste
Building a Plant-Rich Diet
Purchasing Consciously
Turning off Lights & Unplugging