Stepping Forward as Leader
Acting to reduce risks in the climate crisis requires deep cuts in heat-trapping emissions of greenhouse gas pollutants. It also requires adapting and building resilience to the changing climate. Dickinson signed Second Nature's Resilience Commitment in December 2022, acting on a resolution passed by the Dickinson faculty and joining over 100 colleges and universities nationwide that have pledged to make our campuses and communities resilient to climate change.
In signing Second Nature's Resilience Commitment, we are stepping forward as a partner and leader for climate resilience in Carlisle, Cumberland County, and the world. The resilience initiative complements and will be integrated with Dickinson's continuing commitment to reduce our greenhouse gas emissions and support emission reductions in Carlisle, Cumberland County, and elsewhere.
As a signatory of the Resilience Commitment, we will:
Engage the Community. We will convene Dickinson, Carlisle, and Cumberland County community members to design and launch a campus-community climate resilience initiative (Spring 2023).
Assess Risks and Resilience. We will assess climate risks and resilience for our campus and region (Fall 2023 & Spring 2024).
Investigate Options. We will investigate and prioritize options for building climate resilience (Spring 2024 & Fall 2024).
Plan for Action. We will develop and adopt a plan for action (Spring & Fall 2025).
Act. We will begin implementation of the action plan in Spring 2026. But some actions can and will come sooner!
Dickinson students will participate in all these activities, building their capacities to support climate action on campus, in communities, and in their future workplaces.
What is climate resilience?
The capacity to prevent, limit, and recover from impacts of the changing climate and adapt to flourish in an uncertain future.
What are some examples of actions to build resilience?
Improve stormwater management
Improve planning to reduce risks from natural hazards
Provide more shade and green spaces
Build social capital that connects people and organizations for effective action
Provide equitable access for all to good jobs, health care, quality housing, nutritious food, clean water, clean air, and green spaces.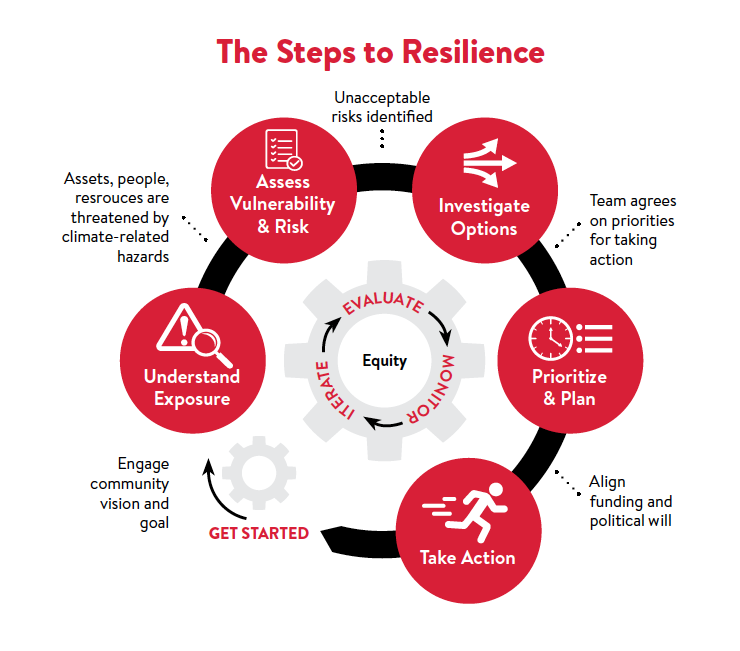 Source: U.S. Climate Resilience Toolkit, Steps to Resilience
Resilience Working Group
A Resilience Working Group was established to guide efforts to engage, assess, investigate, plan, and act for climate resilience. This group connects Dickinson faculty, staff and students with community members and Borough/County employees. The working group co-chairs are:
​​​​​​Contact Neil or Ken if you are interested to learn about and participate in the climate resilience initiative.