Climate Research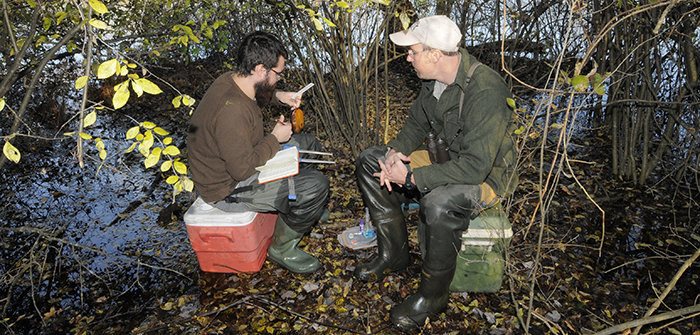 Dickinson students and faculty engage in a variety of climate change related research, much of it supported by Sustainability Education Fund (SEF) grants from the Center for Sustainability Education, and grants from Research & Development. Examples of climate research includes the following:
Nitrogen Footprint:
Dickinson College has joined the Nitrogen Footprint Tool Network, led by researchers at the University of Virginia, in a multi-institutional, multi-year project to calculate and compare nitrogen footprints of participating colleges and universities and promote actions to reduce nitrogen footprints. Two student research assistants, Steven Fitzpatrick '18 and Olivia Boggiano-Peterson '17, assisted CSE Director, Neil Leary in the project. Students gained knowledge and skills for calculating and analyzing institutional nitrogen footprints, updated Dickinson's footprint, conducted preliminary assessment of strategies for reducing nitrogen releases, and presented results at a workshop at Brown University.
Response of Reservoir Ecosystems to Extreme Rain Events:
Max Egener '16 served as a research assistant for Kristin Strock, Environmental Studies, on a project to understand how the physical and chemical properties of Laurel Lake in Pine Grove Furnace State Park change during the open water season and as a result of variable weather. The primary goal of this project is to use new sensor technology to conduct climate change research while also providing detailed environmental data to inform lake management. The project will 1) determine the physical, chemical, and biological response to extreme rain events in two reservoirs and 2) develop scientific guidance documents outlining the current condition of Laurel Lake and sensitivity to extreme rain events and work with lake managers to apply this scientific understanding to future management practices.

Ocean Acidification:
Biology Professor Tom Arnold developed a Free-Ocean-Carbon-Enrichment (FOCE) system to study the effects of ocean acidification on coastal ecosystems in the field. Working with Dickinson students Christopher Mealey, Hannah Leahey and Kelly Maers, Professor Arnold used the FOCE system to test the effects of acidification on seagrasses in Chesapeake Bay tributaries. That work, combined with related research in the Mediterranean, resulted in a peer-reviewed publication by the students, Professor Arnold and other co-authors in PLOS ONE. Professor Arnold also took his FOCE system to Australia to pilot Dickinson's Global Scholars Program at the University of Queensland. Students in the program conducted field research with Professor Arnold on ocean acidification in marine systems of Moreton Bay, Australia.

Climate Change and Africa:
CSE Director Neil Leary and Professor Pauline Dube of the University of Botswana oversaw the peer-review of the Africa chapter of the forthcoming 5th assessment report of the Intergovernmental Panel on Climate Change (IPCC).

Chesapeake Nutrient Fluxes and Extreme Climate Events:
Earth Sciences Professor Jeff Niemitz and Kyle Long '13 collected and analyzed sediment samples from the Yellow Breeches Creek to test hypotheses about the effects of extreme climate events on nutrient fluxes into the bay. Extreme rainfall events are likely to become more frequent in the future.

Climate Change and Sea Urchins:
Biology Professor John Henson and Richard Weeks '13 studied the impacts of CO2-driven changes in the ocean environment on reproduction of marine invertebrates, including the effects of acidified seawater and increased temperature on sea urchin embryo development, cell division, tissue patterning, neurogenesis and generation of the calcium carbonate-based larval skeleton.

Proxies for Paleoseasonality:
Earth Science Professor Marcus Key worked with Paige Hollenbeck '12 to develop a new proxy for quantifying paleoseasonality using bryozoan skeletons during the period of climate change from 1995-2004.

Reducing Dickinson's Carbon Footprint:
Students in the SUST 301 Sustainability Practicum course research options for reducing Dickinson's greenhouse gas emissions. The students present their findings and recommendations to the President's Commission on Environmental Sustainability.

Climate Negotiations:
Delegations of Dickinson students and faculty attended UN climate talks in 2009, 2011, 2014, 2015 to conduct research on international climate negotiations.The 2011 and 2014 programs were conducted as Global Climate Change Mosaics. Learn more!