Celebrating the Future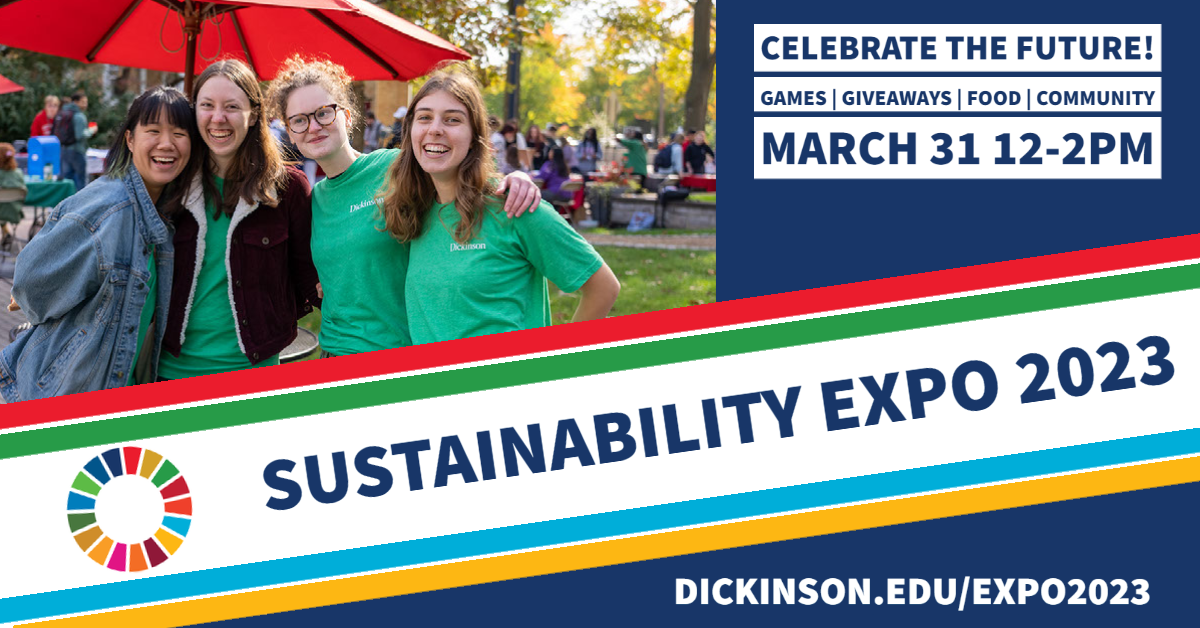 Friday, March 31, 2023
12:00-2:00 pm on Britton Plaza
(Rain Location: Social Hall)
Dickinson will bring together students, faculty, staff and the Carlisle community for our Sustainability Expo 2023, an interactive event celebrating our campus and community partnerships in the progress and future of sustainability. We will host a campus celebration in the form of games, interactive tabling, sustainable shopping, sharing information, prizes, interactive education, and camaraderie in combination with the UN Sustainable Development Goals and the 2023 Campus EcoChallenge. Please join us for a look into how our campus and community work connects to people, prosperity, and the planet!
Through our array of partners (organizations, businesses, clubs, non-profits, centers etc.), we expect themed games, music, water taste-tests, arts and crafts, skill exploration, stuff for sale, stuff for upcycling, and discussions about the facets of sustainability. There will be prizes and participation incentives focused not just on our connection with the environment, but on an interconnected, holistic and diverse exploration of people, food, clothing, housing, learning, well-being, consumption and every aspect of our behaviors and habits.
In this celebration of the future, we'll also be kicking off the 2023 Campus EcoChallenge to be hosted April 3-21. This online behavior-centered challenge will allow Dickinsonians the chance to make commitments and changes for chances to win great prizes. The platform is point-based and connected to actions, habits, and steps taken in pursuit of sustainable living. We'll be signing folks up on site during the expo.
Save the date, spread the word and join us!
Interested in hosting an interactive table/activity/vendor space for the Sustainability Expo?
Submit your (office/club/organization/business) idea/commitment for partnership using this online submission for by Friday, March 10.
Support our growing list of partners and vendors for the event:
The Advising, Internships, and Career Center
ALLARM (Alliance for Aquatic Resource Monitoring)
American Association of University Women
C-Luv Thrift
Carlisle Tool Library
Center for Global Study and Engagement
Center for Sustainability Education (CSE)
Climate Fresk "Mural del Clima"
Delta Nu Sorority
Delta Sigma Phi
Dickinson College Farm
Dickinson Makery and Media Center
Dickinson Women's Soccer
Eco-Reps
Environmental Studies Majors Committee
Ethical Eating Club
Free xChange
Girls Who Code
The Handlebar
Hempfield Behavioral Health Inc. with the Red Tomato Farm & Inn
The Hive Cooperative
Nazun: Challah for Hunger
Office of Equity and Inclusion
Office of LGBTQ+ Services
The Peddler
Penn State Master Gardeners of Cumberland County
Religion, Nature & The Environment (RELG 116) Class Projects
Sunella Co.
Sustainability and the Energy Transition in Germany Mosaic Program
Theatre and Dance Costume Shop
Treehouse
WDCV Radio
Women and Gender Resource Center
Women in Economics