2021 ROSE-WALTERS PRIZE FOR GLOBAL ENVIRONMENTAL ACTIVISM
A livestream of Varshini's lecture on will be available here on Tuesday, Nov. 9, at 7 p.m. (Eastern Time).
Varshini Prakash is the executive director and co-founder of Sunrise Movement, a grassroots organization of young people working to stop climate change and create good-paying jobs in the process, with the Sam Rose '58 and Julie Walters Prize at Dickinson College for Global Environmental Activism. The $100,000 prize is given annually to an individual or organization making a defining difference and advancing responsible action on behalf of the planet, its people and resources.
Prakash and a handful of like-minded activists launched Sunrise Movement in the summer of 2017. "We were just young people who were fed up with seeing politicians kicking the can down the road, sweeping what is the greatest threat facing our generation under the rug and refusing to deal with the reality of the crisis at hand," Prakash told NPR.
Focusing on growth through grassroots organizing and political action with candidate endorsements, the group gained recognition and support after it organized a sit-in at House Speaker Nancy Pelosi's Washington, D.C., office in 2018 with backing from U.S. Rep. Alexandria Ocasio-Cortez. Now one of the largest youth movements in the country, Sunrise is leading the charge for the Green New Deal, a constellation of public policy proposals to address climate change while creating jobs and reducing economic inequality.
Prakash has used her growing public profile to tirelessly advocate for Sunrise's principles. Her work has been featured by The New York Times, The Washington Post, BBC News, MSNBC and many other outlets. She is the daughter of immigrants from India, and Prakash said the 2004 Indian Ocean tsunami was one of the first moments that pushed her toward getting involved in climate action. Prakash was named to Forbes' 30 under 30 list for law and policy and the TIME 100 Next, a list of rising stars shaping politics, popular culture, science and more. She is a graduate of the University of Massachusetts Amherst.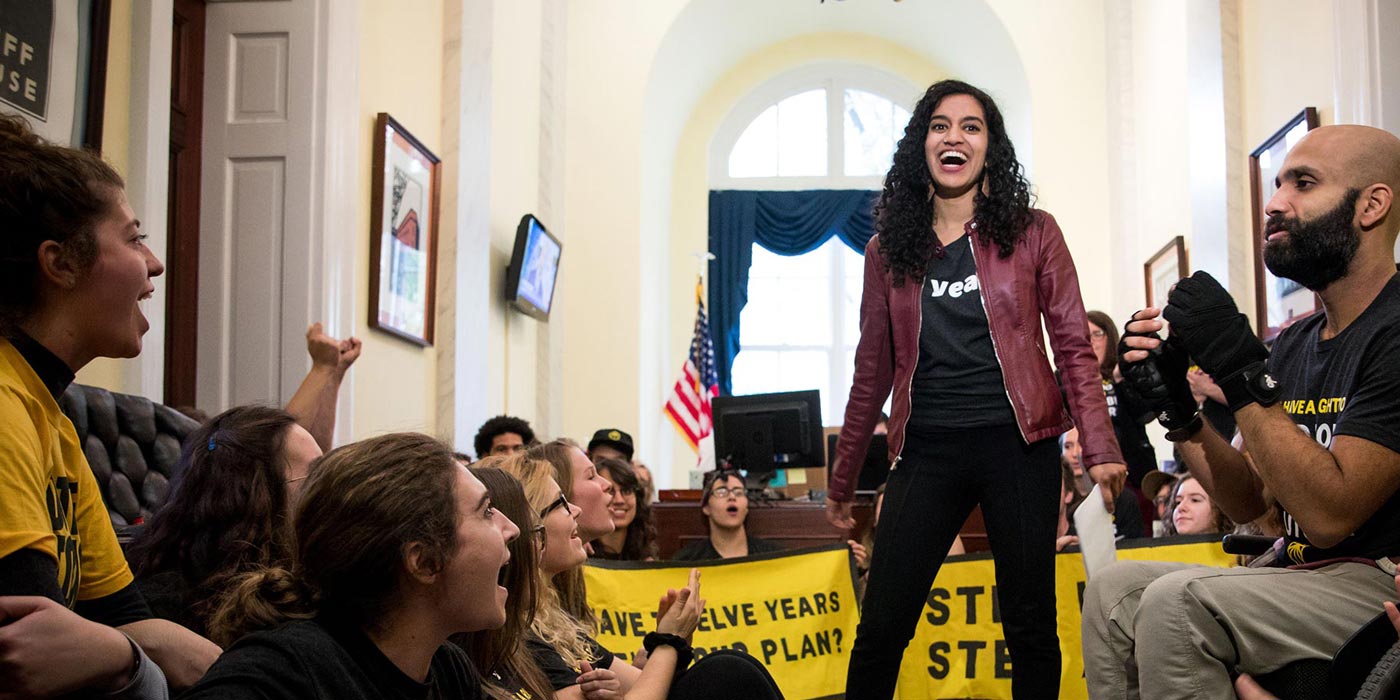 About the Lecture, November 9, 2021, 7:00 p.m. ET
Dickinson College
Anita Tuvin Schlechter Auditorium
360 W. Louther Street, Carlisle, PA 17013
Livestream will be available on this page for any who cannot attend.
Stopping the Climate Crisis: The Time to Act is Now
An evening of sharing stories of young people dreaming about ending catastrophic climate change, bringing people together to form a growing movement for climate activism, and realizing change through grassroots organizing and political action. From these stories and successes of the Sunrise Movement emerge lessons for scaling up action for greater and faster impact that each of us needs to learn from and act on.
Free event open to the public (masks required).
About the Workshop for Students, November 10, 2021, 1:00 — 3:00 p.m. ET
Dickinson College
Holland Union Building, Social Hall
28 N College St, Carlisle, PA 17013
The Time to Act is Now: How to Take Action to Stop the Climate Crisis
Varshini Prakash will lead a workshop for 30 students that will provide tools, tips and immediate action steps for how to combat the climate crisis and take action locally to make change. Dickinson students will have the opportunity to learn from Prakash in this hands-on workshop that focusing on growth through grassroots organizing and political action.
Pre-Registration is required and space is limited, reserve your spot here.