Dickinson College is Affliated with the Following: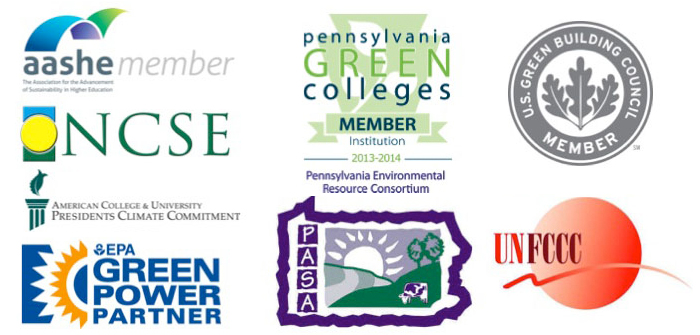 Association for the Advancement of Sustainability in Higher Education (AASHE):

AASHE is an association of U.S. and Canadian colleges and universities that works to empower higher education to lead the sustainability transformation.


National Council for Science and the Environment (NCSE):

NCSE is dedicated to improving the scientific basis of environmental decision making. It's Council of Environmental Deans and Directors improves the quality and effectiveness of academic environmental programs at U.S. universities and colleges.


American College & University Presidents' Climate Commitment (ACUPCC):

ACUPCC supports America's colleges and universities to implement comprehensive plans in pursuit of climate neutrality.
EcoLeague
The only college consortium in the United States dedicated to sustainability education and the active pursuit of environmental studies within a liberal-arts framework.
U.S. Green Building Council (USGBC):
USGBC changes the way buildings and communities are designed, built and operated to complement our environment, enhance our communities, and provide better, healthier spaces to live, work and play.


Encourages organizations to buy green power as a way to reduce the environmental impacts associated with purchased electricity use.

Pennsylvania Environmental Resource Consortium (PERC):

PERC connects people working on sustainability projects in Pennsylvania's colleges and universities to share knowledge and take action towards a sustainable future.


UN Sustainable Development Solutions Network

Founding member of the US Chapter of the UN Sustainable Development Solutions Network (SDSN) which joins 29 existing SDSN networks that are creating new online courses, educating their students and the general public, working with governments, engaging and empowering young people, and offering innovative solutions for the SDGs.
Pennsylvania Association for Sustainable Agriculture (PASA): 

PASA works to bring farmers together to learn from each other and build relationships between farmers and consumers looking for fresh, wholesome, locally and sustainably produced food.

Cumberland Conservation Collaborative:

Fosters a sustainable and healthy community that balances economic growth, open space and habitat preservation, clean air and water, public health and recreation for residents and visitors today, and for future generations.
United Nations Framework Convention on Climate Change (UNFCCC): 

UNFCCC is an international treaty for preventing dangerous climate change. Dickinson College is an officially recognized observer of the conferences of the UNFCCC and sends delegations of students and faculty as participants and researchers.
The South Mountain Partnership is a regional, landscape-scale conservation project in south-central Pennsylvania. This Partnership is an alliance of citizens, businesses, non-profits, academic institutions, and local, state and federal government agencies and officials collaborating to envision and secure a sustainable future for the South Mountain landscape.