Events and News
Every semester, the English department hosts several lectures, readings, or special events. Below are descriptions of our annual series. Most events are free and open to the public: stop by!
Cogan Alumni Fellowship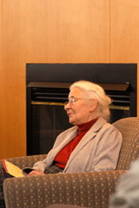 Eleanor Cogan
Dickinson English alumni have all sorts of interesting jobs. Each spring, the Cogan Alumni Fellowship brings a graduate to campus to share life experience and career advice with current students. The residency was name in honor of Eleanor Cogan (1909-2011), who took her first 52 classes at Dickinson when she was seventy. Mrs. Cogan's adventurous spirit and lifelong curiosity inspires our choice of Cogan speakers.

This spring's Cogan Fellow was Lindsey Officer '09 who is the Brand Development Director at Marie Claire. Go to our Cogan Alumni Fellows page to read more about Lindsey and other Cogan Fellows.

The Harold and Ethel L.

Stellfox

Visiting Scholars and Writers Program
Jean Louise Stellfox '60 was inspired to become an English teacher after meeting Robert Frost during the poet's visit to Dickinson in 1959. The Harold and Ethel L. Stellfox Visiting Scholars and Writers Program, funded by Jean Stellfox's generous gift and named after her parents, continues to inspire students through literature. Each year, it brings to campus a renowned figure in the arts.

This spring's Stellfox recipient was Edwidge Danticat. She is a MacArthur Fellow and award-winning author of several books, including Breath Eyes, Memory, an Oprah Book Club selection; Krik? Krak!, a National Book Award finalist; and Brother, I'm Dying, a 2007 finalist for the national Book Award and 2008 winner of the National Book Critics Circle Award for autobiography. To connect with Edwidge Danticat, go to her Facebook page.
Reading by Stellfox Distinguished Writer Edwidge Danticat - Thurs., April 7, 2016 at 7 PM in Allison Great Hall
(Following the reading will be a Q&A, book signing and reception).
While in residency at Dickinson, the distinguished recipient visits classes, holds a seminar for aspiring writers, gives readings and presentations, and shares meals with students and faculty. Read how the Stellfox program has impacted the Dickinson campus since its beginning in 2005.
Award-winning creative writer Lorrie Moore was the Stellfox Visiting Scholar recipient in the fall 2014. She visited Dickinson November 6-8, 2014. In the spring of 2014 Stellfox recipient Paul Muldoon delivered a literary call to action during his inspiring residency this spring. Ian McEwan, the Man Booker-winning writer and the first Stellfox award recipient returned as a 2015 Commencement speaker. Here is a conversation on his work, free speech, and the role the Internet can play in the evolution of literature.
Belfer Reading Series
The Belfer lectureship brings a recognized author to Dickinson to read and visit classes at Dickinson. Recent recipients include Claire Vaye Watkins, Elyse Fenton, Susan Stewart, Tobias Wolff, and Rick Moody.
Poet, Ross Gay, this year's Belfer lecturer will read Thursday, Nov. 19, 2015 at 7 p.m. in Allison Community Room with a Q&A and book signing to follow.
Ross Gay is the author of three books: Against Which, Bringing the Shovel Down, and Catalog of Unabashed Gratitude. He is also the co-author, with Aimee Nezhukumatathil, of the chapbook "Lace and Pyrite: Letters from
Two Gardens," in addition to being co-author, with Richard Wehrenberg, Jr., of the chapbook, "River." He is a founding editor, with Karissa Chen and Patrick Rosal, of the online sports magazine Some Call it Ballin', in addition to
being an editor with the chapbook presses Q Avenue and Ledge Mule Press. Ross is a founding board member of the Bloomington Community Orchard, a non-profit, free-fruit-for-all food justice and joy project. He has received
fellowships from Cave Canem, the Bread Loaf Writer's Conference, and the Guggenheim Foundation. Ross teaches at Indiana University.

Noteable News
Siobhan Phillips, English, received tenure and was promoted to the rank of associate professor.
Professor of English Wendy Moffat received the prestigious American Council of Learned Societies Fellowship for her book project The Most Terrible Years: Elizabeth Shepley Sergeant, Thomas Salmon and the Trauma of the Great War.
Thomas L. Reed Jr., professor of English retired as of June 30, 2015.