Bridget Jones, English Major and Environmental Studies Minor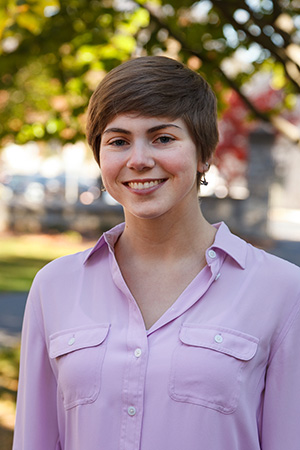 Bridget Jones '17
Bridget Jones is an English major, Environmental Studies minor from central New Jersey. Growing up near the ocean and marshes on New Jersey's coast has fostered Bridget's fascination with nature and wildlife, and sparked a lifelong interest in bird watching. At home, Bridget directed her interest in the environment toward assisting local conservation efforts. While volunteering with the Monmouth County Park System and the Wreck Pond Watershed Association, she helped community members learn how to protect endangered birds' nesting habitat.
At Dickinson, Bridget has pursued her love of literature as an English major, while deepening her understanding of the natural world through Environmental Studies courses. During the past three summers, she worked with a branch of the New Jersey Audubon Society, where she created a display of the preserved property's history. Exploring the intersections between English and environmental science has helped Bridget realize the important place communication and community outreach hold in conservation efforts. After graduation, she hopes to apply her writing skills to environmental protection and advocacy in a nonprofit or government organization.
Bridget is looking forward to developing her skills in environmental communication in the Baird Honors Colloquium next semester. She is excited to work with a group of students that share a common interest in the environment, and to broaden her understanding of sustainability at Dickinson and in the Carlisle community.