Caroline Kanaskie, Environmental Science Major and Biology Minor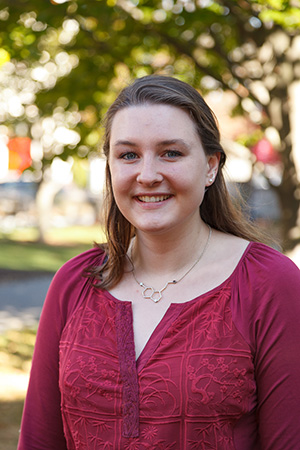 Caroline Kanaskie '17
Caroline Kanaskie is an Environmental Science major, Biology minor with a focus in biogeochemistry. She has always been interested in math and science, and during her first year at Dickinson she got involved in the sustainability community by working at the Alliance for Aquatic Resource Monitoring (ALLARM) through the Montgomery Service Leaders (MSL) program. She is currently studying the foliar chemistry of the Eastern Hemlock, with a focus on nitrogen and patterns of wooly adelgid abundance.
During her junior year, Caroline spent both semesters off campus. In the fall, she studied at the Marine Biological Laboratory in Woods Hole, MA, where she was first introduced to biogeochemistry. In the spring, she travelled to Copenhagen, Denmark to study glaciology at DIS. Over the summers, she interned at the Smithsonian Environmental Research Center and the EPA Atlantic Ecology Division. At the EPA, she researched nitrogen dynamics and allocation in salt marsh plants.
Caroline plans to continue her education in environmental science and hopes to connect sustainability and science in her future endeavors. She looks forward to engaging in meaningful conversations with other like-minded seniors in the Baird Honors Colloquium.