Mariah Murphy, Chemistry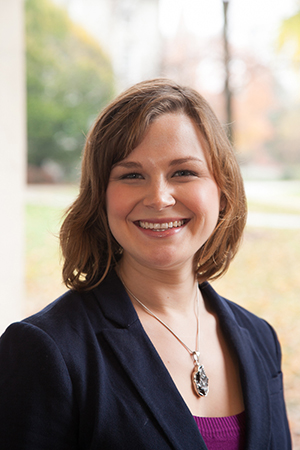 Mariah Murphy '15
Mariah Murphy is a Chemistry major and hopes to focus on geochemistry in the future. She is currently doing research in the Department of Earth Sciences, where she is studying the weathering of basaltic material on the Caribbean island of Guadeloupe, France. Her research focuses on the chemistry changes from andesitic material to weathered rind material to soil. This summer, she spent two weeks in Guadeloupe collecting samples, and in December will be presenting some of her findings at the American Geophysical Union conference in San Francisco. Notably, she received one of the six Stephen Pollock undergraduate research grants from the Geological Society of America last May. She will continue this research through the rest of the academic year in hopes that she can have a paper published.
Mariah has worked for the Center for Sustainability Education since her sophomore year, where she first began as the Eco-Reps Supervisor. At the beginning of her junior year, she became the Biking@Dickinson Intern. Her involvement with biking on campus started her first year of college, when she began volunteering at the Handlebar bicycle co-op. As the Biking@Dickinson Intern, she manages the Handlebar and its volunteers, organizes the Green Bikes Program, works to improve biking infrastructure on campus, and promotes biking through events and education. This year, Mariah was nominated as Dickinson College's Student Sustainability Champion, and will receive the award at the Pennsylvania Environmental Resource Consortium conference.
In addition to her internship with CSE and her research, Mariah is also a Residential Advisor for McKenney Suites for the second year in a row.
As a Baird Sustainability Fellow, Mariah is excited to learn about the interdisciplinary aspects of sustainability, work with other driven and like-minded students, refine skills that she can use after graduation, and reflect on her time at Dickinson.