Alaska: Prince William Sound to the Kenai Peninsula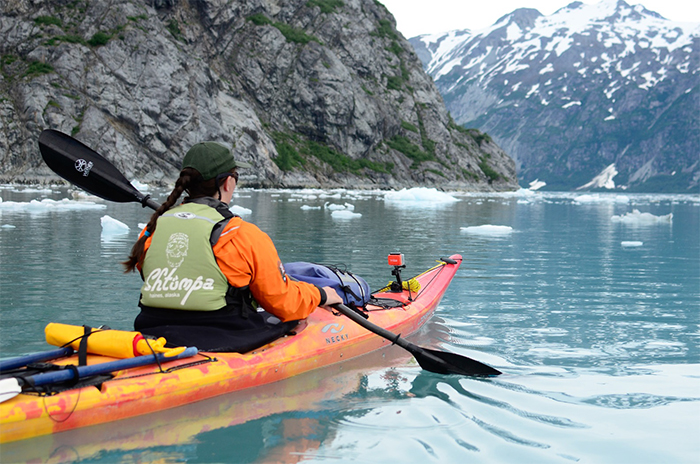 Dates: July 18–27, 2024 with Assistant Professor of Geosciences Jorden Hayes
HIGHLIGHTS:
Take in stunning up-close views of Sheridan Glacier on a hike-and-kayak wilderness excursion.
Learn about conservation initiatives in private talks with the Alaska SeaLife Center.
Embark on a float excursion on the Alaganik Slough to observe birds and wildlife in the Copper River Delta.
Look for seals, whales, and puffins in Kenai Fjords National Park while exploring coastal rainforests, glaciers, and remote islands.
Witness the effect of climate change on a hike to Exit Glacier and learn about the geology and biology of beautiful Resurrection Valley.
ITINERARY:
July 18: Arrive in Anchorage
July 19: Alaska Native Heritage Center | included group flight to Cordova | welcome dinner
July 20: Hiking and kayaking at Sheridan Glacier | Cordova Historical Museum | Eyak Museum and Cultural Center
July 21: Boat trip to Orca Inlet (sea otters) | hike to tide pools | Hinchinbrook Island | visit kittiwake colony (nesting sea birds)
July 22: Copper River Delta (moose, eagles, beavers, bear) | Copper River & Northwestern Railroad | Sacred Eyak Village | float tour by canoe on Alaganik Slough (birds and wildlife)
July 23: Kayaking on Orca Inlet (sea otters, seals) | transfer to Seward | hiking
July 24: Boat tour into Kenai National Park (puffins, otters, whales, seals)
July 25: Exit Glacier | Seward Brewing Company | farewell dinner
July 26: Alaska Sealife Center | return to Anchorage for flights home
July 27: Arrive home
Complete itinerary and details can be found here. A brochure is also available for download.
RESERVATIONS:
Holbrook Travel
800-451-7111
Click here to reserve your spot today.
This trip accommodates families, but children must be age 10 or older.
Questions?
Kevin Van Dien
kevin@holbrooktravel.com
800-451-7111 x312
ACTIVITY LEVEL:
High – hiking, kayaking, canoeing
FACULTY:
Jorden Hayes, Assistant Professor of Geosciences
Jorden is a geophysicist who joined Dickinson in 2016 after completing a Ph.D. at the University of Wyoming. She is passionate about understanding the living, breathing skin of Earth known as the "critical zone." In particular, she is curious about how rock at depth is transformed into a habitable substrate for life at the surface. Her summers are often filled with fieldwork, researching some of the planet's most spectacular landscapes. Jorden prioritizes student involvement in research and leads NSF-funded efforts to recruit underrepresented groups in the geosciences. Her current projects include the Bedrock Critical Zone Network, GNOMES (Geophysics of the Near-surface: an Outdoor Motivational Experience for Students) and multiple local projects, including work at the Mt. Tabor Cemetery and the Fort Halifax Rediscovery Project.
PRICING:
$6,999 per person
Single room supplement $795
Land cost only. Does not include round-trip airfare to and from destination.
A few rooms can accommodate a family of 3-4 people – call Holbrook Travel for pricing.
What's Included:
8 Breakfasts, 7 lunches, 6 dinners
Accommodations with private bathrooms
Activities and meals as mentioned in itinerary
Airport transfers are provided on group basis (not individual flight basis)
All tips
Internal flights relevant to itinerary
Full time guide per region for the duration of your program
Nonalcoholic beverage with meals
Carbon Offset
TRIP SPOTLIGHT WEBINAR:
Alaska: Prince William Sound to the Kenai Penninsula - Watch the Recording Here
Assistant Professor of Geosciences Jorden Hayes and Kevin Van Dien, specialty travel consultant with Holbrook Travel, shared details about our upcoming Alumni Global Adventures trip to Alaska.