Ancient Greece: Oracles & Theaters, Myths & Legends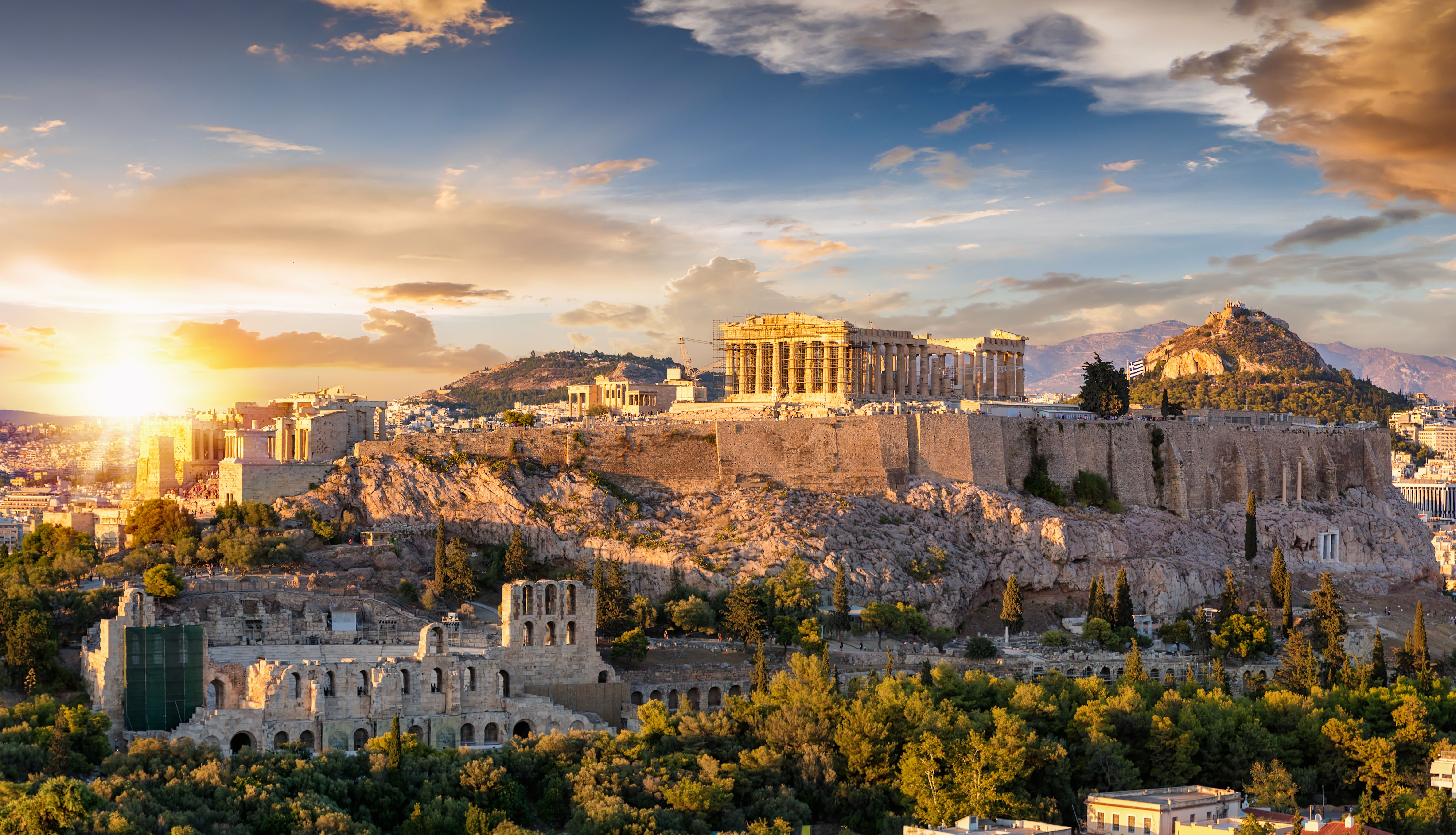 May 20 –June 1, 2024 (13 days) with Professor of Classical Studies Marc Mastrangelo
HIGHLIGHTS:
Visit SIX UNESCO World Heritage Sites:

Athens' Acropolis, with its stunning Parthenon and Erechtheion temples, plus the nearby Acropolis Museum;
the 10th-century monastery of Hosios Loukas, on the slopes of Mount Helicon, which has some of the country's finest Byzantine frescoes;
the greatest ancient oracle, Delphi, located in a spectacular mountain setting;
Olympia, the original site of the Olympic Games for 1,000 years, starting in 776 B.C.;
the Bronze Age fortress-palace of Mycenae, legendary home of Agamemnon and Clytemnestra;
and the ancient sanctuary of Epidaurus, with its well-preserved, 4th-century B.C. theater.

Marvel at world-class museum collections with marble and bronze sculptures, exquisite gold jewelry, splendid pottery and mosaics, Byzantine icons and more.
Explore ancient Greek religion and mythology while visiting sites associated with the rites and stories, such as Eleusis, center of the ancient mystery cult called the Eleusinian Mysteries; and the oracle of Trophonius, which predates Delphi.
For more information on this trip, click here to view the full brochure.
RESERVATIONS:
Eos Study Tours
dickinson@studytours.org
800-856-8951
ITINERARY:
Monday, May 20: Depart home on flights to Athens, Greece
Tuesday, May 21: Arrive in Athens | Private transfer to hotel
Wednesday, May 22: Athens: Acropolis, Acropolis Museum, PM at leisure | Welcome dinner
Thursday, May 23: Athens: AM walking tour: Kerameikos, Agora, Roman Agora | PM at leisure
Friday, May 24: Athens: National Archaeological Museum | Brauron | Cape Sounion | Athens
Saturday, May 25: Eleusis | Corinth | Nafplion
Sunday, May 26: Epidaurus | Nafplion: PM at leisure
Monday, May 27: Mycenae | Nafplion: PM at leisure
Tuesday, May 28: Olympia
Wednesday, May 29: Olympia | Arachova
Thursday, May 30: Delphi | Arachova
Friday, May 31: Hosios Loukas | Livadia | Athens | Farewell dinner
Saturday, June 1: Fly home OR Continue on optional independent extension to the Greek Isles
ACTIVITY LEVEL:
You must be able to make long walks, unassisted, over uneven terrain and up and down steps that may be steep and without handrails.
FACULTY:
Professor Marc Mastrangelo has taught Classics at Dickinson College for 26 years and has published widely on Greek tragedy, Greco-Roman intellectual history, and early Christianity. He has led multiple trips with students and faculty to Greece, focusing on ancient Greek literature, history, and archaeology from the age of Homer to the travels of St. Paul. Prof. Mastrangelo will be your resource for ancient sites in the Peloponnese and mainland, including the Athenian Acropolis and Agora where Socrates philosophized, tragic and comic theater blossomed, and democracy was born. Prof. Mastrangelo will share his knowledge and passion for ancient Greek civilization that continues to fascinate and influence the world.
TOUR PRICING:
Main Tour Prices Per Person (11 nights)
Double Occupancy (21-26 participants) $6,845
Double Occupancy (16-20 participants) $7,345
Single Supplement $1,295
A deposit of $1,000 per person is required to reserve your space on the tour.
What's Included:
Dickinson faculty leader Marc Mastrangelo, plus an expert local guide and a tour manager
Accommodations for 11 nights in 4- and 5-star hotels
Delicious meals: buffet breakfasts daily, ten lunches and six dinners including welcome and farewell dinners. Lunches and dinners include water/soft drinks, a choice of local beer/house wine and coffee/tea.
All gratuities for tour manager, local guide, hotel staff, drivers and servers for included meals
Private arrival and departure airport transfers on program dates
Surface transportation via air-conditioned coach with bottled water available at all times
Baggage handling at hotels
All sightseeing, entrance fees and excursions as indicated in the itinerary; and all VAT and local taxes
Comprehensive pre-departure information, including a suggested reading/media guide, travel guide and packing list
TRIP SPOTLIGHT WEBINAR
Ancient Greece: Oracles & Theatres, Myths & Legends - Watch the Recording Here
Professor of Classical Studies Marc Mastrangelo and Todd Nielsen P'18 of Eos Study Tours share details about Dickinson's upcoming Alumni Global Adventures trip to Greece (May 20-June 1, 2024).