First-Year FAQ
Q: Will I survive the college admissions process?
A: Absolutely! A strong college search begins with self-reflection. Ask yourself a few simple questions:
How do I learn and interact? How important will interaction with classmates and professors be for me?
Do I envision doing research in college? What about internships? And study abroad?
Do I prefer more urban, suburban or rural locations; north, south, east, west?
Which of these factors are most important to me?
The answers to these questions will help you to frame your college search and find colleges best for YOU.
Q: If I can't visit, are there other ways to get to know the campus?
A: We have great virtual-visit options and we have a 360-degree virtual tour and lots of videos and photo galleries there, too. If you wish to talk with someone else or see other things, just let your admissions counselor know!
Q: When are admissions and financial aid deadlines?
A: For admissions and financial aid deadlines, please refer to our deadlines calendar.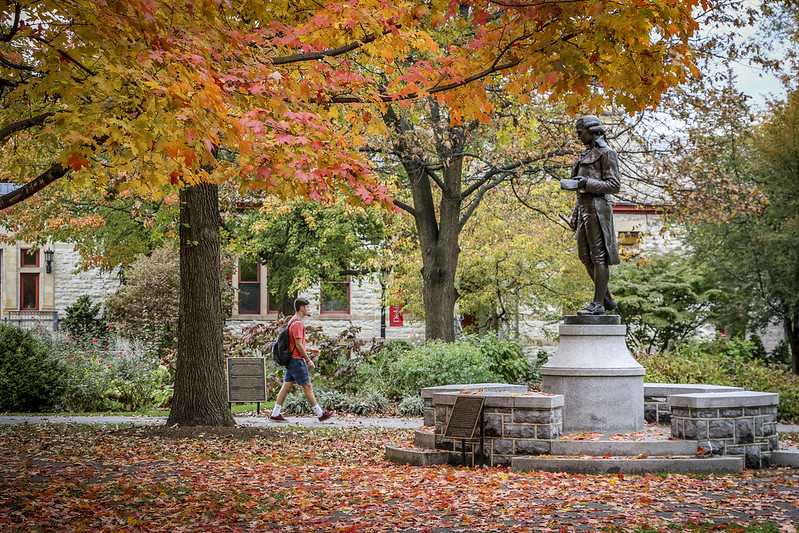 Q. Is there a difference in competitiveness between Early Decision and Regular Decision?
A: Early Decision (ED) allows applicants who know that Dickinson is their first choice to enter the admission process early, enjoying a review process focused on the student's individual merits rather than the strengths of the larger pool. For students considering Early Decision, we recommend you submit a FlexApp, which will give you an opportunity for a merit pre-read, where our counselors determine your eligibility for academic scholarships.
Q. What is the difference between applying Early Decision I and Early Decision II?
A: Aside from the fact that the application deadline for ED I is Nov. 15 and the deadline for ED II is Jan. 15 there is no difference between the programs. The size of the applicant pools in both programs is much smaller than Regular Decision, allowing you to be evaluated for admission based on your own merits rather than in competition with other applicants.
Q: How do I apply?
A: Our FlexApp is available now and will give students early access to information and resources. After Aug. 1, we encourage students to apply online using the Common Application.
Q: What documents are required for admission consideration?
A: The following items are required:
A completed Common Application
Official secondary school transcript(s) which lists all courses and grades (9th-12th). Grades from the senior year (whether first quarter, first trimester or midyear, some indication of success in senior year courses) is required before decision release.
High school counselor recommendation
Academic teacher recommendations (one required, two recommended)
ED candidates also submit a signed Early Decision Agreement Form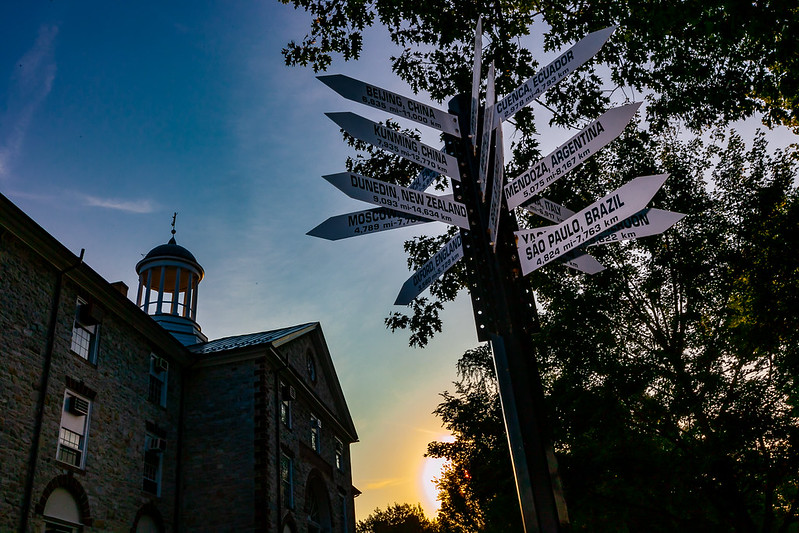 Q: My transcript may look different because of the pandemic. How will different grading or performance be viewed?
A: As schools shifted to online instruction, many revisited how your work would be assessed and graded. Whatever approach your school took—whether maintaining their usual approach, moving to a new grading system or changing to pass/fail or credit/no credit—know that we are going to trust the process. Know, too, that we understand that this has been a challenging time demanding new and different things from you. Your application to Dickinson will not be negatively impacted if you have appropriately followed your school's process for completing your graduation requirements.
Q: What should I do about the activities I wasn't able to participate in at school because of the pandemic?
A: We absolutely understand that your extracurricular and leadership opportunities may have been impacted by the pandemic. We are so sorry that you've missed opportunities and will not view this part of your application negatively..
Q: May I provide additional materials in support of my application?
A: We value and encourage your submission of additional material in support of your application. All candidates are welcome to supplement the required application information with any additional material they feel will assist the Admissions Committee in making a final decision. Note that arts materials should be submitted through SlideRoom (via the Common Application). Additional information for musicians interested in submitting materials and/or auditioning is available on our music department's page for prospective students.
Q: Is an interview required for admission, and if I interview, when must I do so?
A: Interviews are not required but can help us get to know you and learn more about your personal experiences, goals and aspirations for college. We offer both in-person and virtual interviews and they typically take place between the spring of junior year and the deadline for the application round you've chosen in senior year. If you decide to interview, you'll find information on your options on our visit options page.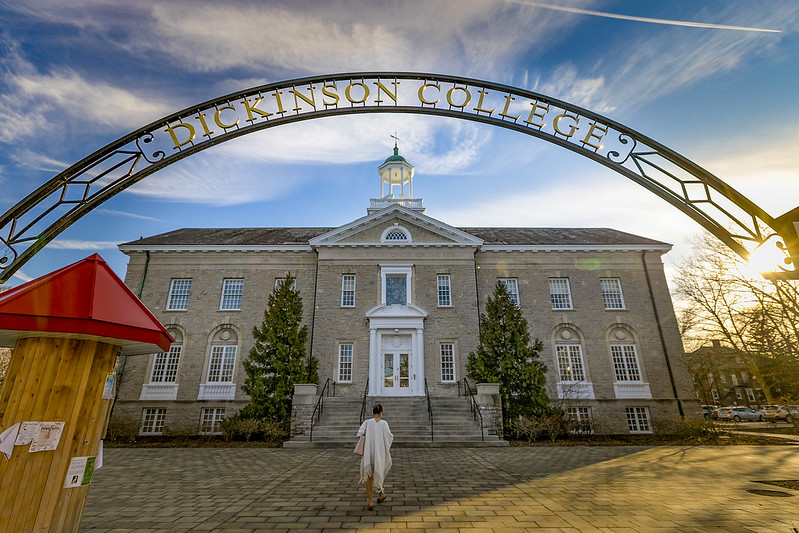 Q: What is Dickinson's policy regarding standardized test score submission?
We have been test optional since 1994, so applicants may submit their tests scores if desired. View our Test-Optional FAQ for additional information.
Q: What should I do if I am applying for need-based financial aid?
A: Applicants interested in applying for need-based financial aid from Dickinson must submit the CSS PROFILE form to the College Scholarship Service by the appropriate admissions deadline. The Federal FAFSA must also be filed after January 1 to access federal and state funds. Estimate previous year's income data if federal income tax forms have not yet been prepared. It is important to meet published deadlines, as financial aid from Dickinson College is awarded on a funds-available basis. Dickinson's CSS PROFILE code number is 2186, and our FAFSA code number is 003253. Dickinson College has contracted with the College Board to collect tax returns through their IDOC service. You will receive detailed instructions from the College Board in February. Learn more on the financial-aid page.
Q: Is a separate application required for merit scholarships?
A: While a separate application is required for the Presidential Scholarship, no separate application is required and all candidates for admission will be considered for all other scholarship programs: the Provost, 1783, John Dickinson or Benjamin Rush scholarships. Dickinson's scholarships are open to all applicants for admission whether or not they are need-based aid candidates. Competitive applicants will be top performing students in a rigorous curriculum who demonstrate a high level of engagement outside the classroom. For additional information about scholarships and selection guidelines, please review our scholarship page.
Q: How will I know if Dickinson has received my application and all of the required documents?
A: Please be sure to provide the Office of Admissions with a valid e-mail address and watch your e-mail account for important information. When we begin to process your application we will send you an e-mail with your username and password for accessing your Applicant Portal. By logging in to this site you can track your application status online. This is also where you'll ultimately receive your admission decision.
Q: When will I hear my decision?
A: Decisions will be mailed for Early Decision I and II approximately one month after the deadlines. For Regular Decision, decisions will be mailed about two months after the application deadline. Need-based financial aid and merit scholarship recipients will also be notified at the time they receive their acceptance letters. We will send you an e-mail when your decision is available to be viewed online.
Q: What can I do to increase my chances of being admitted to Dickinson?
A: A great start is to submit a FlexApp! Primary consideration for admission is always given to your academic and extracurricular achievement in high school, as Dickinson seeks to enroll a bright and talented first-year class. However, one of the best ways you can make yourself stand out in an applicant pool, other things being equal, is to make contact with your regional admissions counselor. Your regional admissions counselor is most familiar with high schools in your area and can be an advocate for you during the admissions process. So make an effort to email, call or write your admissions counselor.