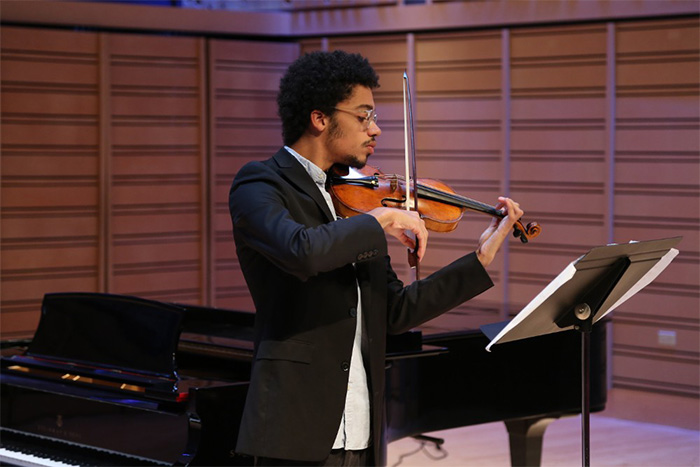 Whether you have been performing for years or are just starting to explore the possibilities of a life filled with music, Dickinson's music department invites you to come explore the human condition through deep engagement with music and its surrounding cultures. In our classrooms and studios, students work intimately with acclaimed teachers – regardless of whether they are majors, minors, or non-majors. Our rigorous curriculum is designed to be accessible, interdisciplinary, and flexible enough to allow for students to double major or minor. Through their academic and creative work, students expand their intellect, take important risks, and cultivate meaningful opportunities for self-expression and intercultural exploration.
We highly encourage prospective students to submit our music inquiry form, and to visit campus and engage with our community of artists and scholars in order to learn more about how music might become a meaningful part of your Dickinson experience.
Prospective students should also consider submitting a SlideRoom portfolio as part of their application to Dickinson.
All students who submit a portfolio will be considered for our Music Scholars Awards, which cover the costs of private lessons throughout your four years at Dickinson.
The rating of your SlideRoom portfolio, or whether you submit one at all, has no bearing on your ability to take classes or lessons in the music department. It is also not required to become a music major. However, a strong portfolio can be a positive supplement to your overall application, and it allows us to consider you for our Music Scholars Awards. It also gives our faculty a sense of your musical passions and opens up a line of communication as you make your college decision. Basically, when in doubt, we highly encourage you to submit a portfolio for consideration.
"The music department has an incredibly strong sense of connection and unity. Unlike some other music departments, there isn't any sense of competition; instead, our department is one of support and caring. We're all there because we love music, and we want to make and explore music together. Having this sense of community behind me makes it easier to take risks and take on challenges. As a result, I've grown more as a student and musician over the past few years than I ever could have imagined I would, and I'm immensely grateful for every second I've spent with every single member of the music department."

—Elizabeth Pineo (Music '21)