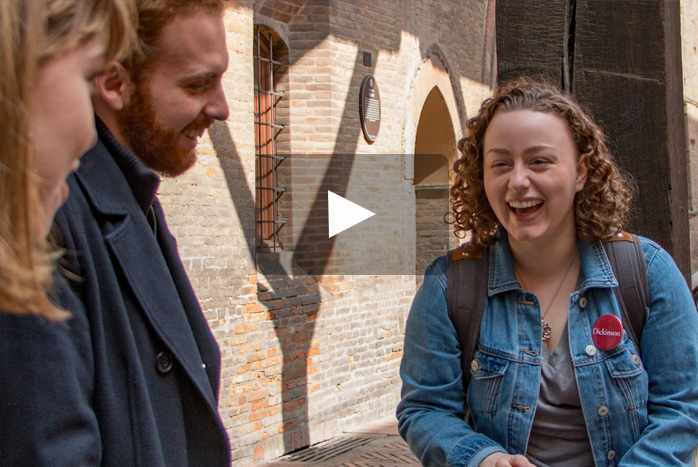 Music students at Dickinson regularly study abroad in a variety of locations, and the department works closely with resident directors to cultivate performance opportunities and private lessons for those students who wish to continue their musical studies while abroad. Many students tell us that participating in an ensemble while abroad helped them form communities through a shared passion while also improving intercultural skills in a creative setting. Students find that their musical studies and international internships have deeply impacted the course of their senior work at Dickinson, often driving new ideas for senior recitals and capstone projects, as well as opening up professional networks and opportunities after graduation.
Majors in all four academic tracks—musical studies, music history/theory, composition and performance studies—are encouraged to pursue creative and scholarly work abroad. Many students spend part of their junior year abroad at one of Dickinson-run global programs, while others have elected to participate in the innovative and interdisciplinary Mosaics program or pursue international professional opportunities. Some examples from recent years include the following:
A year abroad in Greece (including performance lessons), which led to a Fulbright Fellowship to Crete to study women's political music and Byzantine chant notation.
A year abroad in Dickinson's Toulouse program (including performance lessons at the conservatory), which led to a teaching position in France and graduate work in music history.
A year abroad in Dickinson's Moscow program (including choral conducting lessons), which led to graduate work and a position teaching at a private high school.
A year abroad in Dickinson's Bologna program (including composition classes), which led to a master's program in arts administration at the University of Bologna.
A year abroad through the Black Liberation Mosaic to South Africa/Mississippi (including musical fieldwork), which led to an academic publication and graduate work in ethnomusicology.
A year abroad at Florence University of the Arts (including opera performance), which lead to graduate work in vocal performance.
Our students have studied music across the globe—on every inhabited continent on Earth—and in each case, our faculty help them find rigorous and locally embedded opportunities that best serve individual goals and needs. If you are interested in studying abroad, we recommend talking with your advisor or ensemble director early in your sophomore year.
"I interned at St. Mark's Opera in Florence, Italy, and I loved the opportunity because I hope to attend graduate school for opera and vocal performance. Interning in a professional opera house, helping to run the shows every single night, was priceless in my education. I learned how an opera company operates, the demands of a professional performer and what this very old art form looks like today in our globalized, modern world."

—Cailin Smith '18 (Bologna)