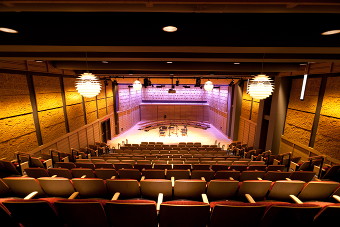 Rubendall Recital Hall after 2011 renovation according to acoustic design by the Kirkegaard Associates and architectural design by Rhoads Siegel Architects, Inc.
Named after former College president Howard "Bud" Rubendall, the primary performance venue for our Department seats 233 in raked seating that guarantees every guest an excellent view of the stage. The movable walls of the multi-function stage, meanwhile, can be closed to create an intimate space perfect for solo piano or small ensemble, or opened to reveal a stage capable of showcasing a full orchestra.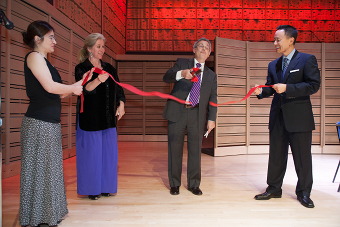 Dean and Provost Neil Weissman cuts the ribbon at inaugural event of the newly renovated Rubendall Recital Hall on October 11, 2011. He is accompanied by (from right to left) David Kim, concertmaster of the Philadelphia Orchestra, pianist Gail Niwa and Associate Professor of Music, Blanka Bednarz.
Rubendall is located on the first floor of the Weiss Center for the Arts, on High Street between College and West Streets. Limited parking is available adjacent to the building via Church Avenue. (Visitors in wheelchairs can access the Weiss Center via the ramp that opens onto Church Avenue.)