Guiding the World Around the World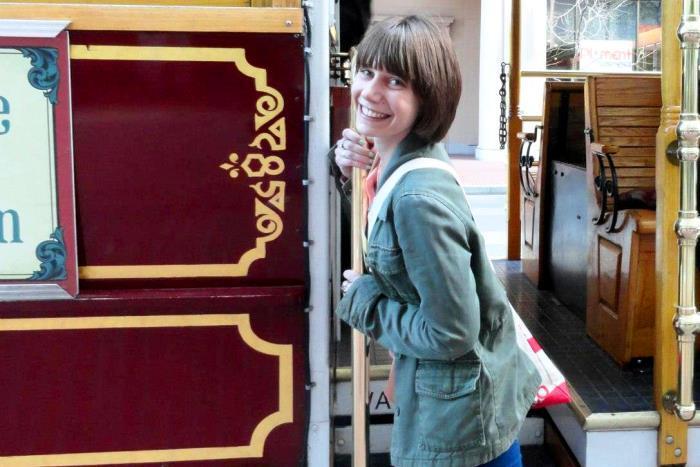 Miriam Weiner '09 travels the world from her Washington, D.C., desk
Miriam Weiner '09 is the lead travel editor at U.S. News and World Report in Washington, D.C., where she oversees content production for U.S. News Travel. She writes and edits travel guides, hotel and cruise reviews, feature articles and other travel-related publications, along the way helping to parse the entire experience for anyone looking to know more about where to find everything from great hotels to great french fries.
Of course, as a French major, she went abroad while at Dickinson (three times), and of course she loves to get out of town. But what does she do when she's not thinking about people dragging suitcases around the world, and how is it that U.S. News Travel's lead editor doesn't spend a good part of her days on a plane?
What do you love most about what you do?
Because of the wide variety of content created for U.S. News Travel, I never feel as though I'm stuck in a rut. I get to learn new things about new places every single day (my "must visit" list has lengthened exponentially over the past five years!).
I've had the opportunity to work alongside the people who have made U.S. News' rankings so successful, as well as folks who are embracing and adapting to the changing world of journalism. It's been an incredible experience watching the company make its transition from a print magazine to an online information organization and beat the odds.
What is the most challenging part of your work?
When I started at U.S. News, the travel section didn't exist yet. Building a brand-new Web site was a challenge in itself, but now we're competing against such big names as Travel + Leisure and Lonely Planet. But my biggest challenge is also a blessing: I get to be inventive, and figuring out the logistics of a new rankings product or section of content is one of the aspects of my job that I find rewarding.
What does Dickinson's "useful education" mean to you?
When I think back on my college days, memories of Toulouse are usually the first to come to mind—it was an incredible experience in that it made me learn to live more independently than I would have had I stayed on campus. I'm a firm believer that studying abroad should play a role in every college experience.
Dickinson's Toulouse program also offered me the opportunity to flex my writing muscles. I interned for La Dépêche, one of the region's major newspaper publishers, where I was tasked with writing content in both English and French that targeted visitors to the region. I guess that's where I caught the travel-writing bug.
Also, while at Dickinson, I acted as news editor for The Dickinsonian, where I picked up many of the skills I use at my job today. And I interned with Dickinson Magazine and helped produce audio and video content for the magazine's Web site. It helped me be better prepared for entering the journalism world during a volatile time.
It was these types of experiences that really helped me find a career that I love.
What was your favorite organization at Dickinson?
The Dickinsonian, because not only was I able to learn a lot, but I also made wonderful friends there—people who are intelligent and driven. And at the end of each week, I walked away with something that made me proud. (For those of you thinking of participating, it's fun, so go do it!)
What's great about Dickinson is that there are so many wonderful organizations with which to get involved and activities in which to take part. I feel as though I only got a small sampling, but I was very impressed with the number of clubs devoted to helping others. What's even more impressive is that these organizations are oftentimes started by students; Dickinson's support of student interests is something you don't see at other higher-ed institutions.
Has your job taken you to any great places?
I can't tell you how many times I've been asked this question, and unfortunately, I don't actually travel for my job. (I know—weird, right?) And the follow-up to this question is always, "But you're a travel writer! How can you help people plan a vacation somewhere if you've never been there yourself?"
All of the other travel resources you find out there are written by people who went, but you never know why those people choose to include the information that they do. Our job is to sift through all of the information we can find on a given destination, hotel, cruise line, etc. and determine which recommendations hold water across the board. (I do wish I had more opportunities for travel. I have a very long list of places I want to see and experience, but I have yet to get a move on!)
On a related note, you just built a time machine: where and when do you go?
I'll admit: I'm pretty happy in the present.
And this all would feel incomplete without finding out where people really can get the best french fries...
If you ever make it into Philly, go to Varga Bar. The crab-and-cheese fries there will blow your mind!