Dickinson offers numerous opportunities for students to develop their French skills, learn more about Francophone cultures, and connect with other French speakers outside of class. From film nights with the French club to crêpe parties at the Romance Language House, we are sure you will find a way to get engage with the Francophone community on campus.
Romance Language House
The mission of the Romance Language House is to promote foreign language development within the campus community. By living in an environment in which all house members speak multiple languages (Italian, French and Spanish), residents are encouraged to speak and interact in their respective foreign languages. The goal of the Romance Language House is to educate others on foreign languages and diverse cultures through a shared living environment, as well as opening up that environment to the college community as a whole. Students share a living space with other students learning a romance language as well as overseas student assistants from France, Spain, Italy and Brazil. The Romance Language House often collaborates with the French Club and other groups to host various events.
The French Table/La Table Française
The French & Francophone Studies Department organizes a weekly French Table where Dickinson students, Overseas Student Assistants (OSAs) from Toulouse, France, and faculty gather to chat informally in French over a meal.
French Club
The French Club promotes the study of Francophone cultures and aims to create an atmosphere that encourages language learning and lifelong exploration. The French Club offers the Dickinson community various opportunities to learn more about the French language and the Francophone world that enrich campus life. All students, regardless of their French language skills, are welcome to join the French Club and attend French Club events. To become a member or learn more about the club, email french@dickinson.edu or contact members via EngageD.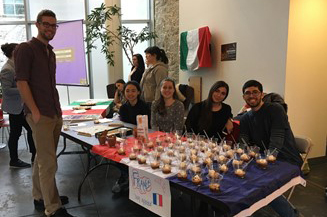 The Multiligual Writing Center
The Multilingual Writing Center supports the mission of the foreign language departments to develop students' critical thinking skills and fluency in writing. The MWC assists writers of all levels and abilities who are working on essays written in Arabic, Chinese, French, German, Hebrew, Italian, Japanese, Portuguese, Russian or Spanish. Trained tutors and Overseas Assistants will work one-on-one with writers on a variety of concerns, including developing ideas; understanding genres; organizing material; crafting sentences; analyzing and correcting patterns of error; and building vocabulary.
Peer Tutoring
Peer tutors are available to assist students experiencing difficulty in selected courses. The tutoring relationship offers a unique opportunity to meet the individual needs of the student. This is particularly helpful when a course requires knowledge of material from previous courses.