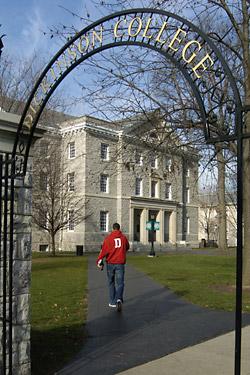 Please let us know what you're doing!
Send an email to orrisl@dickinson.edu and we'll post it to this page.
The Spring 2023 edition of the French and Francophone Studies Alumni Newsletter was just finalized! We had a full year of programming!
We've got news to share! The Spring 2022 edition of the French Department's Alumni newletter is now available! Catch up on all we've accomplished in the past year!
2021 Updates: Kristine Kayer Amtower ('90) is ending her 6th year teaching middle school French in the Carlisle Area School District. She started her teaching career at Carlisle in 1992 at the middle school level and she returned in 2015, finding she was teaching the children of her original students! Kristine just completed her 17th year of teaching French.
Liz Paxton (class of 2000) served as a Peace Corps volunteer in Morocco where she used her French and learned Arabic to help artisans to reach new markets. Upon returning to the States she completed an MBA from the University of Chapel Hill, NC. She now works for Johnson and Johnson in sales management for medical devices to treat cardiac arrhythmias. She has used her French in a professional setting for a product launch, which involved a trip to Paris for market research in 2013. Liz also recently had a French physician as a customer and was able to build relations by leveraging her experiences as a French major at Dickinson.
Michael Stambolis-Ruhstorfer ('04) is a Dickinson French major alum who was just appointed to the Institut Universitaire de France (https://www.iufrance.fr/detail-de-lactualite/247.html). This is a national institute for advanced studies to which faculty members at French universities are promoted after a very selective application process. It's one of the highest honors available to academics working in France. He writes, "My current career and this promotion are directly related to the excellent education I received in the French and Francophone Studies Department when I was a student at Dickinson and I owe this success in part to all of the faculty who mentored me!"
Jess Hoy ('04) works for a film company owned by a member of the Coppola family. She attends and works at the Cannes Film Festival annually for various film event projects.
2020 Updates: Hannah Gore ('18) spent last year in Poitiers, completing her second year as an English language assistant with TAPIF, and assistantship program sponsored by the Embassy of France in Washington D.C. In addition to her work as a language assistant, she also volunteered at Radio Pulsar, the university radio station in Poitiers. Hannah is pursuing a career in journalism and is currently enrolled in courses at École supérieure de journalisme in Lille, France. Congratulations Hannah!
Steven Mercier ('98) will be the new French Instructor at Steinbrenner High School in Lutz, Florida starting in Fall 2020. Steven and his wife, Maria, had hoped to visit France this summer, including Toulouse, but COVID-19 put their travel plans on hold. They continue to treasure France in their hearts, and hope to visit again soon!
Nathalie Ingersoll ('19) serves as the French teacher at Rumsey Hall School, a junior boarding school in Washington, Connecticut. She notes, "From my study abroad experience in Cameroon to the range of courses that I took at Dickinson, my work with the department allows me to have the opportunity to show my students diversity in the Francophone world."
Kristen Cunningham ('16) After working for a promotional products technology company following graduation, Kristen started her masters degree in 2017 at Middlebury College and spent the year in Paris. Middlebury offered her a contract as a program assistant for the following year, so she stayed in Paris working for them and also studied at the Sorbonne Nouvelle -- Paris 3. She did the TAPIF program in the Versailles region in the fall, and recently returned to the US to work in Washington, DC. Overall, she spent about 2 1/2 years in France! She now works as a Customer Service Manager at Hurdlr, an app that does finance and mileage tracking for self-employed individuals. She sometimes messages users in French, and she occasionally helps with setting up French translations used in coding for the app.
2018 Update: Joe Fiorill ('93) Joe currently lives in Washington, D.C., with his wife, Siobhan Roth '93, and sons Cassius, 10, and Soren, 8. He is a litigator practicing with Katten Muchin Rosenman LLP in Washington. His practice focuses on disputes relating to real estate, most often concerning delays and defects in major construction projects. His work sometimes involves French-speaking clients, including the Francophone African asylum applicants whom he represents regularly as a pro bono practice. Joe holds an MA in French from Washington University in St. Louis and worked as a French and English language teacher, translator, interpreter, and journalist before taking up the practice of law. He speaks French regularly with various Francophone friends and neighbors and is a devoted fan of the Olympique de Marseille soccer club. Allez l'OM !
2018 Update: Chad Lower ('89) After teaching 25 years of high school French for the International Baccalaureate Diploma Programme (IBDP), Chad was appointed to be the IB Career-related Programme (IBCP) Coordinator at North Kansas City High School. This program is the newest of the four IB and is only one of 215 programs worldwide. With only 215 IBCP worldwide, students can pursue careers such as Biomedical or Computer Science, Engineering, Teaching, or Culinary Arts. In addition to the coordinator position, Chad does work for the IB Educator Network, including consultancies, site visits, and leading workshops and is involved in IB curriculum development which takes place in the IB Africa, Europe, and the Middle East office, located in The Hague, Netherlands. Lastly, he also received his PhD in multicultural education in Fall 2016.
2017 Update: Siobhan O'Grady ('13) - Inspired by her coursework and a one-year study abroad experience in Morocco and Cameroon, political science and French major Siobhán O'Grady '13 pursued a journalism career, covering stories in sub-Saharan Africa. Read more about her experience here.
2014 Updates: Miriam Weiner ('09) - Ms. Weiner works at U.S. News and World Report as a travel editor, managing the content production of U.S. New Travel. She has been involved in the creation of travel guides, hotel and cruise reviews, and so much more. She majored in French while at Dickinson, and studied abroad three times. Find out more about her work, and the positive impact Dickinson had on shaping her career.
David Bedick ('67) - It struck him, in Paris last week, that when he double-majored in English and French 50 years ago, that doing so may have seemed "impractical," especially to modern students, who so often want something business/career-related. But a lifetime of traveling back and forth to France whenever he could, or even nowadays just viewing French tv directly from France on an Android mobile device has been extremely satisfying, so he would encourage current students to just go ahead and study whatever interests them the most.
2013 Updates: Ryan Martinez ('05) - Ryan is now in his third year teaching French and is lucky enough to be teaching upper level students. At the moment, he's trying to teach his level 4 students how to express themselves both orally and in writing, while also broadening their cultural perspective. To do so, they're doing a unit called "Immigration: enrichissement ou perte d'identité culturelle?" So far they've touched upon l'affaire du voile, the FN, personal and national identity, as well as a host of other topics. It's a lot to encompass and organize, but the discussions have been very enriching. Many of his students are immigrants themselves and have commented on how great it is to be talking about issues that are both enlightening and also relatable to their own experience.
2012 Updates: Joanna Sprout ('12) is currently a teaching assistant in Toulouse, France where she is living with her host family. Luke Stratton ('04) is teaching both French and Russian at a private school in Lafayette, CA. Additionally, Luke is teaching Russian at the University of California, Berkeley. Jeff Funk ('91) works for Estée Lauder in New York, and was a finalist in the fifth annual International Package Design Awards (IPDA) competition back in 2004. This contest showcases innovative packaging from designers, suppliers, and marking companies. He submitted the packaging for AquaFresh Floss 'N Cap by GlaxoSmithKline. Nicholas Truesdale ('08) is a New York University doctoral candidate. He received a "MacCracken Fellowship" from the Henry M. MacCracken Program, which strives to provide new doctoral students with full funding support. The fellowship Nicolas received awarded him a full four-year ride. Christopher Kenny (94') is part of the Urban Teacher Center program and is teaching at the Capital City Public Charter School. In addition, Christopher is also getting his Masters with Lesley University's satellite program for the Urban Teacher Center in the spring. President Obama visited this school last year during which he expressed a liking for the set-up of the Expeditionary Learning School.
2011 Updates (Class of 2010): Emma Bennett followed her passion of French by becoming a French teacher for the Northumberland County Public Schools. Alexandra Carlson is currently the Accessories Manager for Anthropologie (Urban Outfitters, Inc.). Vania Chan used her French and Biology degree from Dickinson College to become the Herbert J. & Esther M. Atkinson Conservation Fellow for the New England Wildflower Society. Alison Collins is currently employed by the Arbella Insurance Company as the Operations Associate. Gina Del Tito is now working as the Hosting Coordinator for AFS-USA. Gaelle Erisnor furthered her studies by attending York College for Nursing and now is the Project Associate for the Montefiore Medical Center. Avrora Keremidchieva utilized their French and International Business & Management degree from Dickinson College in order to become the Project Assistant for Berlinwasser International. Molly Magnuson is now working for the Goodby Silverstein & Partners Company as the HR Coordinator. Allison Molchany graduated from Dickinson College as a double major in French and Psychology and is now an Analyst for the Federal Government. Erika Nunez now is employed by Health Net as the Sales Operations Analyst. Bonnie Pedlow used her degree in French to become the Project Manager for the Sud de France Export Company. After Elizabeth Ragland completed her French degree at Dickinson College is became a Language Analyst for the NSA.
2011 Updates (Class of 2006): Matthew Dudek is currently employed by the Corporate Executive Board. Petar Gitsoaika is part of Wells Fargo Securities as an Associate of the Department Capital Markets & Syndicate. Jeffrey Hopper, a double major in French and International Business & Management, is now the Manager of the Institute of International Education. After Leslie LeClair finished her study of French at Dickinson College she became the Provider Relations for HTH Worldwide. Eng Lor pursued a Master's in Education at Drexel University and currently works as a French instructor for Methacton High School.
2011 Updates (Class of 2001): Michelle Belton is now the Senior Human Capital Analyst for the Office of Inspector General, US Department of Health & Human Services. After her studies at Dickinson College, she pursued an MPP at the School of Public Policy at the University of Maryland. Amanda Dynan attended Wilkes University for a Master's in Education and now is the Spanish teacher for the Hatboro-Horsham School District. Tanya Facey currently works at Proskauer Rose LLP as the Professional Resources Specialist. Kathryn Hewett presently is employed by the Associate Registrar. Kathryn Hewett followed up her time at Dickinson College by studying Education at the University of Massachusetts-Lowell. Catherine Meyrat holds the position of Vice President of Strategy for ACCION-Louisiana. Elizabeth Paxton now works for the Johnson & Johnson Vision Care Company as the Associate Product Director. Mary Kathryn Picazio acquired a Law degree from the St. Mary's University Law School and now works as the Assistant Manager of Starbucks Coffee. After Lisa Treat finished studying French and Physics at Dickinson College, she entered the Harvard-MIT Division of Health Sciences and Technology and now holds a Ph.D. in Engineering.
Did you know that...a number of Dickinson alumni in French have been recipients of French Government Teaching Assistantships? Here they are: William Palmer III ('78); Isabelle Zsoldos ('78); Danielle Nolles ('82); Martin D'Luzansky ('83); Douglas Goldman ('85); Jennifer Wasilko and Anne Parry ('90); Julie Rogalla ('91); Margrethe Johnsen Ducom ('93); Christine Matinho ('95); Jennifer Becker ('97), Michael Onofrio ('99) and Beth Chasin ('03). The 2004 group broke all records: Sarah Benson, Matthew Landry, Katie Lozier, Michael Stambolis, Dannah Swift, and Chris Vastine were all awarded French Government Teaching Assistantships.

2005 Class: Five 2005 graduates, Allison Hahn, Eli Uhle, Ashley Unruh, Ryan Martinez and Anna Smith, have all won French Government Teaching Assistantships for the upcoming year. Eli has been posted to Strasbourg, Ryan to Nice, and Ashley to Saint-Remy de Provence. Ryan writes that he working at the Lycée Jules Ferry (!), an LGT with an emphasis on technical diplomas. Ashley writes that she is working in 3 schools: "All three are in villages between here and Avignon, and they're all really nice. I teach about 15 classes a week, and only the kids with lazy teachers are lazy and unruly with me. I think that I got really lucky though, because my schools are pretty great, as are the students and teachers. I actually have fun and enjoy the responsibility of putting together lesson plans (albeit ones on colors and numbers...we play a lot of Bingo and sing the Hokey Pokey).... I highly recommend to anyone applying in the future to try for the 9-month elementary position. It's nice to really be responsible for teaching the kids, and I get to stay here until July and thus bask in the glorious spring weather! " Eli says that her year has been an adventure and a real learning experience, and that she is having a terrific time. Allison Hahn is working at TransPerfect Translations in New York City, and living with Karen Laudeman. Rachel Picone will begin a Master's in Nursing and Women's Health this summer and then plans to move to Oregon to obtain her midwifery certification.

2004 Class: Luke Stratton, who also majored in French and Russian, is currently in Moscow on a Fulbright studying the impact of the 19th-century French symbolist theory of synesthesia on art, poetry and music in fin-de-siècle Russia. Jane Connolly, after working at a medical marketing company (and translating into French a small portion of a manual for heart monitors), did a stint as a casual employee in the department of surgery at Yale, where she was hired to proofread and be instrumental in the layout and completion of the department's annual report. Now she writes that she has been accepted into the Library Sciences program at Southern Connecticut University. Sarah Benson writes that she is living with her husband on the île de la Réunion, She is an assistante d'anglais in two high schools in St. André, in the northwest part of the island. Jennie Steeley says that she spent this past spring substitute teaching in two districts in Lancaster County, then worked in the NECTFL office throughout the summer. Starting this fall, she will be teaching French at Manheim Township High School in Lancaster. Michael Stambolis and Andrea Gough were program assistants at the Dickinson Center in Toulouse during 2004-05. Katie Lozier is now gainfully employed as the House Manager at the Delaware Theatre Company. She reports she is coping with her many responsibilities.

2003 Class: Matt Waltz writes this news: "I got my commission from the US Army and got branched into the US Army Transportation Corps. I completed the Transportation Officer Basic Course at Fort Eustis, Virginia in May 2004 and was then assigned as a platoon leader in the 551st Cargo Transfer Company, also at Fort Eustis. In April 2005 I was put in command of a detachment of 40 stevedores and truck drivers and then sent to Iraq where we are right now. I do not do much with the French language these days but I am in charge of millions of dollars in equipment. I am reading Hugo's Les Miserables in my down time. " Chandra Oursler Hackenberg is enrolled in the graduate program at Millersville University, seeking a teaching license. She's also working full time in a sixth-grade learning support classroom at Dallastown Middle School. Lucas Antoine is off to Tulane University to study French. He has been awarded a teaching assistantship. Elizabeth Sellen is continuing international studies at the University of Kent in Brussels. Lisa Catalucci entered law school at the University of Akron in September. Tom Rottcher completed a stint at the French Embassy in Washington, where he worked at the Office of Science and Technology. He's now at Phillips Exeter Academy, teaching French for a year. Look for new developments soon! Hope Achiron is a first-year student at New York law School. Trish Heeney is working as a high school French teacher at Little Flower Catholic High School for girls. LFHS is an inner city Catholic school in Philadelphia. At LFHS, she says, "I am responsible for the instruction of over 175 students. I work with a diverse group of girls. Not only am I the only French teacher, but I am also a moderator of a Spanish club (there has not been a French Club at LFHS for 5 yrs...I hope to change that next year!) called "aspira". It is a club for Latino youths. In this club we explore career and educational opportunities as well as cultural topics. As a matter of fact, we brought in a dance instructor in last week to teach us all how to salsa!
This summer I am planning on returning to school for my certification and Masters in Secondary Education." Ruth VanAcker is teaching French and Spanish at the Foxcroft School in Virginia.

2002 Class: Dan de Peyer writes from Ulan Bataar in Mongolia, where he is teaching English as a second language Dan says "the cold hasn't driven me away yet. However, teaching has been a real challenge. From both a pedagogical and a materials standpoint--teaching has had many ups and downs here. The most difficult challenge I face is how to teach material to students who have a wide range of English levels in one class." Kelley Wilhelmsen writes that she has a job at O'Sullivan Menu Publishing company. She is an account representative for the Air France account, and has editing chores as well as serve as liaison between the company and Air France. Lani Phillips will be starting her M. A. in linguistics at Georgetown in the fall after two years in Madrid. Andrea Schmidt was in Paris with the Middlebury graduate program, studying French civilization, and is now teaching in Maine. Nadine Karel says hi to them all from Franklin & Marshall, where she's working in personnel and in the Library. Christine Hufenbecher is working full-time at VW and will be attending the NYU Steinhardt School of Education part-time for an M.A. in Music Business. She is planning a final project on the influence of music on the auto industry (for example, there are many correlations between Hip Hop music and luxury cars; music in car commercials; the auto industry sponsoring musical or other entertainment events etc.).

2001 Class: Catherine Santore, who majored in both French and Russian, won an extremely competitive Fulbright research award to study grass-roots environmentalist movements in Russia. Erin Mysak is at the University of North Carolina in Chapel Hill where she's completing her doctorate in physical and analytical chemistry. Erin was a teaching assistant for the first year and is now a full-time researcher. Catherine Santore reports that she has received a 3-month extension on her Fulbright award, and will be spending the summer traveling through Siberia, from Karelia to Kamchatka, to interview environmental groups. She's planning to do a little hiking and horsebackriding later in the summer and will be staying in Moscow for another year. Mary Kathryn Picazio has moved to San Antonio, Texas to attend St. Mary's University Law School. Amanda Krug lives outside of Philadelphia and is in her second semester as a high school Spanish teacher. Bridget Killea is working for SonoFiSynthelab, a French pharmaceutical company in Manhattan. She is also pursuing a degree in French translation at NYU. Tanya Sherrell teaches French at Kingsview Middle School in Germantown, MD and coaches swimming at Northwest HS. Katie Spering earned her M.A. in ESL at the College of New Jersey and now teaches kindergarten at Saigon South International School in Ho Chi Minh City, Vietnam.

2000 Class: Liz Paxton, after a year at the Justice Department, joined the Peace Corps and left for Morocco in the Fall of 2002. Liz was awarded the first Fulbright to Morocco, a grant to research and create an ecotourism branch of the Association of Man and the Environment in the Oriental region of Morocco. Her proposal states: "The objective is to initiate a viable cultural exchange between tourists and host communities, as well as to establish sustainable economic development in the Oriental region." Lisa Hsu Treat is pursuing her Ph.D. in a medical-engineering/medical-physics program offered by Harvard and MIT. Katie Fuerst is working in the Admissions Department of the School of Professional Studies at Eastern College in Philadelphia. Katie reports that Michelle Pachter is teaching math at the Shipley School. Meredith McGroarty writes: "I've been a staff writer at the Kaiser Family Foundation's Daily Reproductive Health and HIV/AIDS Reports for more than a year now, and I have used my French by translating AIDS-related articles from African newspapers. I have also been contacted by ACT/UP-Paris and interviewed (mostly in French, partly in English) one of their members about the recent World Trade Organization meeting (apparently my phone number and name are floating around various Parisian gay/AIDS groups as a contact for AIDS stories because I have also worked with Migrants Contre le sida." Justine Bareford communicates that she is in Bordeaux as an English assistant, a position which she got through the ministry of culture. She teaches in a "collège" and five elementary schools. Justine is taking classes at the Université of Bordeaux as well. She notes that the "assistant" position is not highly paid, but "suffices for a modest lifestyle." She has enjoyed meeting a very diverse group of assistants in the program. The service culturel at the French Embassy in New York City is the source of these positions. Jenny Simmons says she is "still living the good life in sunny Toulouse - finally got new windows 6 months after that factory explosion." Jenny is working as an assistant at the Dickinson in France program. Heather Boeck writes that she loves living in Pforzheim, Germany, where she works in sales for Witzenmann, a company specializing in flexible metal elements. Heather is in the aerospace sector and deals regularly with clients in Belgium and France. Michelle Gaudreau, after serving with the Peace Corps in Côte d'Ivoire, received an M. A. in dance/movement therapy and mental-health counseling from Antioch University New England.

1999 Class: Jennifer Dunn got a teaching fellowship and a full-tuition scholarship at Boston College. She's going to begin a two-year M.A. program in the fall. Catherine Jamet earned her M.S.at Indiana University, and is now enrolled for the Ph.D. at the University of Southern California, Department of Earth Sciences, in Paleontology. She expects to get the degree in 2006. Beth Tiesler is working for TransPerfect Translations in New York City--somewhat of a hub for Dickinson graduates. Ninel Tangara also did a stint for TransPerfect. She is now a fifth grade teacher in the Wilton, CT public schools. Catherine Jamet reports Ninel had a baby girl on June 29th! Jeff Wharen writes that he is back in the U.S. after three years' teaching English in South Korea and is working as an editor with AOL in northern Virginia. He previously worked as a policy research assistant at Futures Group International in Washington, D.C. Nysha King says that she is using French in her current job as Operations Coordinator for International SOS Assistance, a medical assistance company that helps clients who have purchased medical evacuation/repatriation insurance. The company is in Trevose, PA, right outside of Philly. Nysha coordinates the logistics of evacuations, and uses French with Québecois clients and in communicating with company offices in Geneva and Paris. Kirsten Houghton recently moved to Washington DC from New York and is working for a private foundation set up by Ted Turner and Sam Nunn to prevent the spread and use of nuclear and biological weapons. She writes that she is thinking about getting her Masters in International Affairs and Public Health. Claire Innes says "I'm back home in Sun Valley, Idaho after living 8 months in Florida. I'm working for Fedmarket.com and I love it!!! Thinking about grad school for graphic design..."

1998 Class: Shannon Oatey tells us that after receiving her Ed.M. in Education from Harvard she is now the language department of Tech Boston Academy, a pilot high school in the Boston Public Schools system. She says she IS the department because the school is only in its 2nd year, so she teaches French, Spanish and ESL. Sarah Bonnice is pursuing a master's in museum education at the University of the Arts in Philadelphia. Stephanie Dickens is teaching French at Broadneck High School in Annapolis, MD. Maresa Torregrossa just finished her second year at Villanova Law School and has one more year to go. She is working at Drinker Biddle and Reath as a summer associate. She has accepted a two-year clerkship with the Honorable Berle Schiller of the United State District Court for the Eastern District of Pennsylvania after graduation from law school. Steven Mercier writes that he moved back to NYC, and is currently "working at a job that has nothing at all to do with what I studied. That wasn't exactly my plan, but I have found time to play at late-night jazz club sessions all over the city. I also took up swing dancing early this year..." Shana Hecht is in her second year of teaching in West Hartford, CT. Danielle Dally was in Boston since graduation but is moving to NYC this summer. She writes "Post-Dickinson life has been good to me. I was fired from my first job, as a waitress, while getting my Masters in English. But I've successfully held down my job at Booz-Allen & Hamilton since completing my thesis." Nancy Ackerbauer-Murr is pursuing a B.S. in nutrition science at Russell Sage College in Troy, NY.

1997 Class: Christopher Schmidt is working at the University of Colorado at Boulder as Associate Director of Judicial Affairs. He has his M.A. in Religious Studies. And, he and Carrie are married! Alessandro Bartoletti, an Italian Studies major, is a dentist now, and is in the Navy, stationed at Bethesda. Stacy Armstrong has been working for almost two years as an administrative associate in international operations at Hagler Bailly, Inc. in Washington, D.C. Her supervisor is Patty Tauhert McVay '90 --also a Toulouse program alum. Courtney Davis is in Vail, Colorado, working for Destination Services. Adrienne Werner writes that she is now working for Iridium in Washington, D.C. This company has launched the first global mobile personal communications system. Adrienne has responsibiities for Africa, the Middle East, and South Asia. Her proficiency in French was instrumental in her getting the job. Adrienne's e-mail message relates: "I use my French every day! My boss is Senegalese and speaks to me exclusively in French. I draft correspondence in French, translate French correspondence into English, and coordinate with our West African business partners in French." Jay Shedlock has worked for the last five years as an analyst for the Defense Threat Reduction Agency at Fort Belvoir, Va., and is now with the Office of the Director of National Intelligence. Christine Haggerty Créteau earned her M.A. in the University of North Carolina's Transatlantic Masters' program. She's now living in Noisy-le-sec while her husband restores an ancient café. Christine writes that she has accepted a position at the European Press Network doing content sales. "It's an online news agency where freelance journalists file their work and then ideally editors consult the work and buy it. They've just started developing the commercial aspect of the business to try to get more editors of reputable papers and magazines signed on and do more active article-pitching." Christine is now officially in possession of a "carte de résident" for 10 years. After spending five years in the Baltimore area, Betsy Basom says she's ready for a big change! She will soon be moving out to Los Angeles where she will be teaching French (finally!!) and Spanish next fall at the Windward School near Santa Monica. Chris Winkler has left the U.S. Department of Education, where he was a program and management analyst in the Office of International and Territorial Services. He has been hired as an analyst at Systems Simulation Solutions, Inc., a Department of Defense contractor. Chris relates that at his job interview, the president of the company looked him in the eye and said "I like liberal arts majors; you guys are curious. We need that kind of people here." Becky Mello writes that she has been accepted to the Communication Sciences Department at the University of Vermont, where she will be starting study this fall for a Master's in speech pathology.

1996 Class: Andreya Valabek lives in the United Arab Emirates, where she teaches English as a second language while working on her M.A. in teaching ESL. She was previously a Peace Corps volunteer in Chad, backpacked through West Africa, and worked in California as an editor. Judith Ackerman is working for Merrill Lynch meeting services, planning executive and recognition programs. Ryan Holston took his French and Political Science majors to the American Enterprise Institute in Washington, D.C., where he's currently doing research. Next fall he'll begin studying for his MSc (a masters program) in Political Theory at The London School of Economics. Adrienne Stranere has received the DESS in Communications from the Université de Toulouse, with mention assez bien (one of two such honors in a cohort of 40 students). Adrienne is the first veteran of the Toulouse program to receive a graduate degree from the University! Christopher Bouchard writes that has recently been promoted to Assistant Director of NYU's Center in Paris. Melanie Gaspari completed her M.A.T. in foreign languages at the University of Delaware, and is now teaching French in grades 7, 8, and 9, as well as AP, at the Academy of Notre Dame in Villanova, PA. One of her students has just been accepted at Dickinson, and will attend in the fall.

1995 Class: Heather Callahan is a project manager for a social science research firm in Boulder, Colorado. Jessica Blades is currently regional accounts coordinator at Educational Tours in Cambridge, Massachusetts. Anne Blanchard teaches middle and high school French at the Solebury School in New Hope, PA. She plans a move to New York City in July to pursue an M.A. in French and ESL. Anne writes that Lisa Jones is working at a Swiss auction house that deals in timepieces. Melissa Martin is working part-time and has returned to school for a degree in math, in order to teach. Kim Bray writes to say that she is teaching French at Norwell High School in Massachusetts. Scott Carpenter is studying for the Ph.D. in French literature at New York University.

1994 Class: J. T. Sandone is about to begin a dual MBA program in Paris under the auspices of the Temple University Fox School of Business and Management and the L'Ecole Nationale des Ponts et Chaussées. The program will take him to Europe (Paris), North America (Philadelphia), and Asia (Tokyo and Shanghai). He'll also be finishing an MS in Finance at Temple in 2007. Paula Robinson Moore was recently featured in USA Today as one of 20 teachers nationwide to be part of the All-USA Teacher Team. Paula was also named Teacher of the Year recently in Washington County, Maryland. She has been teaching French at Williamsport High School since she graduated from Dickinson. In addition to her BA in French, Paula has a master's degree in curriculum and instruction from Hood College in Frederick, Maryland. She is one of the few French teachers in the county to be trained in teaching AP French Language and AP French literature. Two of Paula's former students are taking 200 level French as freshmen at Dickinson, so the beat goes on! Melissa DeRuiter is director of development for the Pennsylvania Horticultural Society. She writes that she has recently been appointed to the Philadelphia Chapter steering committee of the French Heritage Society, and is looking for other Francophiles to join their activites. FHS, founded in 1982 as Friends of Vieilles Maisons Francaises, is a national, American not-for-profit dedicated to the preservation of the French architectural patrimony in France and in the United States, to the fostering of educational exchange in the field of preservation, and to the strengthening of cultural ties between the two countries (www.frenchheritagesociety.org). Melissa also supplied the following updates on 1994 alumni: Katharine (Kate Heath) Ahlefeld is in Camden, Maine in marketing at Liberty Graphics. Mojdeh Bahar is a patent attorney/technology licensing specialist in Rockville, Maryland. Jennifer (Geib) Cayanan is a teacher in Clifton, New Jersey. Gretchen (Smith) Matthews is a freelance writer in Annapolis, Maryland. Deborah (Goodwin) Page is a French and Spanish teacher in Andover, Connecticut. Jennifer (Schwab) Rice is a costume shop supervisor/adjunct professor at Long Island University. Jennifer Johnson is a free-lance translator living in Bremen, Germany.

1993 Class: Joe Fiorill reports on homeland security and weapons of mass destruction for Global Security Newswire. Suzanne Gallagher is administrative assistant to the vice presidents of research and development and quality at Dannon Corp. in Tarrytown, New York--says she's using her French quite often, for translation purposes. Nancy Richardson has "switched gears," and is now teaching English for Speakers of Other Languages at the elementary school level in Maryland. Michael Matro has been working for Ralph Lauren since about a year after graduation. He now holds the position of International Sales Manager for all of Lauren's lines of leather goods. Though he's headquartered in New York, he gets to travel quite a bit, mostly to Asia and Italy--where he uses his French with his business counterparts! He's contemplating returning to graduate school for either an MBA or a MIM degree. Genevieve Becker sends greetings from Tarrytown, NY. She is teaching French and coaching tennis and squash. Christina Perkins, living in Portland, Maine, is the marketing manager for an online b-to-b exchange for the seafood industry: gofish.com. She's a marathoner, and also serves on the board of directors of the AIDS Lodging House and volunteers with the Girl Scouts and the Hurricane Island Outward Bound School. Jennifer Gordon Ross is now chief information officer for the Pennsylvania Association of Nonprofit Organizations. Jennifer Pickel works at Bank of America in Charlotte, North Carolina, supporting the trading floor. Susan Kurth Clot de Broissiamanages is a Web-application development at the Susan G. Komen Foundation's national headquarters in Dallas.

1992 Class: Amy Toth earned her M.A. in education of deaf and hard-of-hearing students at the University of Pittsburgh. She is now school-to-careeer coodinator at the California School for the Deaf. Matt Heinly is now a professional sales representative for Merck and Co. He was previously in the Composites Division at Owens-Corning, primarily with a Canadian customer base. Just after Dickinson he worked for a year for Computer Aid, Inc., providing hardware and software support for Ford/New Holland agricultural equipment dealers throughout Canada. He then earned his Master's in International Business Sudies, with a concentration in marketing and French, at the University of South Carolina. Matt also interned for six months in Brussels with 3M Europe. Sally Bugbee Keidel has accepted a new job at the Hill School as director of admissions. Katie Irwin is at Clark Lane Middle School in Waterford, Ct, where she teaches French and Spanish. She received an M.A. in education from Fairfield University.

1991 Class: Pam Woodcock Bennett is a relationship manager at The Vanguard Group. She oversees nine institutional clients in the nonprofit/higher education sector. Jeff Funk works as marketing manager at Cebal Americas, a global company that makes packaging for cosmetics, personal care and pharmaceutical products. Previously he worked in sales for Valois, a French company that manufactures pumps for perfume bottles, and Klocke, a German firm which manufactures promotional samples for personal products companies. Evelyn Kassouf has been busy teaching seventh grade French in Baltimore County and working toward her Ph.D. in French history. Pam Skutnik Cadena completed her Master's degree in education at Pepperdine University and is now teaching fourth grade at the Beryl School in Redondo Beach, California. Christa Sheehan lives in Southern California, and is director of development for a nonprofit that helps high-risk youth. Julie Rogalla Zizan lives in Pittsburgh, and teaches middle-school French in a district north of the city.

1990 Class: Kris Kayer Amtower tutors and substitute teaches French for the Carlisle school district. John Tenney taught English for two years at the American School in Guangzhou, China. Jennifer Wasilko Haigh's first novel, Mrs. Kimble , has earned her the PEN New England Hemingway Foundation/PEN Award, America's best-known prize for a distinguished first book of fiction. The award presentation was held at the John F. Kennedy Library and Museum in Boston on April 4. Her second novel, Baker Towers , was published to critical huzzahs in January 2005. She received Dickinson's Outstanding Young Alumni Award this past June. Nicole Monier tells us she went to culinary school in Paris after graduation, then worked in restaurants for six or seven years. Now Nicole teaches at a culinary school in San Francisco. All of us who were in Toulouse with Nicole remember fondly the goodies she used to bring back from her internship at the Jardins de l'Opéra... After teaching French for six years, Emily Cox is the principal at Boston Collegiate Charter School. Sarah Berkey is in Washington D.C. like many alumni, managing North American communications for the French utility, Electricité de France. Deborah Lisker serves as a board member of Prevent Child Abuse Delaware. Anne Parry has applied to the Tufts Master's Program in International Urban and Environmental Policy. After a stint with the Peace Corps, Anne stayed on in Turkmenistan, becoming a Public Management Language Training Specialist with the United Nations Development Program in Ashgabad. David Kirsch teaches French, French cinema and international cinema at SUNY Farmingdale and at the C.W. Post campus of Long Island University.

1989 Class: Dorrie Nang earned her doctorate in French from Penn State University and is now teaching at Nichols College in Dudley, MA. Her email is dorrie.nang@nichols.edu. Annette Ackley is a substitute teacher and tutor in Old Saybrook, CT, where she also volunteers with a number of organizations, including Habitat for Humanity. Chad Lower is at North Kansas City High School, teaching French II, III and IV in a newly-started International Baccalaureate program. He says it is "very interesting and challenging as we are trying to build the FL program. I am also the Department Chair." Chad works at the district level as an orientation leader of new high-school teachers. He completed his second M.A. in curriculum and instruction, and is pursing a teaching endorsement in ESL as well as a doctorate in educational leadership at the U. of Missouri in Kansas City. Jennifer Burt served for a time as a member of the Peace Corps in Niger, and then as a fundraiser with The Hunger Project. She is now back in Africa as the associate director for rural development for the Peace Corps in Niger. Jenny Gayer received her M.A. in International Affairs from the Johns Hopkins School for Advanced International Studies in 1995. She's just begun a new job at the Brookings Institution as a research assistant, dealing with conflict resolution in Africa. This involves most of sub-Saharan Africa and such issues as refugee protection, human rights, sovereignty, international law and organizations, and economic development. Her classmate, Carolyn Meno, just completed the requirements for the M.A. at the Columbia University School of International and Public Affairs.

1988 Class: Tom Brady is now working for Congressional Quarterly, Inc in Washington, D.C.as product development manager in the marketing department. CQI publishes political books and magazines. Tom also taught French for a while in high school. David Pauley is a psychotherapist/psychoanalyst in private practice in New York City. He recently joined the senior clinical staff at the NYU Counseling Service, where he directs the group psychotherapy program. David has also begun teaching for the first time in the MSW program at NYU's Ehrenkranz Scool of Social Work. After grad school at Penn, Kristin Loheyde moved to Portland oregon for 4 years and taught English as a second language at the u of portland, then worked at Tektronix. She moved to Oakland to take a job as the Cultural Competence learning consultant at Kaiser Permanente. Now she's back teaching in the Bay area.

1987 Class: Barbara Teter-Goodale has completed the Ph.D. in Romance Languages at the University of Pennsylvania, specializing in 19th-century French literature. Phil Rosenthal and Pai Dabler Rosenthal'84 are living near Washington, D.C. Phil is teaching English at a high school in Loudoun County, and recently earned his MS in education administration. Pai is now foreign language department chair at her school in Fairfax County, and was awarded the MEd in education leadership in 1997. Pam Hajj has accepted a two-year assignment in Manchester, England with her employer, Zeneca Afg Products.

1986 Class: Mary Ellen Kaelin Lederer has just finished her 15th year of teaching French and Spanish at the Chapin School in Princeton, New Jersey. Carol Lee Wilson Slater is Lecturer in French at Old Dominion University.

1985 Class: Doug Goldman has recently become a global product director at Cordis, Johnson and Johnson in Warren, New Jersey. Susan Rzemian is on leave from the Treasury Department, International Affairs. She is working as a fellow on Capitol Hill with the trade subcommittee of the House Ways & Means Committee. Mary Ellen Serchak is living in the San Francisco Bay area, where she is managing corporate communications for a Silicon Valley firm, Interwoven Inc. She worked for six years for the European Union, and then six more years for a high tech public relations firm.

1984 Class: Elissa Heil is teaching in the Humanities program at the College of the Ozarks. Jody Kendal Bevevino writes that she graduated from Pitt Law School and spent a number of years in various areas of legal practice before choosing children's advocacy.

1983 Class: Christina Lucas received her MBA from Drexel University and is a neuroscience specialty sales representative at Bristol-Myers Squibb. Martin D'Luzansky moved to the Bose Automotive Systems Division almost 4 years ago managing relationships with European customers in North America. For the last year he has been managing the German (!) marketing group from the U.S., and is responsible for all Bose's European customers in North America and Europe. At the beginning of this year, he was promoted to manager, North American marketing, responsible for all brands (not just the Europeans) in this marketplace, which is Bose's largest. Marty says "I still pine for a French brand (Peugeot or Citroën) but who knows, as the automotive industrycontracts, that may happen sooner than we think."

1982 Class: Kim Kilgo Riley is now teaching French at Archbishop Spalding High School. Hope Muchnick Pomerantz has joined Public Service Electric and Gas Co. in New Jersey as an in-house counsel. As an assistant general attorney, she practices labor employment law.

1981 Class: Lori Mazurek reports that she recently started a new job as director of marketing of IBM's consumer software group in San Francisco. Susan Dague is reference librarian at East Greenbush Community Library in New York. She is serving a two-year term as treasurer of NOW in New York state, and serves on the executive council of the Albany chapter of Amnesty International.

1978 Class: Wint (Guy) Palmer enjoyed a wonderful year as a Fulbrighter in Toulouse after graduation. Wint is with the SunTrust organization, one of the top ten U.S. banking companies, where he works as a senior vice president focusing on commercial business development in the Washington area. Pam Broberg is an Editor/Writer for the National Automobile Dealers Association in McLean, Virginia. She uses her French to read menus and for the occasional foreign film. Pam spent 15 years dancing and performing modern dance in addition to working, but quit the dancing after she and her husband had two children. Son Mickey, 11, is looking forward to the language programs in middle school and can't wait to go to France. He and his sister Rose, age 8, have been studying Spanish since they were in kindergarten. Cris Ann Neithammer Noel is studying psychology, and hopes to become a trilingual school psychologist. She has four children: Josh, 17; Dominique, 13; Bridgitte, 4; and Sahsha, 6 months. Isabelle Zsoldos has written to fill us in on the past few years!! Izzy got her M.A. at UNC-Chapel Hill, and has since followed a career in international education/development. She has been a Study Abroad Advisor, a Foreign Student Advisor, and is currently living in Arlington, VA as a Senior Program Officer with Development Associates, Inc., an international development consulting firm in DC, which administers U.S., in-country and third-country training programs for USAID. She has worked on projects with numerous USAID missions in Central and South America, NIS, and Africa, making use of her French in projects involving Madagascar and Tunisia. Along the way she has had to pick up Spanish although she reports that she hasn't mastered it to the extent of French!

1972 Class: Linda Riley says she recently started a conversation group at her local library. French is the lingua franca for a diverse group of participants from, among other places, Turkey, Ivory Coast, Canada and Belgium. Linda has an M.A. in Communications from Temple, has worked as a journalist and in public relations, has made a couple of short films and published three children's books--all national award winners--and is now Director of Communications for the Valley Forge Convention & Visitors Bureau.