FALL 2021
Assistant Professor of French and Francophone Studies and Women's, Gender and Sexuality Studies Mireille Rebeiz recently sat down with Writer and Editor for Marketing and Communications Tony Moore to discuss her upcoming book Gendering Civil War: Francophone Women's Writing in Lebanon and her future research projects. Gendering Civil War: Francophone Women's Writing in Lebanon analyzes the the literature written in French by Lebanese women during the Lebanese civil war. In her interview, Professor Rebeiz discusses her motivations for researching this topic, the book she is currently working on about war crimes, terrorism, and international law in Lebanon, and her experience pursuing an SJD at Penn State Dickinson Law. Click HERE to read the full article.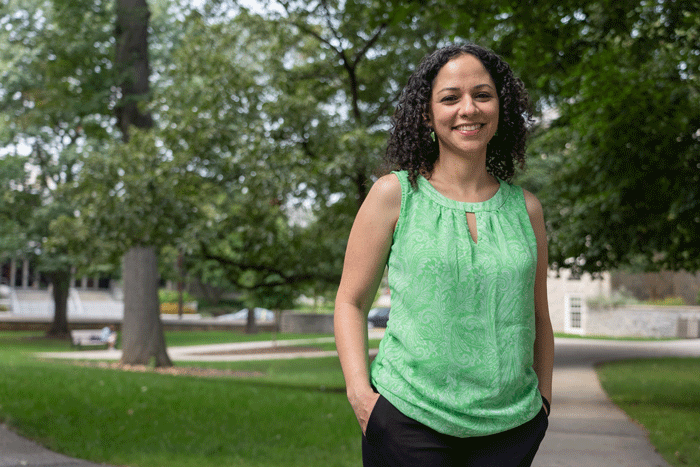 SPRING 2021
In the spring of 2021, Associate Professor of French and Francophone Studies Lucile Duperron offered a new seminar focusing on multilingual France, during which she invited speakers who discussed topics ranging from the role of media on language discrimination, to fiction writing in an external language, translation theory, and multilingual career development in international business. Here is a link to Professor Wajih Guehria's presentation on the role of French media in language attitudes toward "le français banlieue." Professor Guehria holds a Ph.D in Applied Linguistics from the University of Paris Nanterre. He teaches applied linguistics courses at the University of Paris, Versaille Campus. His research contributes to the description of Multilingual Paris French as well as to the debate about language discimination in French society.
Associate Professor of French and Francophone Studies Lucile Duperron recently received support for her First-Year Seminar "From Babble to Babel: Becoming Billingual" from the Center for Civic Learning & Action's Civic Engagement Fund and the Andrew W. Mellon Foundation. More information can be found HERE.
FALL 2020
"The Joy of Singing" is a virtual performance of the works of French composers Claude Debussy (1862-1918) and Gabriel Fauré (1845-1924) performed by Assistant Professor of Music James Martin and Visiting Assistant Professor of Music Gregory Strohman. Debussy and Fauré created song cycles of the potery of Carles Baudelaire, Paul Verlaine, and Françoi Villon among others. The performance also includes cultural interludes from Assistant Professor of French Adeline Soldin and Dickinson French and Francophone Studies and Music alumna Megan Sarno '09 who currently works at the University of Texas at Arlington as an Assistant Professor of Musicology.
FALL 2018
Hanna Roman, one of our Assistant French Professors at Dickinson College recently published her book entitled "The Language of Nature in Buffon's Histoire naturelle". Hanna Roman examines Buffon's Histoire naturelle, arguing that the written language of natural history in the Enlightenment was itself a form of knowledge, with Buffon's literary simulacrum of nature teaching his readers not only about the history and laws of nature, but also how to interact with nature differently. She is interested in the discourses of scientific knowledge in Enlightenment France, and her new research focuses on the languages of theology and natural history in works of eighteenth-century geohistory.