Pi Delta Phi
Each Spring the Department of French at Dickinson College inducts outstanding students of French into Pi Delta Phi, the French National Honor Society, during a special ceremony. Students considered for induction demonstrate excellence in French and have achieved a class ranking in the top 35% of their class.
Dickinson's Gamma Omicron chapter is one of 370 chapters of the Society in the United States and two representative chapters at the American Universities in Paris and Aix-en-Provence in France.
French faculty are pleased to present past inductees and congratulate each of them on their achievement.
Class of 2019
Maia Baker, Andrea Barrows, Gisele Betances, Rachael Franchini, Elizabeth Haraburda, Nathalie Ingersoll, Winnie Le, Rafi Marinello, Anna Morrison, Titi Ogunsola, Emma Spector and Emily Stutzman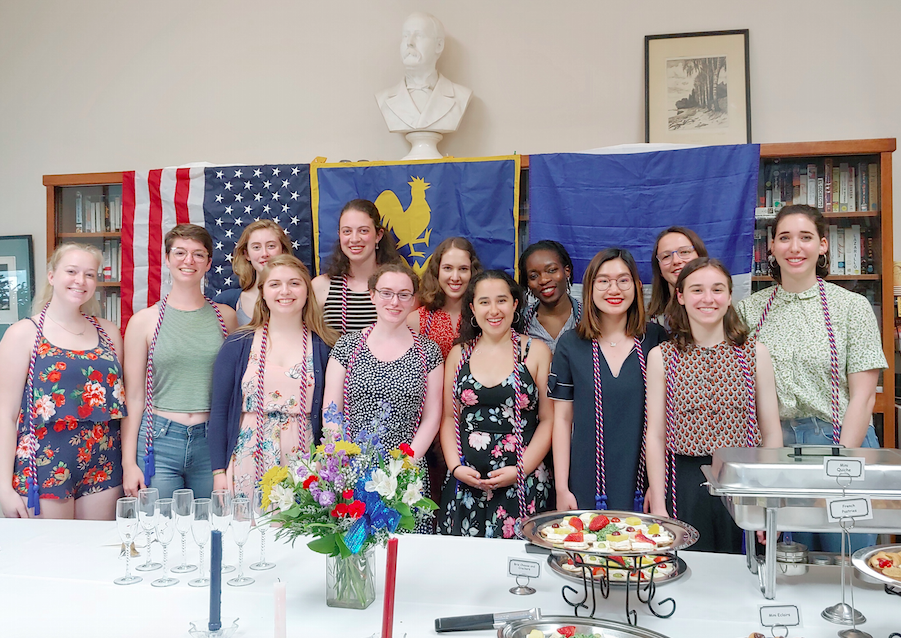 Class of 2018
Allen Belo, Andrea Bisbjerg, Ingrid Brandt, Kristin Erickson, Hannah Gore, Joe Keiger, Jillian Paffenbarger
Class of 2017
Lillian Beardsley, Jessamyn Biette, Liam Fuller, Elizabeth Johnsen, Joojo Ocran, Giulia Pagano, Natalie Pope, Anna Robinette
Class of 2016
Olivia Calcaterra, Gabriel Chong-Ling, Kristen Cunningham, Caitlin DeFazio, Gibson Holland, Grace McCrocklin, Jessica Sykes, Tatiana Veres
Class of 2015
Christopher Brokus, Xi "Shirley" Chen, Emma Devine, Molly DiLeonardi, Kimberly Drexler, Sarah Goslin, Kathleen Lange, Renata Leo, Jeremy Lupowitz, Callie Marx, Ayse Ozder, Nancy Rouse, Emily Snell, Bridget Stockmal, Katherine Swantak
Class of 2014
Julia Barnes, Marie Gray, Molly Leach, Ashleigh Rockwell, Amy Rosenfled, Alex Toole
Class of 2013
Ellen Lacek Aldin, Lauren Elyse Brennan, Julia Louise Coggins, Joshua Spenser Davis, Sarah Miller Howard, Christina Socci, Kimberly Drexler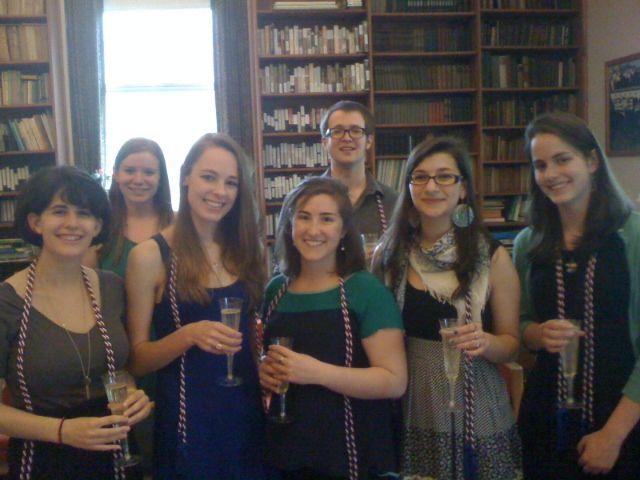 2013 Pi Delta Phi inductees
Class of 2012
Gabrielle Betances, Madlen Chipeva, Anna Ciriani-Dean, Leigh Harlow, Gabrielle Kushlan, Qichan (Béatrice) Qian, Joanna Sprout, Elizabeth Toutain, Robert Wise
Class of 2011
Dominique Bejean, Jarrod Bouchard, Alyssa Coltrain, Sara Glas, Ariel Graham, Bryna Hautau, Abbey Kalman, Christina Neno, Anna-Lisa Noack, Eric O'Neill