Student Research
Dr. Benjamin Rush founded Dickinson with a unique vision of the liberal arts in mind. Rush's Dickinson was not to be a place of removed contemplation but of active engagement with the wider world. Today, Dickinson students utilize the timeless rigors of liberal learning to confront the most critical challenges of our globalized age, with the College's research and study centers abroad functioning as living laboratories. This section highlights recent student research projects. What will you do abroad . . . ?
If you are interested in applying for a grant or scholarship to conduct research abroad, please visit our Scholarships for Global Study and Research site.
2019-2020 Award Recipients
Grace Ingle '20, William G. and Elke F. Durden International Initiative Grant​, Georgia
Sophia Miretskiy '20, William G. and Elke F. Durden International Initiative Grant​, Georgia
2018-2019 Award Recipients
Ben Ahern '20, William G. and Elke F. Durden International Initiative Grant​, Australia
Research in Brisbane, Australia at the Institute for Molecular Bioscience at the University of Queensland focused on implementing advanced synthetic organic chemistry techniques with immunology applications, specifically modifying drugs that act as immunostimulants in mucosal-associated invariant t (MAIT) cells.
Daniela Aldrich '19, SIRF Grant, Brazil
Conducted formal oral history interviews with a set of educators about their experience within the school, the community, The Rural Landless Workers' Movement (MST), and the fight for education justice in Brazil.
Espoir DelMain '21, SIRF Grant, Rwanda
2017-2018 Award Recipients
McKinley Knoop '18 and Sarah Sloan '18, William G. and Elke F. Durden International Initiative Grant​, Morocco
"During the course of the Fall 2017 semester and winter break, our independent study and subsequent fieldwork aims to explore the history of Amazigh Jewry within Morocco, focusing on the theme of "Language and Culture, Power and Resistance." During the semester, we will study the Rif region of northern Morocco, focusing on its history of resistance and the influence on political thinking caused by migration from Spain and Portugal. We will then co-write a paper based on our research and findings, which will serve as the basis for our oral history fieldwork. Using what we learned throughout the course of our semester, and where we know there to be gaps in academic research, we will travel to Morocco to conduct fieldwork and record oral history. By conducting research in local archives and libraries, particularly the National Archives of Morocco, we will be able to access written primary and secondary sources only available in Morocco. We will also conduct oral history interviews with both Amazigheen and Jewish communities in the Rif, focusing on their roles in local resistance movements of the last century."
2016-2017 Award Recipients
Therea Dal Prà Iversen '17, William G. and Elke F. Durden International Initiative Grant​, Italy
Analyzed various "bodies" in Elena Ferrante's Neapolitan Quartet: The "body" of Naples, in which the protagonists of the Quartet live, and the physical bodies of the protagonists.
Delphine Dall'Agata '17, William G. and Elke F. Durden International Initiative Grant​, Italy
Research in Bologna focused on four urban garden initiatives: a city-owned community garden, a preschool in the greenhouses of the Giardini Margherita, an urban farm in the marginalized Pilastro neighborhood, and an African garden in a refugee welcome center in Crespellano.
Leadership in 4 Directions: The Attack on Pearl Harbor: Globally Integrated in Hawaii- SIRF Recipients: Jacob Band, Madison Glass, Arielle Misrok, Lindsay Morton, Olivia Neubert, Ikram Rabbani
The Pearl Harbor Leadership Seminar was the flagship program for students to understand and engage in leadership skills and organizational management. The setting of Pearl Harbor provided the opportunity to understand the events which proceeded, followed, and occurred at the time of the attack, and how the decisions of individuals coupled with military, political, and societal culture had an effect on the outcome.
Natalie McNeill '17, William G. and Elke F. Durden International Initiative Grant​, Italy
Research on the Mincio Park in Mantua, Italy, which utilizes volunteers to protect the river, lakes, and land that are under the Park's jurisdiction.
2015-2016 Award Recipients
Austen Dowell, International Studies and Russian, Dickinson in Russia; Kyrgyzstan
SIRF Grant and Leffman/Geldrich Recipient
Examining Historical Narratives of Chekhov's Travels and His Lecacy in Sakhalin
Discussing Identity and the Meaning of Russia with Central Asian, Ethnically Russian Emigrees in Russia
Analyzing Trends in the Teaching of Kyrguz History and Culture after the Fall of the Soviet Union
Stephanie Mazur, International Studies and Anthropology, Dickinson in South America
SIRF Grant
Ethnographic research focusing on immigrants and their families from South American countries who now live and work in the city and province of Mendoza, Argentina.
2014-2015 Award Recipients
Mariel Fernandez, Latin American/Latino/Caribbean Studies, SIT Peru
SIRF Grant
"La Calle Habla: Street Art, Social Consciousness and Youth Migrant Identity in Lima, Peru"
Mariel's research examined the way street art and graffiti function as expressions of youth migrant identity and resistance in Lima, Peru. Despite Lima's long history of rural to urban migration, rural indigenous migrants are often harshly discriminated against and marginalized within the urban space. Street art opens a space for young first and second generation migrants to carve an identity and space for themselves within the city. The four artists featured in this project, Elliot Tupac, Mome RC, Qarla Quispe and Choco Car, illustrate the diversity of Lima's street art movement as well as the ways in which street art functions to express migrant identity, resistance and social consciousness. Her research was the culmination of a total of 8 weeks of fieldwork in Lima during two research trips in May 2014 and January 2015.
Rachel Schilling, English and German, Durden Dickinson in Germany
SIRF Grant
"The Current Research of Grimm Brothers' Fairy Tales in Germany"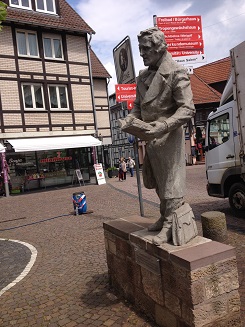 As a double major in both English and German, Rachel often experienced and investigated her work through literature. Therefore, it is only fitting that she would explore Germany through its most famous literature. The Grimm brothers' fairy tales were one of the original ways in which she experienced and explored German language and German historical culture. In order to narrow her research for her senior thesis, Rachel traveled around the German state of Hessen to visit scholars and museums focusing on fairy tales and the Grimm Brothers. Her senior thesis builds on her research of Germany and their language. Much of her research was conducted in Kassel, Bad Oeynhausen, Marburg, Steinau and Hanau Germany while she was a participant on the Dickinson in Bremen, Germany program.
Faith Park, MAJOR: Self-Developed, Dickinson in Cameroon
SIRF Grant
"Family planning and contraception among Cameroonian women in urban and rural areas"
Cameroon is located in Sub-Saharan Africa and has been facing various problems with maternal health; it has one of the highest maternal mortality rate in the world. In 2011, approximately 782 women died due to pregnancy or delivery related causes per 100,000 live births. Furthermore, the infant mortality rate was relatively high, noting 61 deaths per 1,000 live births in 2012. Additionally, a problem in Cameroon exists with large numbers of unwanted pregnancies due to lack of access to quality family planning services. Faith's research on family planning and contraception focused on Cameroonian women in both urban and rural areas. She collected data through surveys and interviews to study the attitudes, knowledge and perceptions on family planning and contraception among these women. Her research aims to raise awareness on family planning and contraception in Cameroon.
Madison Alley, International Business and Management, Durden Dickinson in Germany
William G. and Elke F. Durden International Initiative Grant
"Living Well in Later Life"
Germany is one of the many countries that is being, as will continue to be, affected by the global phenomenon of population aging. This is a result of various contributing factors, including population decline due to low fertility rates and a death rate higher than the country's birth rate, as well as constantly advancing medical technology that catalyzes greater longevity. Through traditional research methods, survey and interviews, Madison investigated Germany's shifting demographics, focusing both on the reasons behind the shift and on the potential effects it could have on Germany's people and its economy, as well as continental Europe.
Spring 2015 Guest Researchers
Every spring semester Helen and Eric Nelson, in conjunction with the Copernicus Society, sponsor two graduate or doctoral students from Jagiellonian University in Krakow, Poland to further their research at Dickinson College. Below are the spring 2015 visiting Jagiellonian scholars.
Maciej Smolka, Poland
Maciej specializes in history of American popular music, but his M.A. research focuses on the construction of particular locations' image in cultural texts, based on the example of Sufjan Stevens's album "Michigan". He earned his Bachelor's degree in American Studies at Jagiellonian University, writing two theses: History of The Beach Boys and their Influence on Contemporary Artists, and Domination of United States in 21st Century Global Music Industry. Maciej hopes to pursue Ph.D. program with emphasis on local music scenes of American cities.
Natalia Szymanowska, Poland
Part of her thesis for her Master's degree in Latin American Studies, Natalia's research is focused on a particular aspect of Andean religion: how the Pachamama cult - the Earth Goddess - has changed from the years of Inca Empire through colonial times and how it evolved to become a part of contemporary Christian religion in Peru, Bolivia, and Argentina. The aim of her research is how to explain why Pachamama, and no other Andean deities, has such an important role in Andean culture.
2013-2014 Award Recipients
Sarah DiMuccio, Psychology, Dickinson in Italy, Danish Institute for Study Abroad Denmark
SIRF Grant
"Precarious Manhood in Young Danish Men: An Interview Study"
In many cultures around the world, it believed that real men are not born, and must instead be made. through interviews with nine Danish, college-aged, heterosexual, Caucasian men, Sarah examined men's thoughts and feelings about the nature of manhood, how it is achieved, if and how it can be list, and the nature of masculinity. It was expected that Danish men would have egalitarian perspectives on gender roles and would see manhood as being more of a biological state that a social state. Data analyses revealed three main clusters: (1) manhood involves appearing physically manly, (2) manhood involves maturity and behaving like an adult, and (3) masculinity is an important part of manhood, but not a necessity. These finding can help better understand how man in a more egalitarian society think about their manhood and masculinity.
Catherine Turvey, Sociology, SIT Chile
SIRF Grant
"Something Fishy: Social Impacts of the Salmon Industry in Chiloe, Chile"
Since the introduction of the salmon industry in the 1970s, the archipelago of Chiloe, Chile has experienced rapid industrial growth. Expanding agriculture may generate jobs, but has also challenged the environment, culture, and the livelihood of Chilote natives. Catherine's research explored local perspectives on the costs and benefits of the industry and how these have been distributed amongst different sub-populations.
Emma Devine, French, Dickinson in France
Leffman/Geldrich Grant
"Une analyse de la maniere d'aborder la sexualite dans les documenataires pour enfants et adolescents"
Emma's research focused on her experiences interning at the children's publishing company La Vengeur Masque as well as the ways in which children and young adult literature on sexuality can influence the beliefs and attitudes of children and teens on the topic of sexuality. Specifically, the research analyzed representations of nudity, pleasure, consent, masturbation, homosexuality, and reproduction and the various ways these representations can reassure or bring up worries and insecurities about one's sexuality and how this can have an impact on sexual experiences and well-being. In addition, the research also analyzed the impact of representations of gender and race in these books.