Zero Carbon Dioxide through Climate Action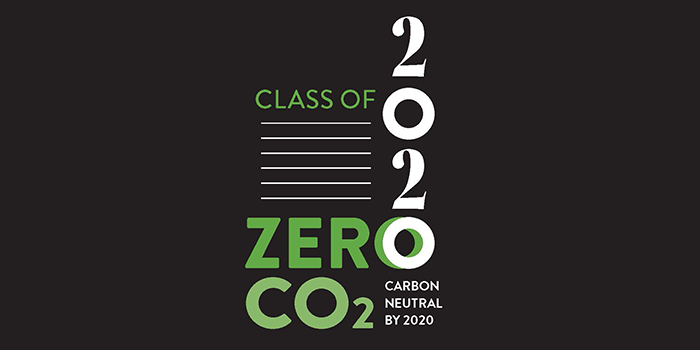 Emissions of carbon dioxide and other greenhouse gases are changing the world's climate rapidly and dangerously. Dickinson, acting as a leader in battling climate change, is striving to be climate neutral by 2020. If we succeed, the Class of 2020 will be the first Dickinson class to have zero net emissions of greenhouse gases. But we won't reach our goal without the help of the entire Dickinson community. For that, we need the Class of 2020 to step up as champions for campus energy conservation and be the 2020: Class of Carbon Neutrality.
What is carbon neutrality?
Operating the Dickinson campus emits carbon dioxide and other greenhouse gases into the atmosphere, contributing to global climate change. This includes emissions produced to generate the electricity that we purchase as well as by the fossil energy that we burn to heat and cool the campus, commute to work, fly for study abroad and other activities.
Carbon neutrality is achieved by cutting our emissions of greenhouse gases and by offsetting emissions that we cannot eliminate through support of projects that reduce emissions of others. When reductions and offsets are equal to our 2008 base year emissions, our net emissions will be zero and we will have reached carbon neutrality.
Cutting Dickinson's emissions is the most important part of this equation. Our Climate Action Plan calls for us to cut emissions 25 percent from the 2008 level by 2020. We are cutting emissions by adopting more efficient technologies and practices, switching to renewable zero-carbon energy sources, and promoting behavior changes that reduce energy use.
How can I get involved?