At Dickinson, economics majors learn to think creatively and deeply about some of the most important economic concerns facing the world today.
Rather than study economics from a single perspective, as is the norm in American undergraduate education, Dickinson students learn to apply a variety of traditional and nontraditional theoretical perspectives to issues of economic efficiency, economic growth, social justice, power, individual freedom, discrimination, cultural values and environmental destruction. This unique approach provides students with the critical and analytical skills needed for careers in business, government, law and public service.
To get an idea of the ways people use economics for solving very human problems and the need to include a diverse set of voices in the discipline, please see this 9-minute video entitled "A career in Economics . . . it's much more than you think" produced by the American Economic Association (AEA), available at the AEA website and on Vimeo.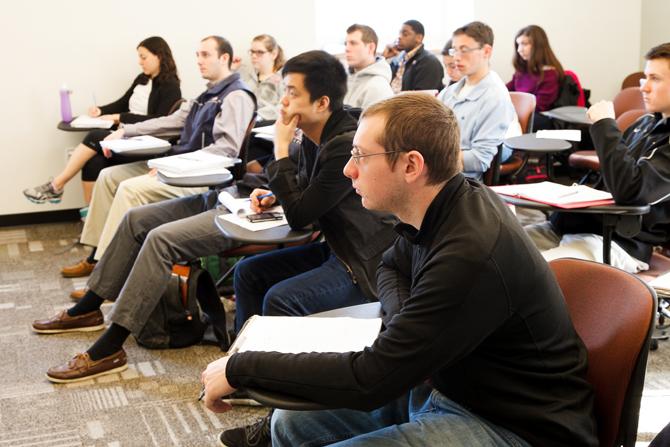 Upcoming Department Events:
Guest Speaker: Jonathan Cogliano
Assistant Professor of Economics, Dickinson College
Lecture Title: "Class and Exploitation: Technical Change, Social Norms, and Goodwin Dynamics"."
Oct. 25, 2016 | Althouse 201 | 4:30 - 6:00 p.m.
Guest Speaker: James Saunoris
Assistant Professor, Eastern Michigan University
Lecture Title: Coming soon
Nov. 11, 2016 | Althouse 201 | 4:30 - 6:00 p.m.
Guest Speaker: Ishraq Ahmed
PhD Candidate – Southern Illinois University-Carbondale
Lecture Title: "The Impact of Microfinance on Consumption: Evidence Using Household and Subdistrict Data in Bangladesh"
Nov. 22, 2016 | Althouse 201 | 12:00 - 1:00 p.m.
Jonathan Baughman '17
Lecture Title: "The Home Mortgage Interest Deduction And Economic Growth"
Dec. 2, 2016 | Althouse 201 | 4:30 - 6:00 p.m.
Spring 2017 Semester: TBD