Events and News
Every semester, the English department hosts several lectures, readings, or special events. Below are descriptions of our annual series. Most events are free and open to the public: stop by!
Cogan Alumni Fellowship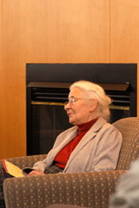 Eleanor Cogan
Dickinson English alumni have all sorts of interesting jobs. Each spring, the Cogan Alumni Fellowship brings a graduate to campus to share life experience and career advice with current students. The residency was name in honor of Eleanor Cogan (1909-2011), who took her first 52 classes at Dickinson when she was seventy. Mrs. Cogan's adventurous spirit and lifelong curiosity inspires our choice of Cogan speakers.
This spring's Cogan Fellow was Roger Brubaker '03 who currently a Graduate Teaching Fellow at Oregon State University where he is completing a Master's of Public Health in Epidemiology studying the traumatic effects of intimate partner violence. Before that he counseled perpetrators of family violence in a Batterer's Intervention Program. Previous to finding his passion for violence prevention, Roger's career path since Dickinson had been anything but linear. Upon graduation, he worked as an arborist, taught Natural Resource Science in a vocational program for at-risk youth and served as a Peace Corp volunteer in Central Thailand working on Dengue fever prevention initiatives. Go to our Cogan Alumni Fellows page to read more about our past Cogan Fellows.

The Harold and Ethel L.

Stellfox

Visiting Scholars and Writers Program
Jean Louise Stellfox '60 was inspired to become an English teacher after meeting Robert Frost during the poet's visit to Dickinson in 1959. The Harold and Ethel L. Stellfox Visiting Scholars and Writers Program, funded by Jean Stellfox's generous gift and named after her parents, continues to inspire students through literature. Each year, it brings to campus a renowned figure in the arts.
The fall 2016 Stellfox recipient was John Patrick Shanley. He is one of America's foremost playwrights and best known for his 2005 play Doubt, winner of four Tony awards, a Drama Desk award and the Pulitzer Prize; he also is a screenwriter and director of the 2008 film adaptation, starring Meryl Streep and Philip Seymour Hoffman. Shanley wrote the screenplay for the 1987 film Moonstruck, which won three Academy Awards, including best screenplay. Recent works including Outside Mullingar and The Prodigal Son, also have received critical acclaim.
While in residency at Dickinson, the distinguished recipient visits classes, holds a seminar for aspiring writers, gives readings and presentations, and shares meals with students and faculty. Read how the Stellfox program has impacted the Dickinson campus since its beginning in 2005.
The spring 2016 Stellfox recipient was Edwidge Danticat who inspired individuals to "Just seek the truth and write about it." Award-winning creative writer Lorrie Moore was the Stellfox Visiting Scholar recipient in the fall 2014. She visited Dickinson November 6-8, 2014. In the spring of 2014 Stellfox recipient Paul Muldoon delivered a literary call to action during his inspiring residency in the spring of 2014. Ian McEwan, the Man Booker-winning writer and the first Stellfox award recipient returned as a 2015 Commencement speaker. Here is a conversation on his work, free speech, and the role the Internet can play in the evolution of literature.
Belfer Reading Series
The Belfer lectureship brings a recognized author to Dickinson to read and visit classes at Dickinson. Recent recipients include Ross Gay, Claire Vaye Watkins, Elyse Fenton, Susan Stewart, Tobias Wolff, and Rick Moody.

This year's recipent will be Don Lee who will visit Dickinson on Monday, October 30 from 6:30-8:30 p.m. in Althouse 106. The acclaimed contemporary author will read from his new novel Lonesome Lies before Us. Mr. Lee is the award-winning author of Yellow, The Collective, Wrack & Ruin, and Country of Origin, and teaches Creative Writing at Temple University. Following the reading, he will sign copies of the novel. For more information on Don Lee, go to his web site at: http://don-lee.com (Co-sponsored with the Popel Shaw Center for Race & Ethnicity)