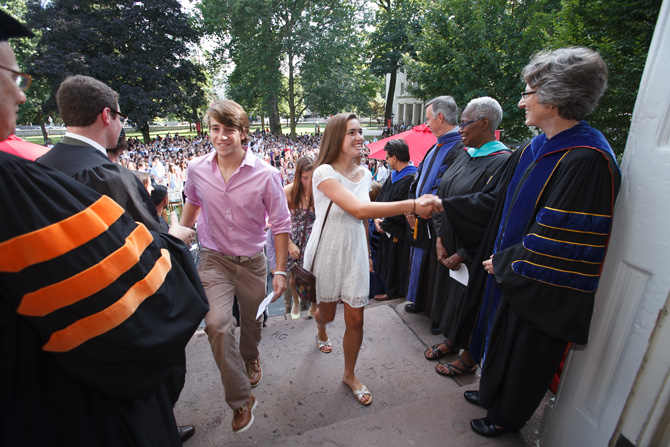 Each year, new Dickinsonians gather in front of Old West's venerable stone steps. Literally etched with history and scuffed by centuries of students, those steps are part of Dickinson's most important traditions.
During Convocation, new students walk up the steps, through the doors into Memorial Hall and sign into the college. The doors of Old West symbolize Dickinson's connection to its past and a gateway to the future.

At Commencement, the graduating class walks out the doors and down the steps, symbolically exiting the college and entering the world of alumni.
Information about the 2014 Convocation ceremony:
On Sunday, Aug. 31, 2014, the college will officially begin the 2014-2015 academic year with the opening Convocation. The line up for faculty, administrators and the members of the Class of 2018 will take place at 3:45 p.m.—faculty and administrators are to line up on Britton Plaza and members of the Class of 2018 are to line up on the sidewalk in front of the Library. The ceremony will begin at 4 p.m. with the Academic Procession followed by the Convocation at 4:15 p.m. on the John Dickinson campus. At the conclusion of the Convocation, new students will have the opportunity to sign in to the college.

Student Senate President Austin Davis '15 will speak briefly, and President Nancy A. Roseman will deliver the Convocation address. The Ganoe Award winner, Senior and Junior Sophisters, Phi Beta Kappa, Shuman Prize winners, and the Howard Lane Rubendall Senior Scholarship winner will be recognized. Ann Fogler '15, a member of the college choir, will lead the singing of the Alma Mater.

Following the ceremony, all those in attendance are welcome to enjoy a picnic on Morgan Field.

See coverage of recent Convocation ceremonies: