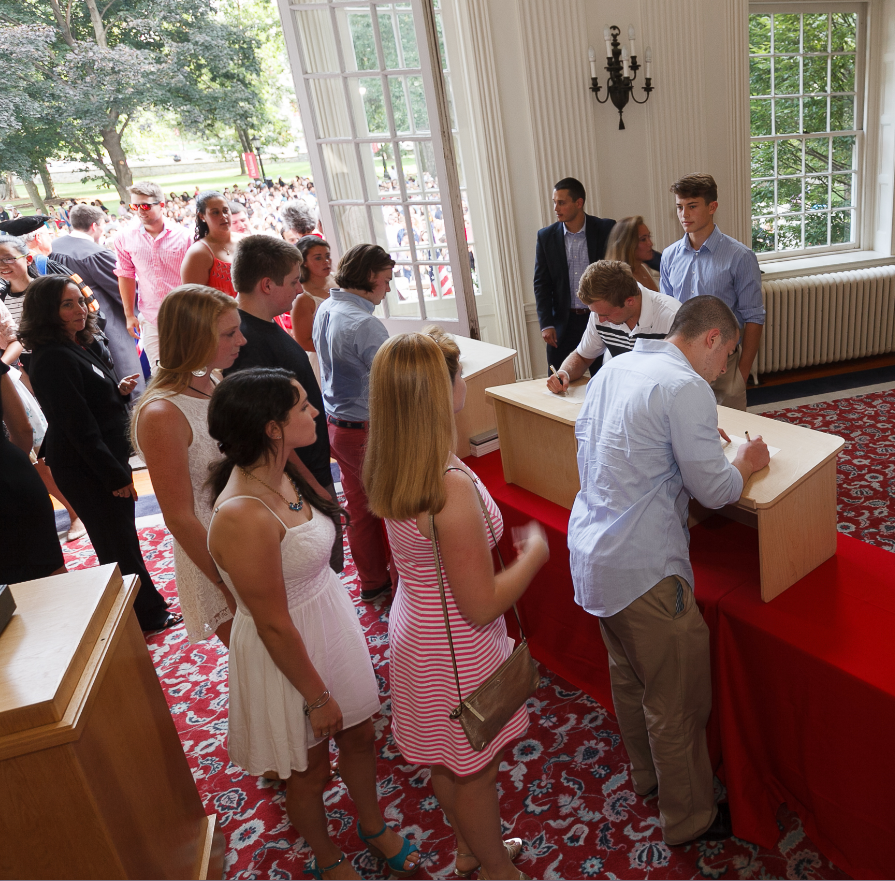 As the Revolutionary War wound to a close, Dr. Benjamin Rush provided a vision for a new program of higher education, one that embraced practicality and the liberal arts to support the demands of a new democracy. The annual fall Convocation recognizes the vision of our founder, who saw education as the key for instilling "virtuous principles and liberal knowledge into the minds of the rising generations." During Convocation, new students walk up the old stone steps of Old West, through the doors into Memorial Hall and sign into the college. The doors of Old West symbolize Dickinson's connection to its past and a gateway to the future. At Commencement, the graduating class walks out the doors and down the steps, symbolically exiting the college and entering the world of alumni.
On Sunday, Aug. 27, 2017, the college will officially begin the 2017-18 academic year with the opening Convocation. The line-up for faculty, administrators and the members of the class of 2018 will take place at 3:45 p.m. Faculty and administrators are to line up on Britton Plaza and members of the class of 2018 are to line up on the sidewalk in front of the Library. The ceremony will begin at 4 p.m. with the academic procession followed by Convocation at 4:15 p.m. on the John Dickinson campus. At the ceremony's conclusion, new students will have the opportunity to sign in to the college.
The program includes remarks from a representative from Carlisle Borough Council, student senate president and President Margee Ensign. Recipients of the Ganoe Award, Senior and Junior Sophister, Shuman Prize, the Howard Lane Rubendall Senior Scholarship and members of Phi Beta Kappa will be recognized.
Following the ceremony, all those in attendance are welcome to enjoy a picnic on Morgan Field.
See coverage of recent Convocation ceremonies: