As the first college chartered in the newly recognized United States, we've clearly been around for a long time. And while we're all about innovation, tradition is part of our foundation.
From red chairs to Red Devils, Cafsgiving (dessert room FTW) to stepping on the seal (pro tip: DON'T!), explore the stories behind some of our favorite traditions.
Legend has it that if you step on the bronze seal embedded on Britton Plaza, you won't graduate!
The doors to Old West open only twice a year — once for new students to sign in during Convocation, and once for them to exit during Commencement.
Every year, the campus community gathers for Cafsgiving a communal Thanksgiving meal served by college staff and administrators.
College Mascot: Devil May Care

Dickinson's Red Devil mascot emerged in 1930, when the football team played a tough game against George Washington University. Because of their show of grit and spirit against a superior team, a Washington writer from the Public Ledger dubbed the Dickinson team "the Red Devils." Students took to the name, and a mascot emerged. And in 2019, the costume was updated to better reflect the distinctive graphic identity that had been established for the Red Devil. Learn more and download the Dawn of the Red Devil coloring book.

Many years later, as campus sustainability became a hot topic at Dickinson, another mascot was developed—the Green Devil. One might call him the Red Devil's environmentally conscious cousin.
College Colors: Always Wearin' the Red (and White)

The first student organizations at Dickinson College (and among the first in America) were two literary societies, Belles Lettres Society (est. 1786) and Union Philosophical Society (est. 1789). Student life in the 19th century revolved around public debate and exhibitions and the societies served as forums to regularly challenge and debate with one another. Eventually the official red and white colors of Dickinson emerged from the societies' symbols: a red rose for Belles Lettres and a white rose for Union Philosophical.

In 1900, Horatio Collins King, class of 1858, published Songs of Dickinson, which included several references to the school colors. Most notable among them is "The Red and White," set to the tune of "Battle Hymn of the Republic." Several red-and-white pennants from that same time period are carefully preserved in the archives vault, evidencing that the school colors were established before the turn of the 20th century.

Today, our college colors are part of our identity in lots of ways, like our annual Red & White Day celebration of athletics, our Red Out/White Out events during big rivalry games and Wear the Red Fridays. Whether athletes or fans, all Dickinsonians proudly wear the red!
College Symbol: The Unexpected Mermaid

As you likely know, Dickinson's mascot is the Red Devil, which may leave you wondering … what's up with all the mermaid symbols and merch around campus?

Because when Benjamin Latrobe, architectural history superstar, requested a weathervane bearing a likeness to the Greek god Triton to cap his landmark Dickinson building in 1803, the local metalsmith, who had never heard of Triton, crafted a mermaid instead. At times in Dickinson's history, the 34" tall sculpture has been the object of pranks, including her abduction and transport to New York in 1967. Dickinson's president at the time, Howard Lane Rubendall, decided to remove this battered but priceless relic from the cupola both for its protection and for the safety of our students.

The original mermaid is now on display in Dickinson's library while a replica resides atop Old West. Dickinson's theatre troupe, the Mermaid Players, fashioned its name after this famous campus icon, and the Mermaid Society was established to recognize loyal donors to the college.

The mermaid is Dickinson's unofficial mascot, symbolic of being flexible, adapting to the unexpected and rolling with the punches.
College Song: NOBLE DICKINSONIA!

Our alma mater was written by Horatio Collins King, class of 1858, who also wrote, "Dickinson for Aye!" and "Those Lovely Carlisle Girls." The first verse, often sung at major college events, is:

Alma Mater, tried and true

Noble Dickinsonia,

Oft our hearts shall turn to you,

Noble Dickinsonia,

How each ancient classic hall,

Fondest mem'ries will recall,

Sacred is each gray old wall,

Noble Dickinsonia.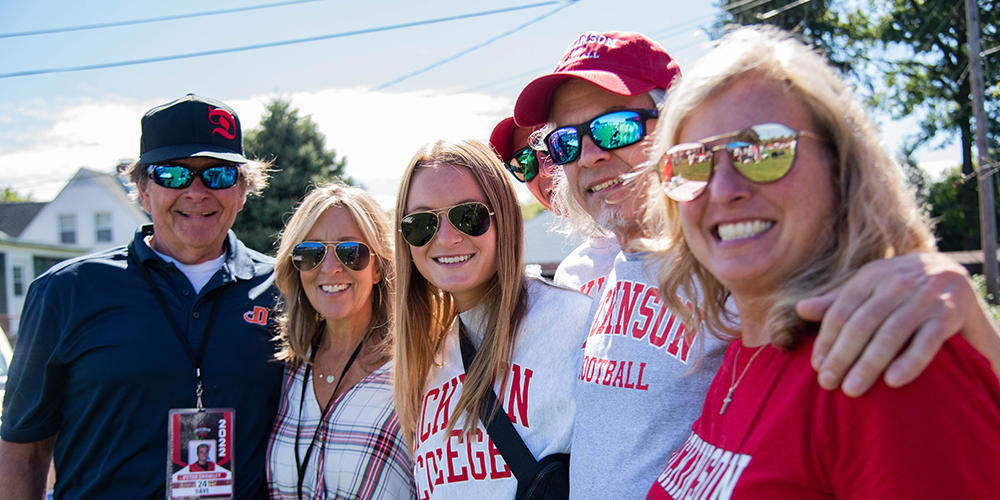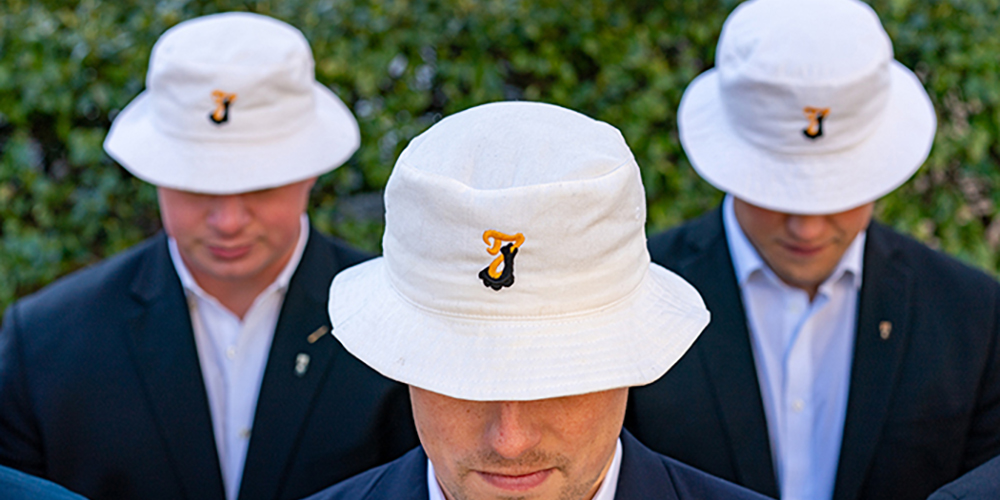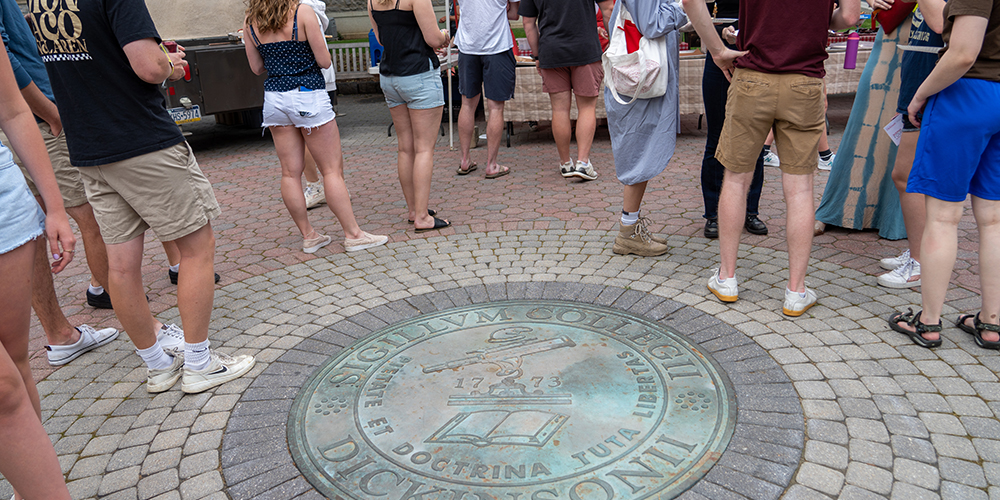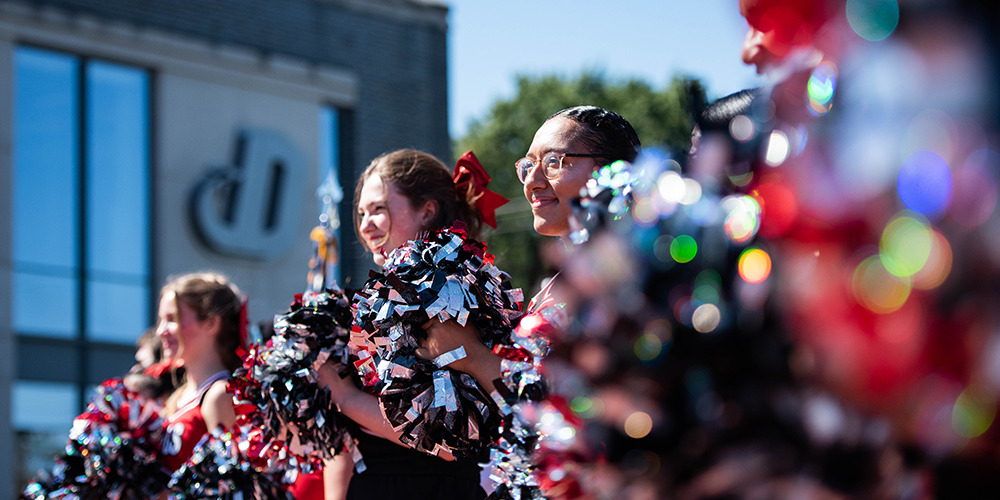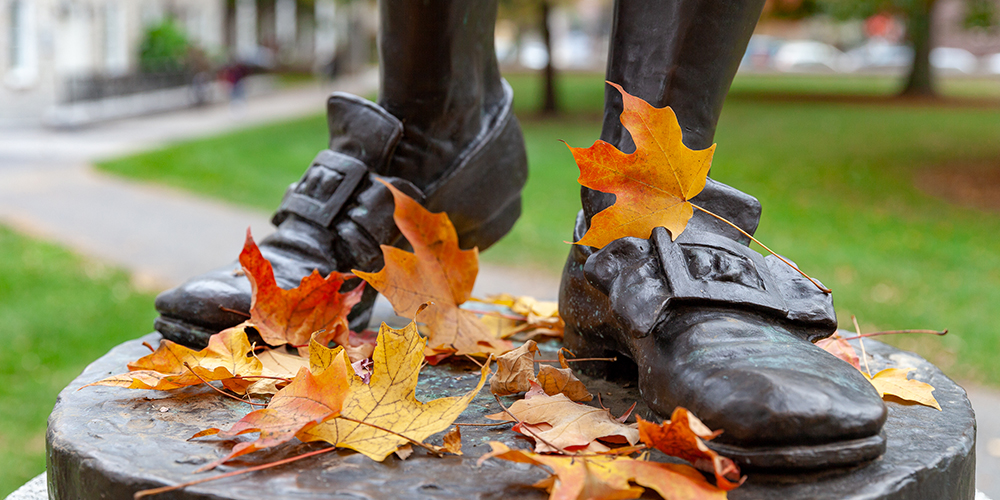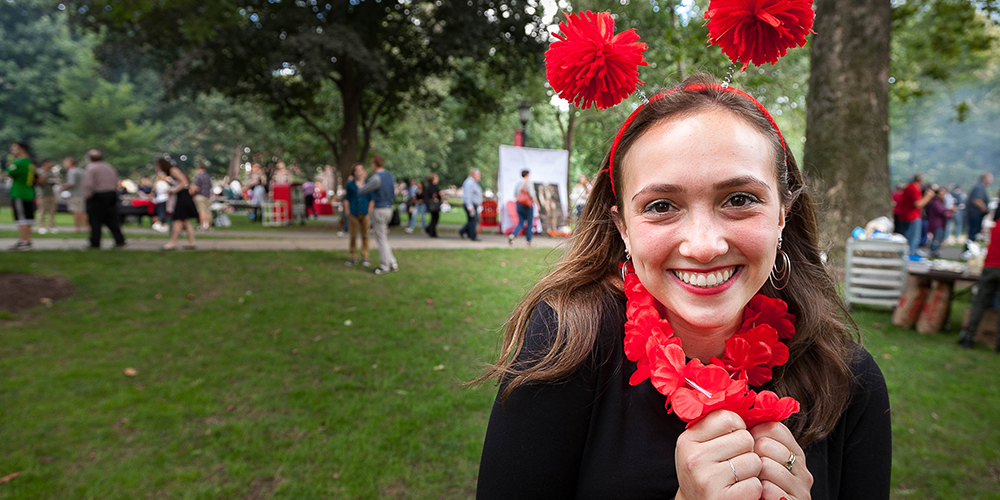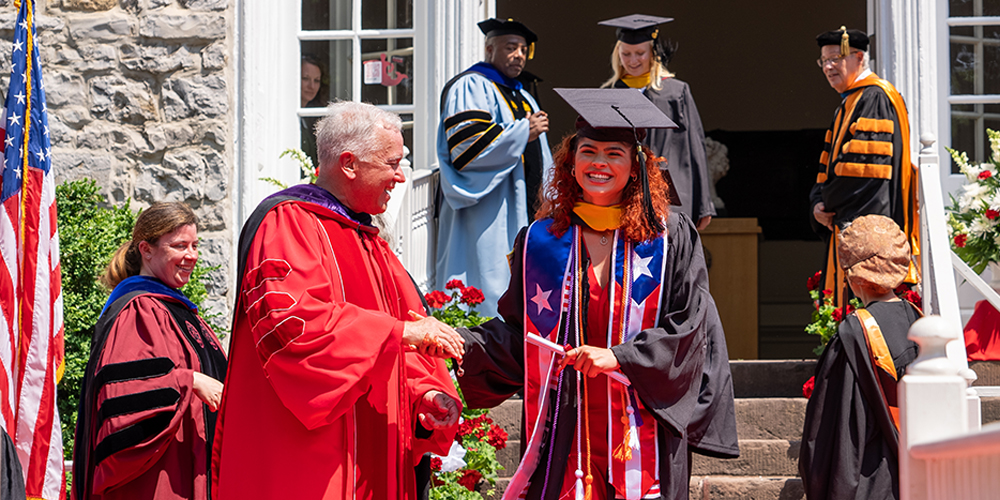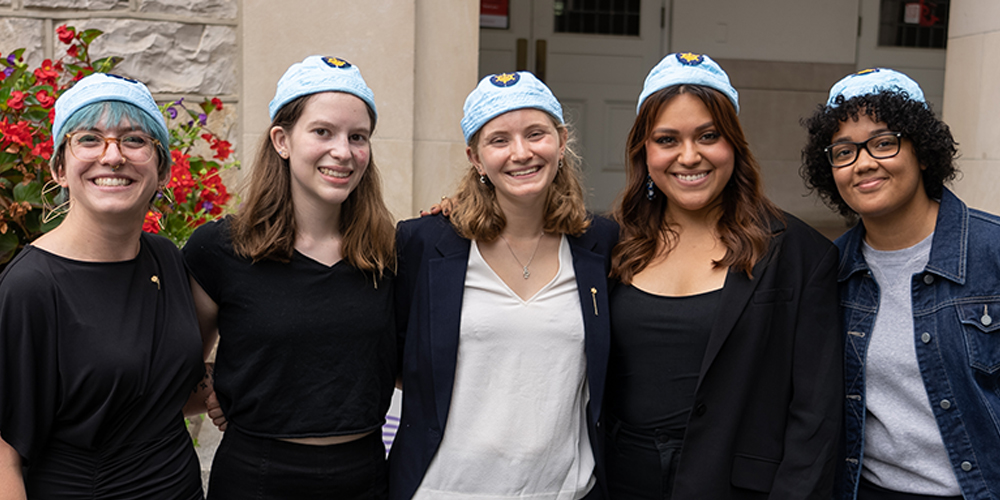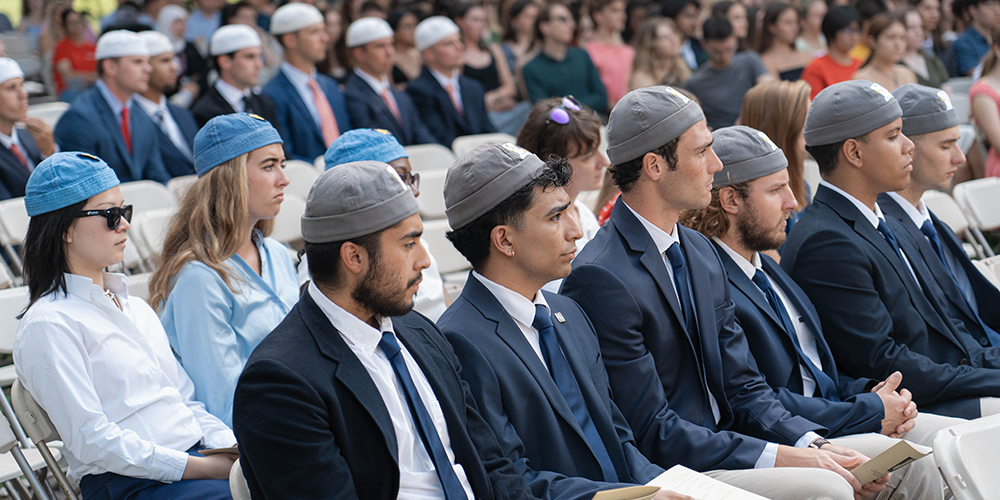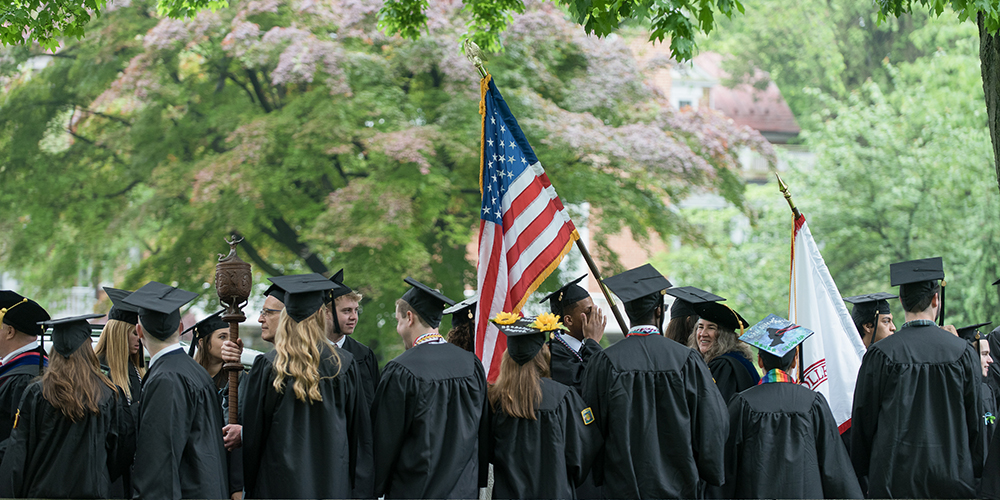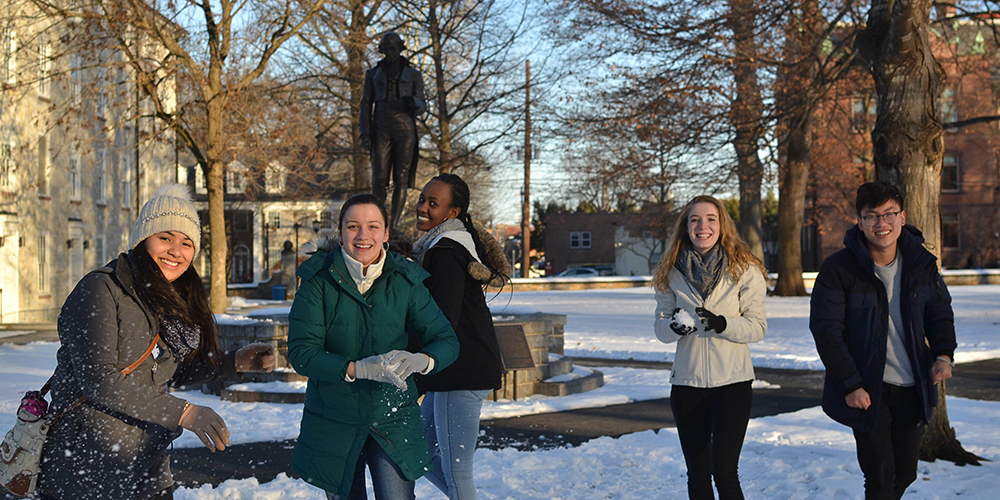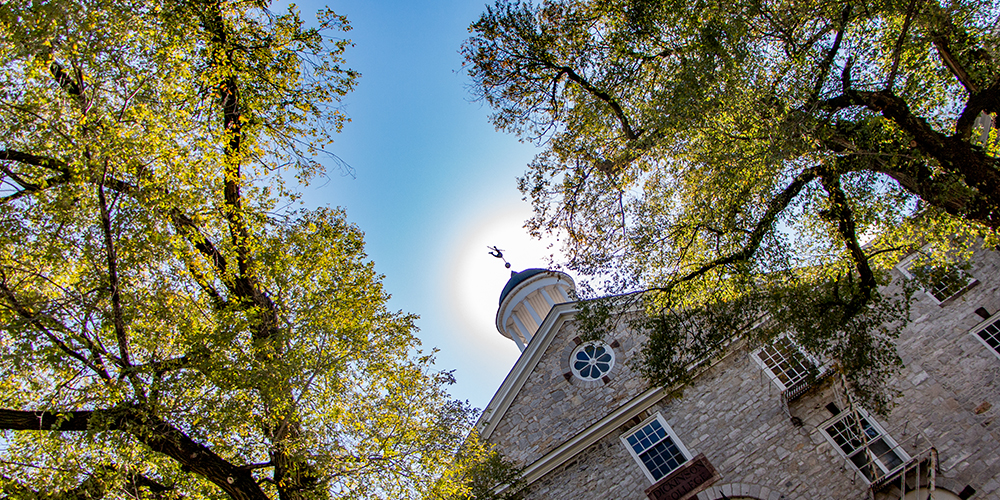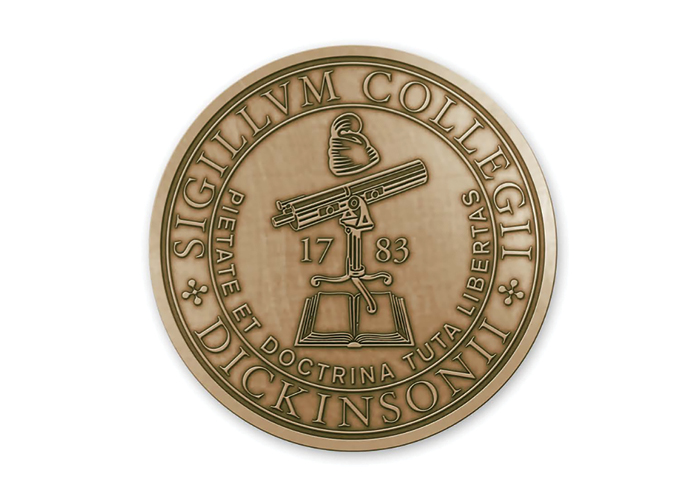 Don't step on the seal!
Legend has it that if a student treads on the college seal embedded in the middle of Britton Plaza, he or she won't graduate.
What does the seal symbolize?

The seal features an open bible representing religious freedom, a liberty cap symbolizing political independence, and a telescope signifies a commitment to intellectual pursuits. Everything is encircled by the Latin phrase 'Pietate et Doctrina Tuta Libertas,' which translates to 'Freedom is safeguarded through character and learning.' Learn more.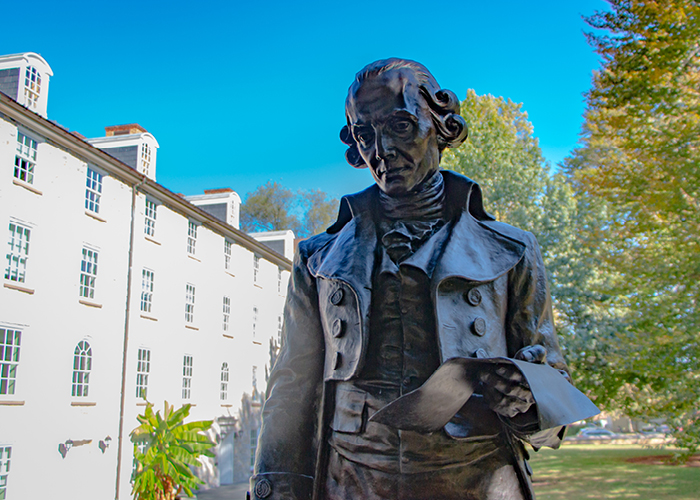 BENJAMIN RUSH statue
The Rush statue is located among Dickinson's historic triangle created by Old West, the Stern Center for Global Education and East College.
Rush, a signer of the Declaration of Independence and the foremost American physician of the 18th century, is founder of Dickinson College. He called for a Dickinson education to be bold and "forward-thinking" for a resourceful nation. He was passionately revolutionary and fought for important causes. He is considered the founder of battlefield medicine and dentistry in America, and he argued for the humane treatment of the mentally challenged and established the first free mental-health clinic in America. Rush fought against slavery and advanced the education of women. He is considered the father of American psychiatry and was the country's first professor of chemistry.

While the statue of course honors our founder, it also plays a part in current campus traditions, and students frequently decorate the statue with colorful streamers or apparel to celebrate important events such as Red & White Day or Commencement.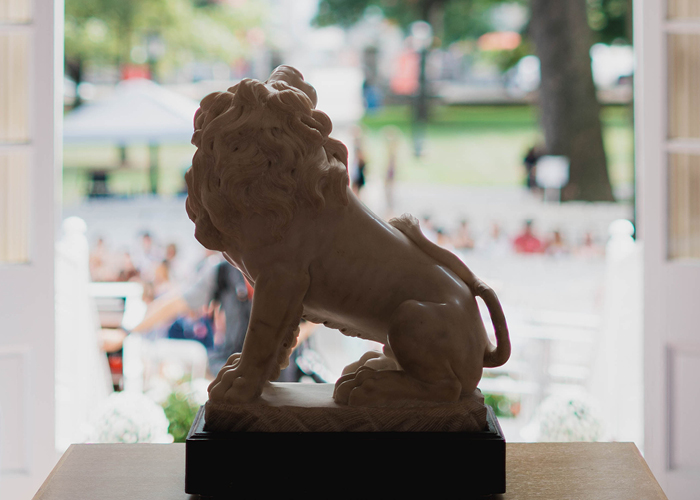 JOHN DICKINSON'S LION
This marble statue lives in Old West's Memorial Hall and watches over Dickinsonians during Convocation and Commencement.
Where did the lion come from?

John Dickinson, the college's namesake, shed his family's aristocratic past by refusing to have a coat of arms in America. Instead, he extracted one of its icons as a symbol—a lion—in the form of a marble sculpture. Before becoming a piece of the college's history, the lion traveled everywhere with Dickinson and was probably present while he drafted the Articles of Confederation. Today, the lion has watched over several classes of graduating Dickinsonians at Commencement and often appears at the college's signing in ceremony.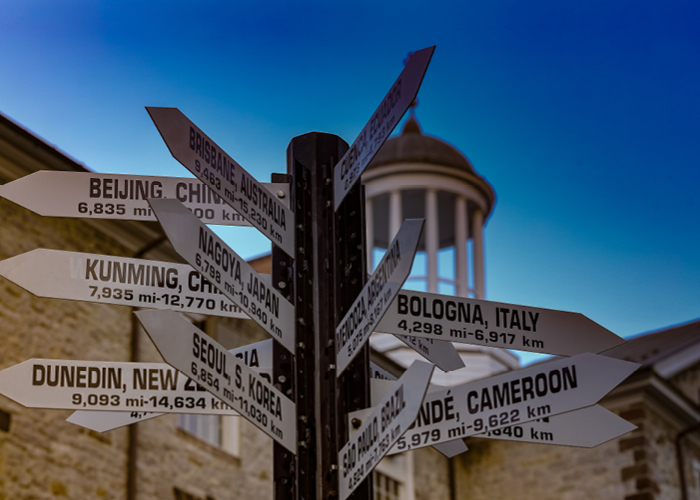 Going Global
Instilled with an international spirit by founder Benjamin Rush, Dickinson was destined to be a leader in global education.
Why does a tradition of global education matter?

Our tradition of emphasizing a global mindset and global experiences dates back to our founding, which is not something many colleges can say. Rush advocated the teaching of modern languages and the integration of an international perspective in the curriculum. We still teach 13 languages! By the mid-1960s, Dickinson had alumni living all over the world. With a vast, global network, Dickinson created a truly internationalized campus. And in 1964, we established our first study-abroad center in Bologna, Italy. We now run our own programs in 15 countries. The directional sign located in front of Old West shows these global connections by pointing to Dickinson centers around the world.
Each year, new Dickinsonians gather in front of Old West's venerable stone steps. Literally etched with history and scuffed by centuries of students, those steps are part of Dickinson's most important traditions.

During Convocation, new students walk up the steps, through the doors into Memorial Hall and sign into the college. The doors of Old West symbolize Dickinson's connection to its past and a gateway to the future.

At Commencement, the graduating class walks out the doors and down the steps, symbolically exiting the college and entering the world of alumni.
Homecoming & Family Weekend is an annual event that brings together the Dickinson community for a few days of fall fun. Homecoming also is a time for the current student body to boast their latest advancements in academia and athletics. Festivities include the Red Devil football game, lectures and presentations, tours and receptions and family friendly entertainment.

Alumni Weekend happens in June and is a chance for graduates to reconnect with each other and the college. We celebrate milestone reunions, and favorite events include the dance party, McAndrews Golf Tournement, Alumni College educational sessions, and the Sunday brunch.

Red & White Day celebrates the past, present and future of Dickinson athletics. Events include home contests, picnics, tailgates and the athletics Hall of Fame induction.
The Dickinson Red Devils and the Franklin & Marshall Diplomats began their football rivalry in 1889, when teams traveled by horse-drawn wagons. The Conestoga Wagon is a golden model that has been exchanged between the longstanding rival teams since 1963. Theirs is the longest, most active rivalry in the Centennial Conference.

The battle for the Little Brown Bucket, which dates back to 1892, occurs between the Red Devils and the Gettysburg College Bullets. The mahogany bucket trimmed in sterling silver was donated in 1939 by Gettysburg and Dickinson trustees.

These rivalries are historic, but all of our 25 variety teams have exciting and fierce matchups each season. Come cheer on the Red Devils and see for yourself!
Taking a seat here can take you anywhere

There are several spots on campus that are known as gathering places for Dickinsonians. The red Adirondack chairs, a highly visible part of the campus landscape, are never in the same place from one day to the next. Students move them to a quiet place to study alone, classes arrange them in large circles for active discussions and friends put them side-by-side to sit and watch life on campus. Not only are the red chairs a school tradition they also represent our strong sense of community and the flexibility and versatility of a Dickinson education. Here, you can challenge yourself, find your place, make bold moves and launch into your future.
Honor societies are an important part of the Dickinson experience for some of our most engaged students. We're members of prestigious national honors organizations such as Phi Beta Kappa, but also have our own societies including:

Raven's Claw, founded in 1896 for senior men (White Hats);

Scroll and Key, a local society recognizing service, leadership and personal character (Gray Hats);

Wheel and Chain, an organization honoring senior women (Blue Hats).

Members are tapped each spring through special ceremonies, and they can easily be spotted around campus thanks to their distinctive hats! Learn more.