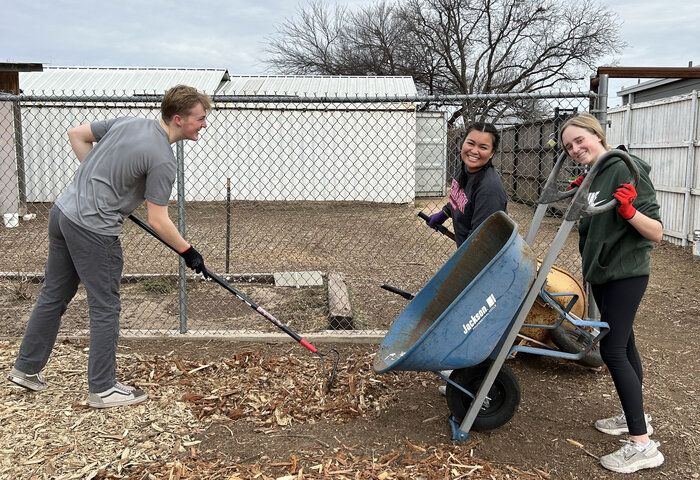 Students on a Winter Break Service Trip to Dallas, Texas
Service Trips provide an incredible opportunity for students to gain leadership experience while volunteering alongside domestic and international communities. The trips immerse students, faculty and staff in communities to empower them to help meet community needs without imposing ideas on others. Before, during and after a service trip, students engage in intentional reflection and education to clarify values, seek connection to academic work and enhance their identities as engaged citizens. Whether it means sharing about the community, increased confidence or a desire to volunteer once back in Carlisle, our goal is to foster experiences that allow participants to bring what they learned back to the Dickinson community.
Service Trips for 2023-2024
January: Health Equity, Guatemala, January 16-20, 2024 (application due by 11:59 p.m. on Sunday, September 17)
Spring Break: all trips are March 9-16, 2024 (applications due by 11:59 p.m. on November 5, 2023)

Environmental Sustainability & Watershed Conservation with MountainTrue, Murphy, NC
Affordable Housing with Habitat for Humanity, Johns Island, SC
Check out EngageD for upcoming information sessions to learn more about these opportunities!
Service Trip Information
Each Service Trip will have information sessions for all interested students and an application and interview process. The selected team members will then work together to fundraise for their trip and meet weekly with their trip leaders to discuss logistics, projects, cultural sensitivity and other important topics before leaving for the Service Trip.
If you have any questions concerning Service Trips, please contact the 2023-24 coordinators Sarah Do '24, & Amiya Marbles '26 at servicetrips@dickinson.edu.

To keep up to date with upcoming Service Trips, subscribe to our weekly newsletter or follow us on Facebook and Instagram.