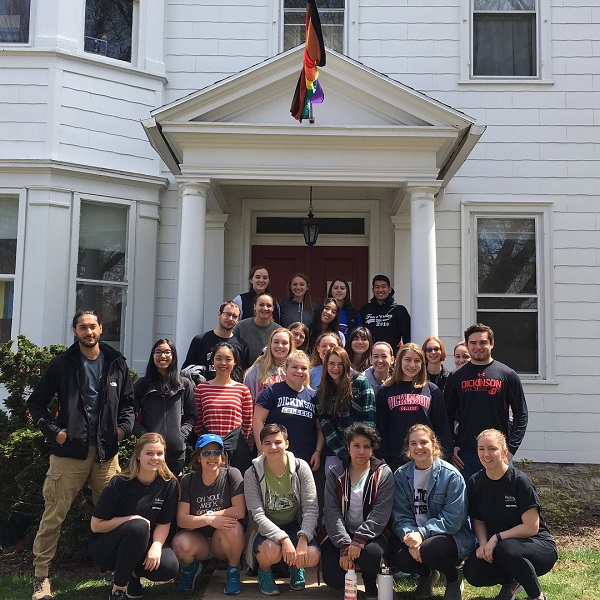 Student volunteers who participated in the 2018 Spring Day of Service!
Day of Service seeks to meet our goal that every student at Dickinson have at least one service experience before graduating. The program provides monthly service opportunities to open students' eyes to the needs of the community and people beyond the limestone walls. Students, faculty and staff join together to recognize the interdependence of the Dickinson and Carlisle communities.
To stay up to date with our latest events, subscirbe to our weekly newsletter or follow us on Facebook, Instagram and Twitter.
If you are interested in Day of Service or have any questions, please contact the 2018-19 student coordinators (Katy Dechert Harrison '19 and Jalee Lopez '21) at dayofservice@dickinson.edu. If it is summer, please email csss@dickinson.edu.
Annual Opportunities
Day of Service hosts monthly service opportunities with different community organizations each year. However, there are a few programs that happen annually.
Service Ambassadors - NEW!
The Service Ambassador program is an opportunity to be a leader in your residence hall, first year seminar, and other clubs and activities by providing information about community service activities in the Carlisle area. You will volunteer with the Center for Service, Spirituality, and Social Justice, and will get to know campus and community leaders, CS3 student staff, and your fellow first years.
Students involved in this program will participate in at least two service projects a month and have an informal meeting once per month. Service projects will be located at Project Share, the Salvation Army, Habitat for Humanity, and more!
Fall and Spring Service Days
Every fall and spring semester, Day of Service hosts a large-scale service day open to students, faculty, and staff. The goal is to have more than 100 people volunteering in the Carlisle community. The fall service day typically takes place in October and the spring service day kicks off National Volunteer Week in April.
Forward Fair
Forward Fair is an annual event where students get to flex their creative muscles for a good cause! Students make and decorate items such as blankets, potted plants, picture frames, dog toys, and more and the items are then donated to local organizations. The event is typically on Britton Plaza during National Volunteer Week in April.