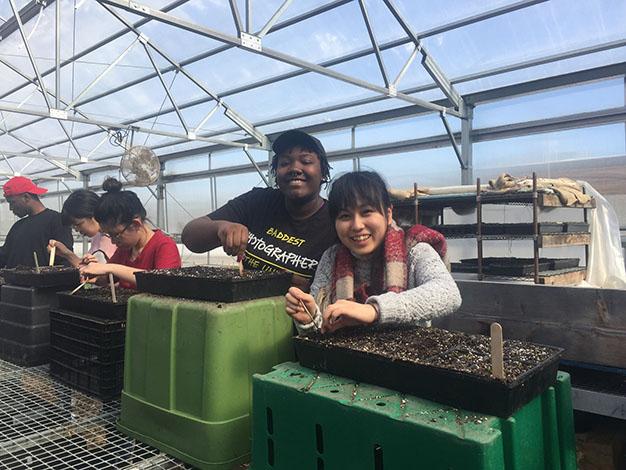 Students on a spring break service trip to Detroit, Michigan.
Service Trips provide an incredible opportunity for students to gain leadership experience while volunteering alongside domestic and international communities. The trips immerse students, faculty and staff in communities to empower them to help meet community needs without imposing ideas on others. Before, during and after a service trip, students engage in intentional reflection to clarify values, seek connection to academic work and enhance their identities as engaged citizens. Whether it means sharing about the community, increased confidence or a desire to volunteer once back in Carlisle, our goal is to foster experiences that allow participants to bring what they learned back to the Dickinson community.
Learning Objectives
Understanding of self within issues of class, race, privilege and culture
Recognizing the needs of a different population, both culturally and physically, and assisting local partners to meet those needs in a concentrated service opportunity
Developing a critical understanding of the group process by learning to work collaboratively and live beside individuals of many perspectives
Reflecting on personal values, vocation options, and academic connections
Throughout the year, there are a variety of different service trips, ranging from weekend to two-week trips. The trips focus on topics such as poverty alleviation, disaster relief, environmental restoration, education and interfaith service. Service Trip teams are typically about 15 students, including two student leaders who have previously been Service Trip participants and two faculty or staff mentors. For each trip, there will be information sessions advertised and an application and interview process to select the team.
Service Trips for 2021-2022
Saturday, October 16 - Monday, October 18: Fall pause Service Trip: Housing Insecurity & Support in Carlisle
Service Trip Information
Each Service Trip will have information sessions for all interested students and an application and interview process. The selected team members will then work together to fundraise for their trip and meet weekly with their trip leaders to discuss logistics, projects, cultural sensitivity and other important topics before leaving for the Service Trip.
If you have any questions concerning Service Trips, please contact the 2020-21 coordinator Jessie Scarlett '22 at servicetrips@dickinson.edu.

To keep up to date with upcoming Service Trips, subscribe to our weekly newsletter or follow us on Facebook and Instagram.
Service Trip Outcomes
In the 2018-19 academic year, 62 students and 10 faculty and staff participated in five Service Trips. These students, faculty, and staff served over 1,000 hours with 10 community partners and traveled to South Carolina, Louisiana, Georgia, Hawaii, and the Navajo Nation.
Outcomes that students often talk about after participating in a Service Trip include:
Meeting fellow students they might never have met otherwise
Gaining new perspectives on culture
Stepping outside of their comfort zone
Developing skills in leadership and emotional intelligence
Better understanding the role of community service
Becoming more engaged in community service upon returning to Dickinson
Rogelio Cuevas '20, who traveled to Guatemala during winter break, states, "The greatest strength of the service trip was the group. [There was] such a variety of people with different ways of thinking and understanding the world." This is a common theme among students who find themselves living and working with a diverse group in terms of class year, involvement on campus, hometown, race, religion, and other aspects. The different perspectives that each student brings to the trip are important in reflecting on personal values and culture. Liam Stenson '19 reflects that his 2015 spring break trip to Belize "allowed [him] to compare [his] Mexican culture with a completely rich country that [he] now feel[s] connected to."
Along with meeting new people and gaining perspectives on culture, "[The student leaders of] Service Trips advocate for individuals to step out of their comfort zones," says Sandra Vidal '20, who was part of the Guatemala winter break trip. Service Trips challenge students to work as a team, seek to understand a new community, and carry what they learned into the future. Upon returning, many students express the desire to become more involved in the Carlisle community through volunteering and with the issues that they learned about through new coursework, internships and other exciting opportunities.
See reflection journals from past Service Trips to learn more about what students experience while on a service trip.
Guidebooks
Each student and faculty/staff mentor who is accepted to participate in a service trip must read the appropriate service trip guidebook before going on the trip. These guidebooks cover everything from expectations to meals to team dynamics. These guidebooks also share quotes from past participants, thoughts on the trip process and aim to answer all your questions about a service trip at Dickinson. We will update the administrator guidebook shortly.