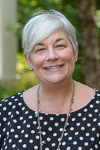 Welcome to my page! I'm a mother of four—with three daughters and a son. I love reading and traveling and doing anything with my wonderful kids, especially going to events in Carlisle with them (we live in the historic district, just a short walk to every outdoor concert, festival and wonderful small-business downtown). Our days are very full, and we wouldn't have it any other way!

Professionally, I get to work with students as they're beginning to envision all of the amazing things they can do with their lives, and it's so inspiring. The college experience can be transformative and lead you to find real passions, and I love this college so deeply because I know it provides that experience, exceptionally well.

As an alumna, I'm a Dickinsonian through and through. And now my two oldest daughters attend Dickinson so I'm a Dickinson parent, too. (Proudly sporting my "Dickinson College Mom" mug!) My daughters will make this place their own, following very different paths, and I know they're in the perfect place to have the incredible experiences every parent hopes their child will have. (Tear!)

I've the pleasure of working with students from Colorado, Delaware, Idaho, Montana, central Pennsylvania, Utah and Wyoming. I treasure the wonderful students from my region—they're the absolute best! I'd love to hear from you and have the chance to answer your questions and get to know you beyond your application. I'm here to be a resource and an advocate for you in the college-search process. Feel free to contact me anytime!
Angie Fernandez Barone '90, P'22, P'23
Director of Admissions Communications
(She/Her/Hers)
Follow me on Twitter @AngieAt Dson
A few fun notes:
Favorite frozen treat in Carlisle: Leo's salt caramel is outrageous; so good that it's turned this chocolate lover into its biggest fan!
Favorite nearby spot: Fuller Lake with its sweet lakeside beach, trails through the woods—including the Appalachian Trail—and an adorable Fall Furnace Fest each year in October!
Favorite place on the planet: Iceland! On my next trip, I want to accompany Professor of Earth Sciences Ben Edwards on a study of the breathtakingly beautiful terrain!