Popel Shaw Center for Race & Ethnicity Staff
VINCENT L. STEPHENS, PH.D.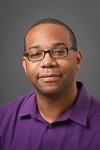 Vincent L. Stephens has served as the Director of the Popel Shaw Center for Race & Ethnicity since June 2015. He is a College Dean, the Coordinator of the Bias and Education Response Team (B.E.R.T), a hearing officer, the co-adviser of MANdatory and a member of multiple College committees. Previously he served as the Director of Multicultural Student Services at Bucknell University (2011-14). Prior to Bucknell he was a Postdoctoral Faculty Fellow in the Humanities at Syracuse University and worked for Syracuse's Summer Start Program (2006-11). He completed his Ph.D. in American Studies from the University of Maryland College Park in 2005 and has published a variety of articles and essays on post WWII popular culture and social plurality.
Diversity Coordinators
Ellie Williams '21
Landis House Programs Project Manager

Ellie is a sophomore at Dickinson and was raised in Basking Ridge, New Jersey. She is a psychology major, with a specific interest in social psychology. Around campus, Ellie is a member of the Syrens a capella group, Delta Nu Sorority and the Outing Club. As a new project manager at PSC, Ellie is very excited to become more involved with different groups and people around campus, especially creating new spaces for all students to feel comfortable!
Kai Ward '19
Multicultural Student Outreach Project Manager
Kai is a senior from Ridgewood, New Jersey. He is an English major and a Creative Writing minor who aspires to be a writer one day. Aside from literature, Kai is passionate about learning about history, environmental studies, and world cultures. His hobbies include reading, hiking, writing, and traveling. On campus, Kai is involved with the Asian Pacific Association (APA), the Belles Lettres Literary Society, and the Center for Global Study and Engagement (CGSE). Kai recently returned from Norwich, England where he studied abroad for the entirety of his junior year. He is excited to be back on campus and is eager to get more involved with the various cultural student organizations of Dickinson as the Multicultural Student Outreach Project Manager!"
John Adeniran '19
Academic Affairs Project Manager


John is a senior computer science and neuroscience double major from Philadelphia. On campus he is involved with the Dickinson Christian Fellowship, the Clarke Forum, Scroll and Key, the Black Student Union, MANdatory (alum), and is also a Social Justice Peer educator."
Matei Mares '21
International Student Affairs Project Manager

Matei George Mares is a sophomore interested in pursuing a major in International Business and Management and a minor in French and Francophone Studies. He plans to pursue a career in sustainable entrepreneurship in order to follow his passion for innovation and alternative education. Using his experience of event planning and nongovernmental organization administration, Matei worked in the Student Senate for his first-year class, started peer-tutoring for french courses and is being involved with Sigma Lambda Beta, starting Spring 2018. As an international student coming from Bucharest, Romania, no other position could have been more relevant to his knowledge and experience than the Project Manager for International Affairs.
Jasmin Lopez '19
Co-Cirricular Activities Project Manager

Jasmin is a senior from North Plainfield, New Jersey. She is an International Business and Management & Italian Studies double major with hopes to work in diversity and inclusion and/or recruitment at a secondary school post-grad. On campus, she is a member of Tritons Admissions Volunteers, Liberty Cap Society, Microcosm, and the Italian Club. Her hobbies include photography, finding new music for her Spotify playlists, and traveling. Recently, Jasmin studied abroad for her entire junior year in Bologna, Italy but she is so thrilled to be back on campus and to begin working for the PSC as her goal is to create a more inclusive campus and leave a mark on campus for current & future Dickinsonians.