Popel Shaw Center for Race & Ethnicity Staff
VINCENT L. STEPHENS, PH.D.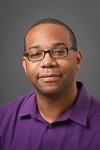 Vincent L. Stephens has served as the Director since June 2015. He completed his Ph.D. in American Studies at the University of Maryland College Park in 2005 and has held teaching and administrative positions at various institutions. Vincent coordinates the Bias Education and Response Team (BERT) and serves on multiple College committees. He is also the 2020-21 President for the Pennsylvania chapter of the National Association for Multicultural Education (PA-NAME). An active scholar and teacher, he is the author of Rocking the Closet: How Little Richard, Johnnie Ray, Liberace, and Johnny Mathis Queered Pop Music (University of Illinois Press, 2019), co-editor, with Anthony Stewart, of Post Racial America? An Interdisciplinary Study (Bucknell University Press/Rowman & Littlefield, 2017), and a Contributing Faculty member in the Department of Music.
CHRISTIAN PERRY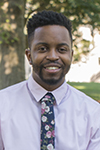 Christian Perry began as the Assistant Director of the Popel Shaw Center in July 2019. He was born and raised in Carlisle, and even worked in Dickinson's dining hall when he was in high school. He graduated from Lock Haven University in 2013 with a Bachelors degree in Communication and in 2018 he completed his Masters of Business Administration at Southern New Hampshire University. Christian has worked in higher education for several years. Most recently he worked as the Assistant Director of Admissions at Dickinson College.
STUDENT PROJECT MANAGERS
JAE CHUNG '23
International Student Affairs & PSC media coordinator
ZAHRA SOMJI '23
Multicultural Student Outreach & OEI coordinator