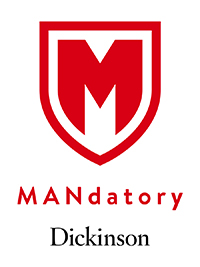 Vision Statement
The MANdatory program is an academic enrichment and leadership development program for male identified students of color at Dickinson including those who self-identify racially and ethnically as African-American, Asian-American, Latino, Multiracial and/or Native American. MANdatory is a gender inclusive program that welcomes agender, cisgender, and transgender men.
Weekly Meetings & Topics
MANdatory meets weekly on Monday evenings and Friday evenings in East College and Landis House. Each week's meetings mix resource presentations with open conversation topics. Meetings are held by the Student Leaders. Some common themes include the following:
Academic achievement & success
Community service and civic engagement
Health and wellness
High Impact Educational Practices
Leadership skills
Social identity
Undergraduate research opportunities
Invitations to educational sessions addressing topics like academic success, career development, social identity, and leadership skills, among others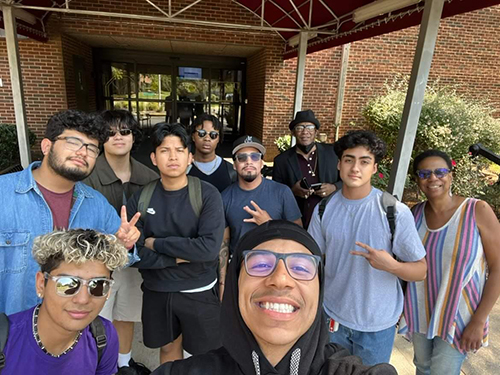 MANdatory 2022 Students with Former Harrisburg Councilman and PSC Director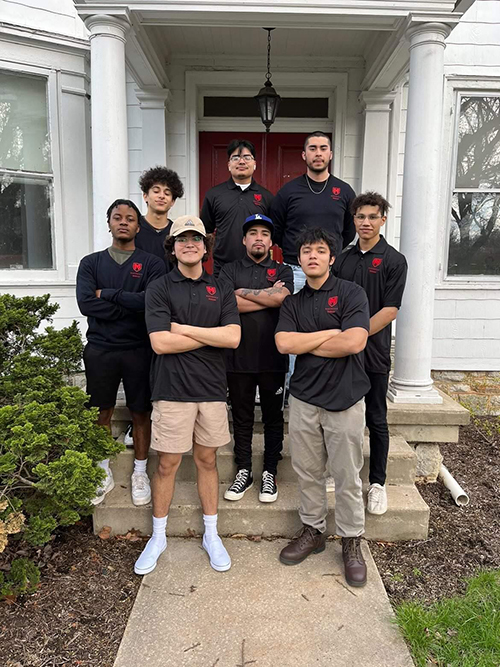 MANdatory 2021 Students with new shirts
Benefits
Exclusive access to a supportive peer group and caring adults to ensure their success
An end-of the year graduation ceremony
Membership in an on and off campus MANdatory alumni network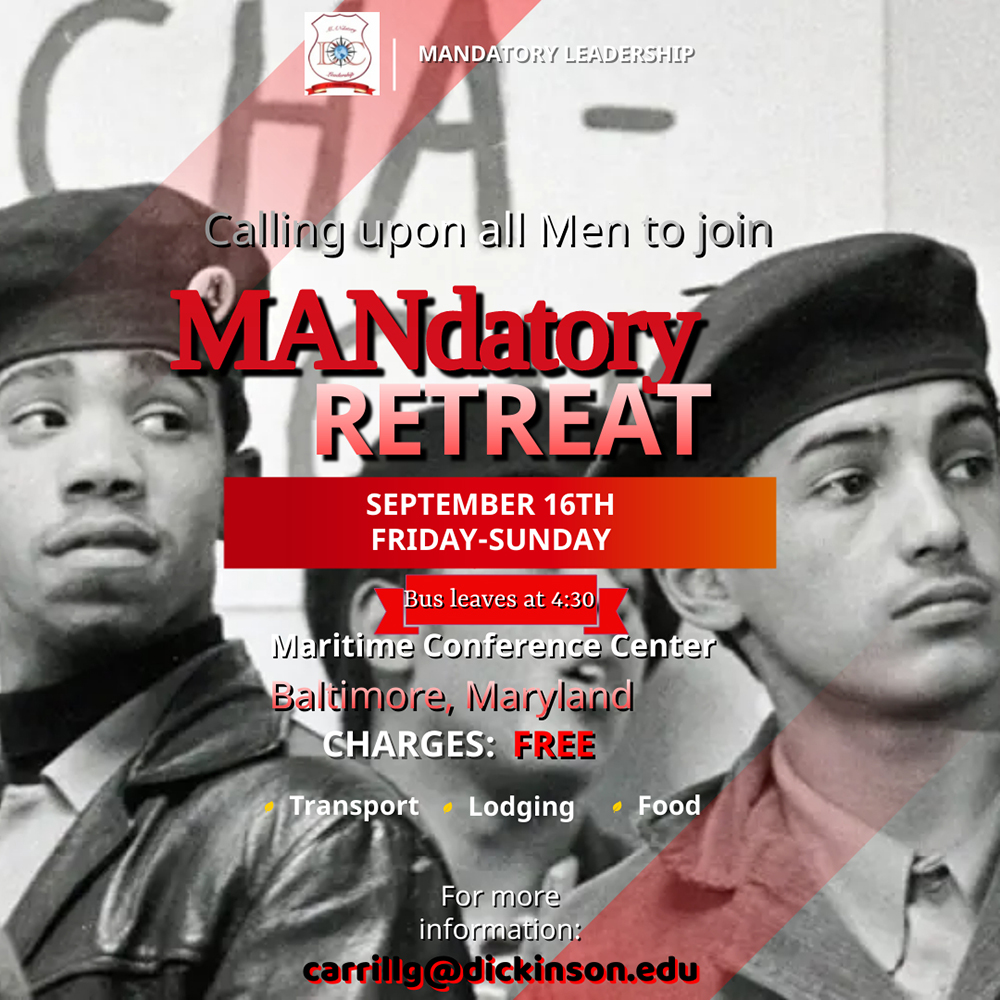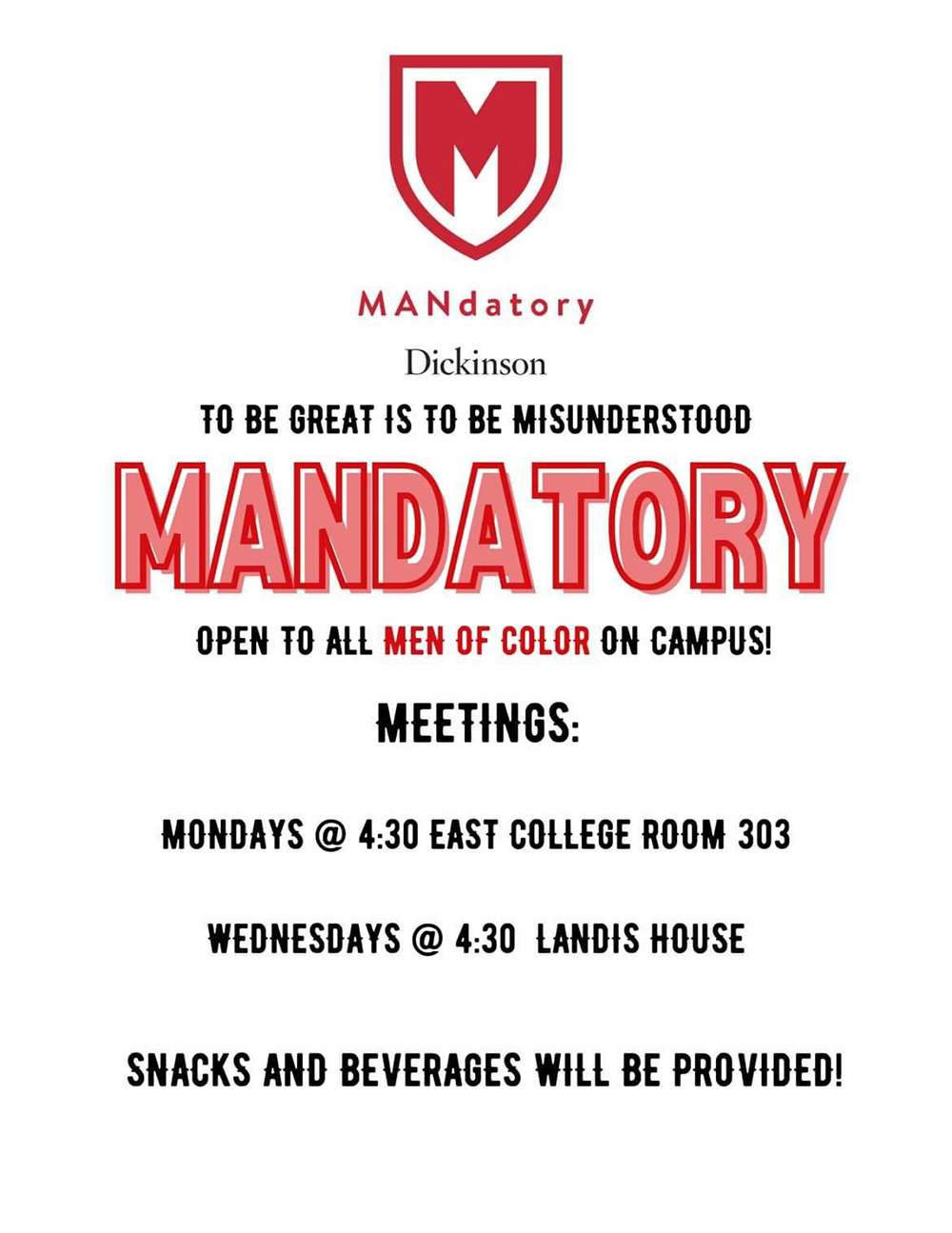 Rituals
Each year, in addition to weekly meetings, the men of MANdatory engage in various annual rituals including the following:
MANdatory Initiation
Back to the future Reflection
Fall and Spring Reunion
MANhunt
White Elephant
Mandatory End of the Year Bonfire
Spring graduation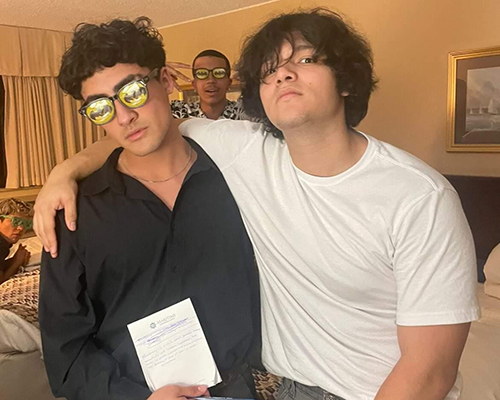 Making of the 2022 Vision Statement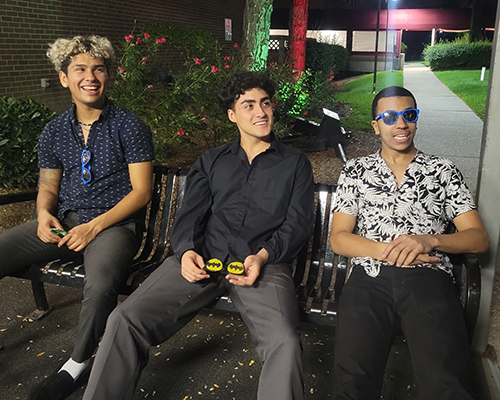 MANdatory Baltimore Outing 2022
In 2015, Vincent Stephens began working at Dickinson College as the Director of the Popel Shaw Center, which included serving as MANdatory's adviser. Under his leadership, the group has expanded the scope of its curriculum to include topics related to undergraduate research opportunities, community service, servant leadership, and preparing for graduate school. MANdatory also shifted from being a fall program to include fall and spring programming, culminating in a spring graduation ceremony. In fall 2016, Jason Rivera (Director Institutional Research) joined as a Co-Adviser.
History: A legacy of leadership
Norm Jones (former Associate VP for Diversity) founded MANdatory in fall 2010 as a resource for men of color at Dickinson College. From the beginning, the group has met weekly on Friday afternoons and Saturday mornings, to focus on student development topics related to academic enrichment and leadership development. After completing the fall curriculum, the men of MANdatory graduated in a ceremony, open to the entire campus, held in December. After Jones left Dickinson, Pavan Purswani (Residential Education, Shippensburg University) advised the group in an interim capacity in fall 2014.
Men of MANdatory continually build on the knowledge and skills they acquired in the group and translate these skills into campus leadership roles. Some of the achievements of MANdatory alum include making the Dean's List (3.7 GPA +), serving as mentors for the Emerging Leaders Program, being selected to work on the Residence Life & Housing staff, leading service trips, serving as First Year Mentors for First Year Interest groups (FiGs), and receiving Latin Honors during graduation, among many others. MANdatory alumni are also inductees in such prestigious Dickinson organizations as the Order of Scroll & Key (Gray Hat Society) and the Queer Cap Society, and recipients of campus awards including the Shuman Prize (awarded to sophomores during Convocation) and Student Employee of the Year.
Faculty/Staff Advisers
Rev. Yvette B. Davis (2021-Present)
Vincent Stephens (2015-2019)
Jason Rivera (2016-2018)
Pavan Purswani (2014)
Norm Jones (2010-2014)
Fall 2022 Monday Academics: East College 303 (4:30-6pm)
September 12, 19, 26
October 3, 10, 24
November 7, 14
December 5, 12
Fall 2022 Wednesday Meetings: Landis House Basement (4:30-6pm)
Student Leaders
Each year MANdatory invites all former members to apply to serve as student leaders. Student leaders promote MANdatory to incoming students, plan weekly sessions, lead discussions, manage social media, engage in archival research and informally mentor members. Below are previous student leaders:
2022-23
Fofang Atanga ('25)
Isaiah Bañuelos ('25)
Gabriel Carrillo ('25)
2021-22
Alvero Munoz ('24)
Cristian Meneses ('24)
2020-21
Danyall Khalil ('23)
Allan Farfan Canales ('23)
2019-20
Nuhan Abid ('22)
Cristian Tineo ('22)
2018-19
Alejandro Rodriguez ('21)
Angelo Tarzona ('21)
2017-18
Rogelio Cuevas ('20)
Kevin Ssonko ('20)
2016-17
John Adeniran ('19)
Liam Stenson ('19)
2015-16
D'Andre Battle ('18)
Karem Mathiang ('18)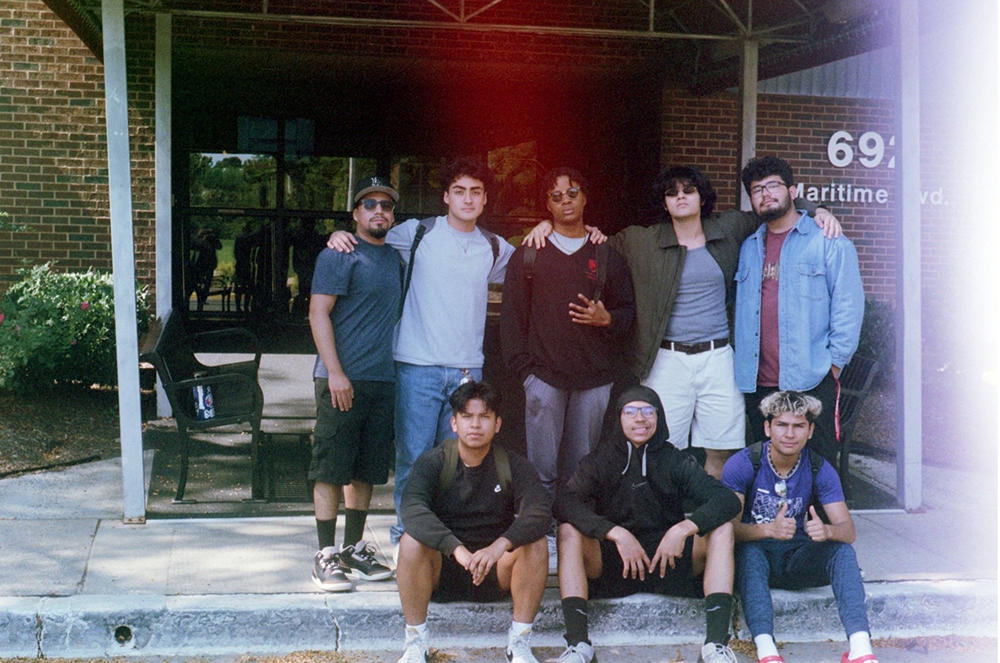 MANdatory Fall 2022 Retreat
MANdatory alumni (2011-present)
2021-22 Graduates

Gabriel Carrillo ('25)
Isaiah Banuelos ('25)
Fofang Atanga ('25)
Jonah Henderson ('25)
Johah Pascal ('25)
Emilio Gurany ('25)
Devin Hernandez ('25)
Christian Sanchez-Torres ('25)
Pranav Mishra ('25)

2020-21 Graduates

Chakra Sokhomsan ('24)
Alvaro Munoz ('24)
Cristian Meneses ('24)
Matthew Flores ('24)
Saurya Tuladhar ('24)
Saul Torres Nieto ('24)
Deon Rosado ('24)
Caleb Kirven ('24)

2019-20 Graduates

Nana Agyeman ('23)
Bremar Brown ('23)
Allan Farfan Canales ('23)
Elijah Chandler ('23)
David Cook ('23)
Jayson Guevarra ('23)
Bryan Hernandez ('23)
Danyal Khalil ('23)
David Portillo ('23)
Zavella Sanders ('23)

2018-19 Graduates

Nuhan Abid ('22)
David Castorena ('22)
Abrahim Marquez-Burns ('22)
Franklin Saeteros ('22)
Felix Smith ('22)
Cristian Tineo ('22)

2017-18 Graduates

Alejandro Rodriguez ('21)
Alex Ramirez ('21)
Andres Salazar ('21)
Angelo Tarzona ('21)
Bruno Kaboyi ('21)
Bryant Caballero ('21)
Diego Alonso ('21)
Hill Gobourne ('21)
Keshawn Bostic ('21)
Max Jacobs ('21)
Sayahn Mudd ('21)

2016-17 Graduates

Rogelio Cuevas ('20)
Noah Davis ('20)
Ian Genao Ramirez ('20)
Zayed Shahjahan ('20)
Kevin Ssonko ('20)
Joel Thomsen ('20)

2015-16 Graduates

John Adeniran ('19)
Quadrese Glass ('19)
Liam Stenson ('19)

Fall 2014 Graduates

Eli Barongozi ('18)
D'Andre Battle ('18)
Edward Brown ('18)
Kijana Embry ('18)
Leo Garcia ('17)
Ralph Hernandez ('18)
Karem Mathiang ('18)
Egmidio Medina ('18)

Fall 2013 Graduates

Jaime Delgado ('17)
Edgar Estrada ('17)
Isaiah Gibson ('17)
Joojo Ocran ('17)

Fall 2012 Graduates

Mamadou Balde ('16)
Gregory Boles ('16)
Simon Ciccarillo ('16)
Eddy Diamantis ('16)
Jahmel Martin ('16)
Sahil Nayyar ('16)
Edwin Padilla ('16)

Fall 2011 Graduates

Angel Acosta ('15)
Andrew Dietz ('15)
Nasir Ellis ('15)
Kyle Green ('12)
Fabian Hernandez ('15)
Lawrence Jolon ('15)
Shan Lin ('15)
Frank Williams ('15)

Fall 2010 Graduates

Kali Avins ('11)
Geovanny Barrera ('13)
Stuart Changoor ('13)
Reginald Glosson ('14)
Andrew G. Hill ('13)
Javan Howard ('11)
Samem Jabarkhail ('11)
Eric Sohan Joseph ('12)
Andy Lecointe ('12)
Obi Ollawa ('13)
William Perry ('12)
Darrell Pacheco ('12)
Mauricio "Reece" Torres ('12)
Quan Tran ('12)
Geoffrey Yu ('14)