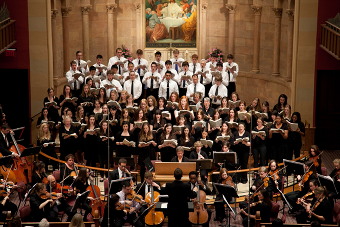 Fall 2011, the combined forces of Dickinson Orchestra, Choir and Collegium draw an overflowing audience to the First Lutheran Church in Carlisle for their performance of Handel's Messiah.
The Dickinson College Choir was founded in 1860, and has offered the joy of choral singing to thousands of Dickinson students for almost a century and a half. The Choir normally has around seventy voices, and performs music from the classical, folk, and contemporary repertoires. Students audition for the College Choir in the fall and remain members for the year, but sometimes slots open up in the spring. The joy of performing and enhancing one's musical abilities draws sopranos, altos, tenors, and basses to the Dickinson Choir every year.

The recent history of performances by the Dickinson College Choir includes concerts with the Dickinson Orchestra in Poulenc's Gloria, Vaughan Williams's Dona Nobis Pacem, Orff's Carmina Burana, and many other works. The Choir also performs at public events (including recently for Gov. Rendell in the Pennsylvania State Capitol). There are often solo opportunities in Choir programs. The Choir is governed by elected student officers.
The College Choir rehearses on Tuesdays and Thursdays from 5:15 to 6:30 in the Weiss Rehearsal Room. Members agree to uphold a strict attendance policy.